Despite being as fast as ever, Sonic doesn't quite have the same industry clout that he once had. While his long-time opposite number Mario continues to impress and delight fans the world over, Sonic has disappointed enough times that he's just not looked on with quite the same fondness. But that's not stopping Sony, which has just announced that it's making a Sonic movie, mixing animation with real actors.
Some of the people announced for the project (via HollywoodReporter) include producer Neal Moritz of 22 Jump Street and Fast and Furious 6 fame, Evan Susser and Van Robichaux are writing, and apparently know each other from a single Funny or Die sketch from earlier this year. They're also said to be working on a live action version of the Jetsons.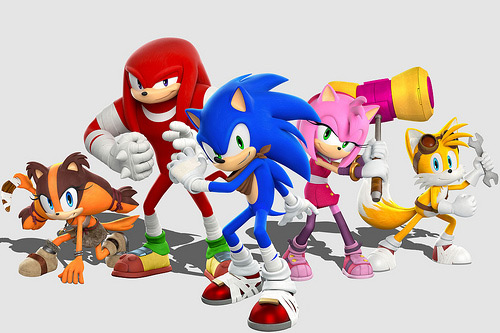 Bear in mind, that this movie will probably have a neckerchief sporting Sonic
Sega will be involved though, never fear, as it's production company Marza Animation will be handling the creation of Sonic and pals. It's not clear if Dr Robotnik (Eggman) will be played by an actor, or if he'll be CG'd in too.
Marza CEO Masanao Maeda said of the news: "Sonic has had dozens of adventures on the console and the small screen, and we're thrilled that he's now coming to the big screen. Sony Pictures has had great success with hybrid animated and live-action features, and we're confident that this collaboration will bring a fresh take to Sonic, while still capturing everything that the fans love about him."
KitGuru Says: Sonic has always been hit and miss. Its early 90s cartoons were of massively differing quality. He's hoping this movie is more Sonic SatAM and less chilly "dawgs" and Monkey's with heavy New York accents.