One of the world's largest Counter Strike: Global Offensive betting sites, CSGO Lounge, has announced that it is applying for an official gambling license, in order to legitimise itself. This comes after it received a cease and desist letter from Valve, as well as a lot of negative attention from the gaming community.
CS:GO betting sites have been a seedy underbelly of the gaming world for some time now, but they were pulled into the light recently when it was discovered that several of the most prominent, were being promoted by Youtubers, who held stakes in the sites' and their finances.
Many considered this doubly despicable because a lot of the Youtuber's embroiled in the scandal had young audiences, suggesting that they were promoting gambling to children, in order to make money from them. Since then Twitch has banned streams of gambling on the sites and Valve has sent out cease and desist letters to many of the site owners.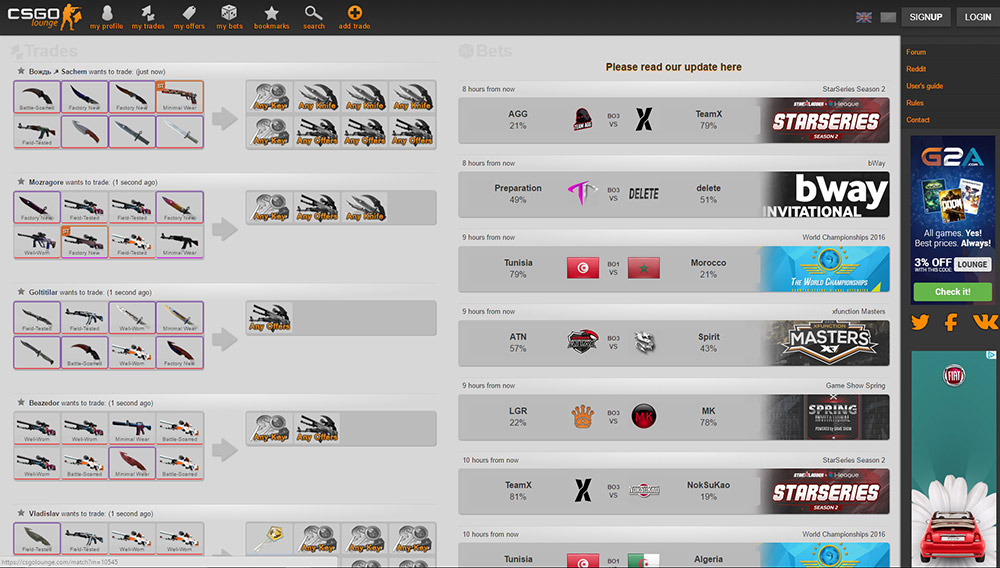 Considering how popular the site is, those ads suggest it is at least partially about earning money. 
Hence why CS:GO Lounge is now trying to become legitimate. It said in a statement on the site:
"From the very beginning, the lounge service was intended as an entertainment service for the esports community of Dota2 and CS:GO, and we have never considered it as a real money betting," it reads.
"The situation is highly confusing – we are not offering games of luck, we are not offering any transactions with real money or equivalents. Despite those facts, in order to avoid or reduce the confusion, we have decided to acquire a license to legally operate in most of the countries and be able to accept the esports bets by our community, as if it would be real money."
Moving forward it would look to ban people from 'gambling' on the site if they were from a country or state where online gambling is not allowed and will also look to limit access to the site to those aged 18 and older.
While this may well go far enough to appease some regulators – if indeed CS:GO Lounge can successfully acquire a gambling license – it may not do much to stop Valve from wanting the service shut down. As Kotaku points out, Valve demanded sites like this stop using Steam accounts for business purposes, which breaks the subscriber agreement.
Gambling license or not, Valve doesn't want its accounts used for automated trading and money making.
Discuss on our Facebook page, HERE.
KitGuru Says: It will be interesting to see how Valve responds to these sorts of sites moving forward. Many of them may choose to ignore the cease and desist letter. Will that mean Valve will begin legal action against some of them in the future?