Most companies strictly control the data that they put out there into the world and that includes what goes to intelligence and law enforcement agencies, especially if they don't have a warrant. Twitter has just entrenched that ideal, by blocking a loophole that the FBI and CIA had been using to gather up mountains of information on the social network's users.
While Twitter itself hasn't been forthcoming for agencies with masses of data on its hundreds of millions of users, analytics firms have been. Specifically Dataminr, which stores reams of data on tweets and who sent them, often analysing and compounding the data into more readable, useful formats. That data is then sold on to companies for profit or in the case of the FBI and CIA, to aid in possible investigations.
Previous usage of the data has seen it quickly search through all publicly available tweets to find certain phrases thought to be related to terrorist activity.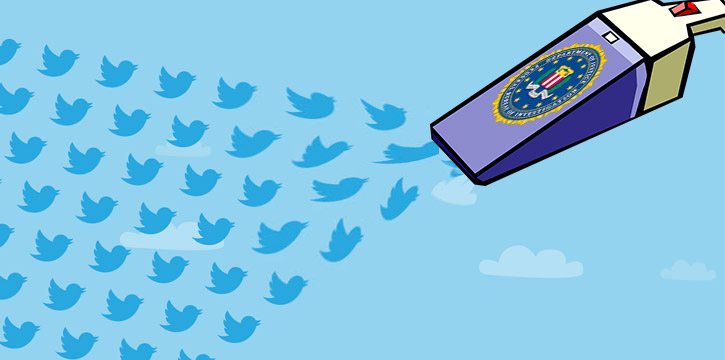 However it turns out Twitter wasn't particularly happy when it found out this was happening, so it used its power of veto as a five per cent share-holder in Dataminr, to block all future sales to the those organisations. This, despite the fact that Dataminr has some backing from In-Q-Tel, the not-for-profit technological arm of the U.S. government, the sole purpose of which is to keep its agencies equipped with the best technology in the world.
As The Guardian points out, Twitter hasn't been forthright about why it was so bothered about those agencies having information it happily sells to corporations, but it could well be that it simply doesn't wasn't to seem to be aiding law enforcement without first receiving a warrant. Distrust between government intelligence agencies and tech firms has been growing in recent years and many companies have sought to distance themselves from obvious collusion because of it.
Discuss on our Facebook page, HERE.
KitGuru Says: As much as I don't like the way the intelligence agencies of Western countries are spying on whole haystacks in the hope that there's a needle in their somewhere, publicly available information is not such a heinous pile of data to sift through. It's when spying on non-public data occurs without a warrant that there's a real problem.