Be careful with how clever your predictions of upcoming Game of Thrones episodes are, as if you're spot on, HBO might use copyright law to take your content down, even if you don't use official show footage or audio. With episodes of the show being pirated as much as ever, HBO has been gunning hard for those that avoid official channels, but this is a new tactic altogether.
Game of Thrones has held the record for the most pirated show ever for much of its tenure, regularly breaking its own download records year on year. While we haven't quite seen such numbers yet this season, HBO has already begun sending out thousands of letters to alleged pirates, requesting that they halt the activity and instead watch the show through legal means.
While the effectiveness of such a strategy can be left for another article, it's the other tactic HBO is employing which is drawing much greater derision. HBO has been taking down videos that make predictions about where the show is going. While taking down clips of the show or content that actually breaks copyright is one thing, it's a whole new world entirely where copyright law is used to halt fan discussion on a topic.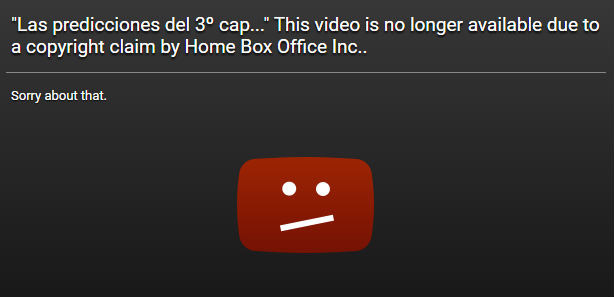 As TorrentFreak points out, Youtuber Frikidoctor is the latest victim of such takedowns, losing their Game of Thrones prediction video just two hours after posting it. Admittedly they have had videos taken down previously for using trailer video and audio, but this latest one contained nothing like that.
Since there has been some precedent for his breaking copyright, it's perhaps possible that an overzelous intern at HBO tasked with finding copyright breaching material, has simply flagged any content Frikidoctor produces related to Game of Thrones, but that's still an abuse of the takedown system.
Indeed HBO is claiming copyright on a video of the channel owner standing in a wrestling outfit talking. That's their copyright protected content, not HBOs.
While they may have the legal right and Frikidoctor has contacted a lawyer and Youtube to discuss their options, for now they won't be posting any more prediction videos, to avoid any extra heat from HBO.
Discuss on our Facebook page, HERE.
KitGuru Says: That's the saddest part of this story. A content creator has been discouraged from making videos because they were bullied into silence by a giant corporation.