Adobe has released statistics on the success of online sales over the Thanksgiving and Black Friday holidays in the U.S., announcing that previous records were broken by quite a margin. It tracked more than $5.27 billion (£4.22 billion) in transactions over the period, a 17.7 per cent increase over the same time last year.
The Black Friday report that Adobe put together is put together using anonymous data from its cloud service, of which traffic from 80 per cent of the top 100 U.S. retail websites flows through. With that backbone of data, it was able to account for the more than $5 billion of sales over the two days and even narrowed it down to $3.34 billion on Black Friday alone, a more than 21 per cent increase year on year.
It tracked more than 22.6 billion visits to retail websites and recorded higher conversion rates than usual. The most popular purchases during the two days at the end of last week were Lego Creator Sets, nerf Guns, iPads, Samsung 4K TVs, MacBook Airs and the PS4. A few select items, like the Nintendo NES Classic, PSVR, Beats Solo, Nintendo 3DS XL, Kuro Smartwatches and Lego Star Wars products, all suffered from stock issues during the sales.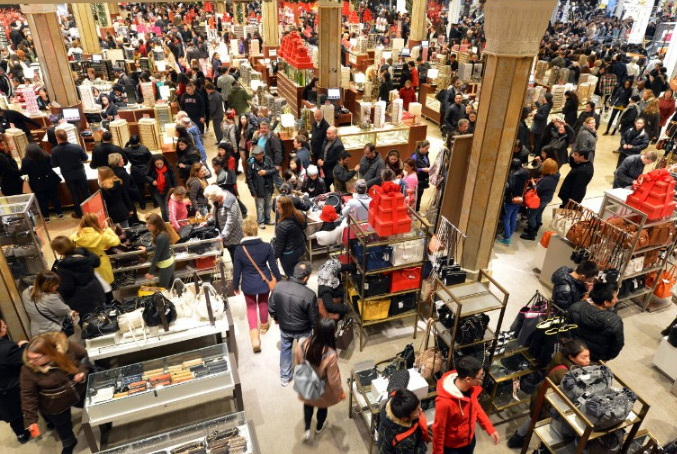 Scenes of frantic in-store shopping haven't been quite as common this year. Source: Diariocritico de Venezuela/Flickr
An interesting statistic comparison emerged that showed although 55 per cent of visitors to retail websites on Black Friday were on smartphones and tablets, they only accounted for 36 per cent of sales. While that is an increase on last year's numbers, it shows that though people may browse on their smartphones, many still prefer to buy on their desktops and laptops.
Although search engines and direct visits resulted in the most sales, referring websites actually saw a boost this year too, with forwarding websites contributing 16.5 per cent of sales, while email still contributed 17.8 per cent in total.
Discuss on our Facebook page, HERE.
KitGuru Says: We told you guys about a lot of great deals on Black Friday and I'm sure you saw others while surfing around. What did you pick up for yourselves in the end?