David Cameron spent a lot of time last year talking up the porn filters he wants UK ISPs to 'voluntarily' implement and praising Chinese censorship firms like Huawei who he's been welcoming with open arms, but when they began being implemented, as detractors pointed out before hand, they ended up blocking sex education sites, as well as the homepages of charities and domestic abuse shelters. Despite its initial reaction that none of this was taking place, the government has now admitted it is in-fact happening and it's working on a fix.
The first stage is going to be drawing up a big list of all affected sites and manually checking them off to make sure they are legitimate, according to the BBC report. However this will take time and opponents of the block and charity groups are trying to fast track the process by putting together a list of white-listed sites that shouldn't have been caught out by the filters in the first place.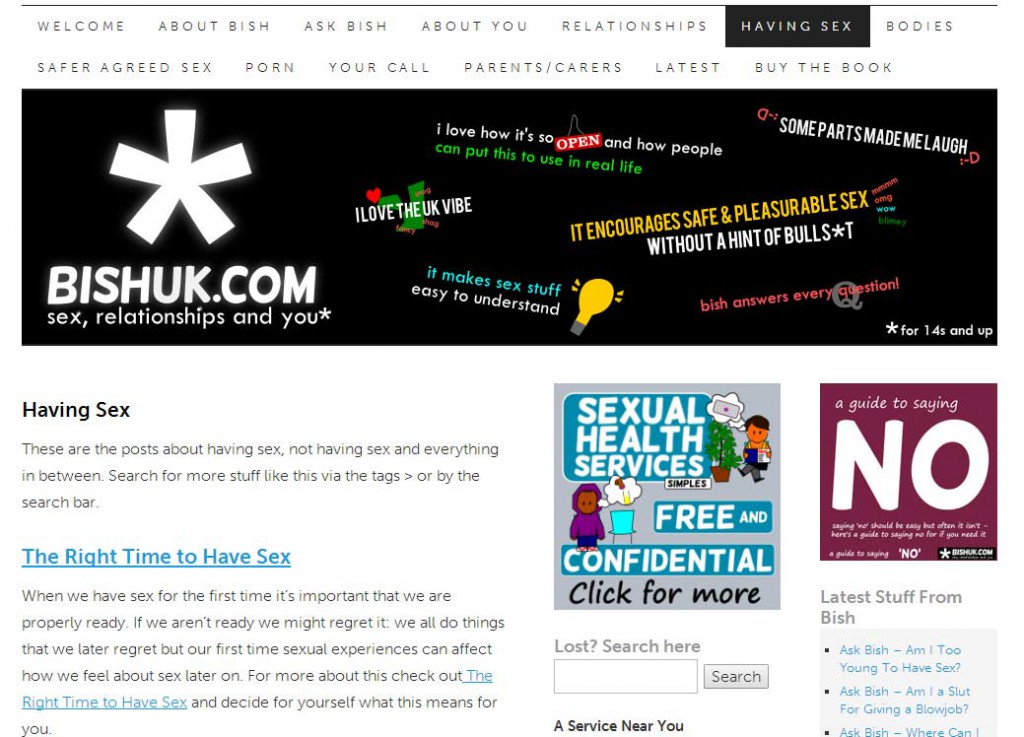 Bish is a wonderfully pragmatic sex education site but it was blocked when the filters went online
ISPs, while quite complicit in the government blocking until now, have begun voicing some concerns over the mass site blocking, with a spokesperson for the Internet Service Providers Association saying: "There's a growing realisation that filters are not perfect and will lead to some over-blocking. There's a feeling that some sites sit in a grey area and more needs to be done for them."
However the government is surging ahead anyway, suggesting that it wants to get the filters more nuanced by the time ISPs are forced to ring current customers and ask if they want their pornography (and many charitable websites) filtered or not – in what some would say is an attempt at shaming people into censorship. It also plans to introduce new elements that will be affected by the filters, with Mr Cameron previously stating things like "violent material," ; "alcohol," ; "smoking," ; "suicide," and "anorexia", will all be blocked.
As with all blocks though, these filters are very easy to get around, meaning the children that are supposed to be protected by this and probably have a better understanding of the computer/phone they're looking at it than their implementing parents, will easily be able to bypass the filters.
KitGuru Says: This is a big stepping stone to censoring all sorts of things. Just look at how broad those topics are. "Violence." So will that mean every MMA site is blocked? Smoking? Does that mean we can't buy Tobacco online? It's so vague and potentially far reaching, I really hope some method of stopping this roll out appears.
In the mean time, if any ISP is willing to stand up and not implement these blocks, you'll have my business immediately.