The app-based, ride hailing service, Uber, has faced a lot of criticism as it's launched around the world, with governments and local authorities unsure how to deal with the relatively unregulated platform, and taxi drivers facing a very disruptive competitor to their long-standing monopoly on taking people from A-to-B. The same was set to happen in London, but consumers and business leaders have now come out in support of Uber, suggesting that blocking it in any way would stifle the city's penchant for innovation.
This initially kicked off when documents were revealed that showed local government body, Transport for London (TfL) planning to ban several of Uber's key features and stack the odds against it. Measures like forcing a minimum wait time of five minutes between hailing a vehicle and getting into it and banning booking a hire-car via an app.
That backwards thinking has got many people hopping mad, and has prompted a backlash from groups like the Institute of Directors (Iod), an executive networking and representation organisation, which attacked TfL, claiming that it's plans would "damage London's reputation for innovation," and "embed economic inefficiency," creating "artificially high prices for passengers."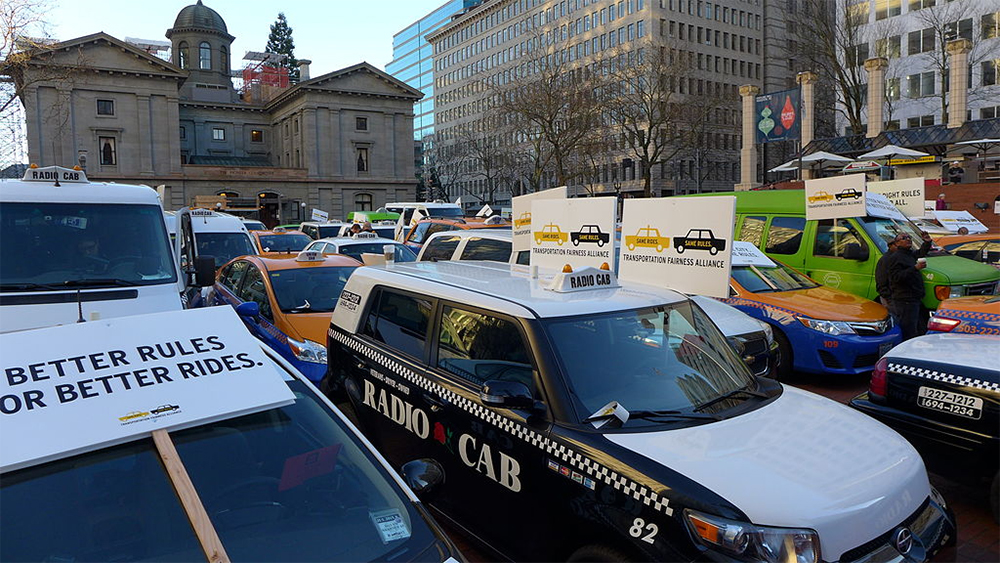 Uber protests by taxi companies elsewhere in the world have even grown violent. Source: Wikimedia
However, the IoD doesn't want to just see Uber thrive and taxi firms fail. Instead, it wants the TfL to take this opportunity to overhaul the long-standing, draconian taxi laws that make it impossible for firms to compete with Uber.
"This is not a case of old companies whinging about the new kids on the block without valid cause. The traditional private hire and black cab industries have legitimate concerns about how to compete while they are shackled by pointless, twentieth-century regulations which do not reflect the way we live, work and travel," it said in a posting.
It goes on to suggest that the TfL "strip back archaic regulation," to aid taxi companies and make it so that they can compete directly with Uber. This it claims, would improve the service for consumers, whilst making for a healthier marketplace in London and encouraging change and innovation in the sector.
Consumers were right there with it, with more than 112,000 people signing a petition to encourage the TfL to put drivers and riders first, over bureaucracy.
Discuss on our Facebook page, HERE.
KitGuru Says: Uber has been a disruptive service in many ways. Not only has it made it obvious that there are much quicker and efficient ways to get a ride somewhere, but it highlights how constricted by red tape and under-the-table payments the taxi industry is around the world. London appears to be no different.