To most of us, the Winkelvoss twins are those two guys played by Armie Hammer in the movie The Social Network, which, would you believe it, came out in 2010. However the real life counterparts are perhaps more impressive, ultimately gaining a $65 million payout from Zuckerberg for – as they claim it – stealing their idea for Facebook. Beyond that they've rowed in the Olympics and have studied at some of the world's finest universities. They're not the business success of their sued rival of course, but they do have some industry clout, smarts and cash to back it up, which is why it's perhaps noteworthy when the pair say they believe bitcoin could be an even bigger game changer than the social network they've been linked with for the best part of a decade.
The twins apparently "discovered," bitcoin back in 2012, when a mutual friend discussed the technology with them – which makes you wonder if they might be one of the few sitting on a massive stockpile of the currency. Considering it's gone up in value by many thousands of per cent since then, you'd hope so for their sanity. They missed the boat on something once, doing so again would be a real kicker.
"Bitcoin is a protocol for decentralisation, so you could build a decentralised company on top of it, a stock market," the pair said in an interview with The Guardian.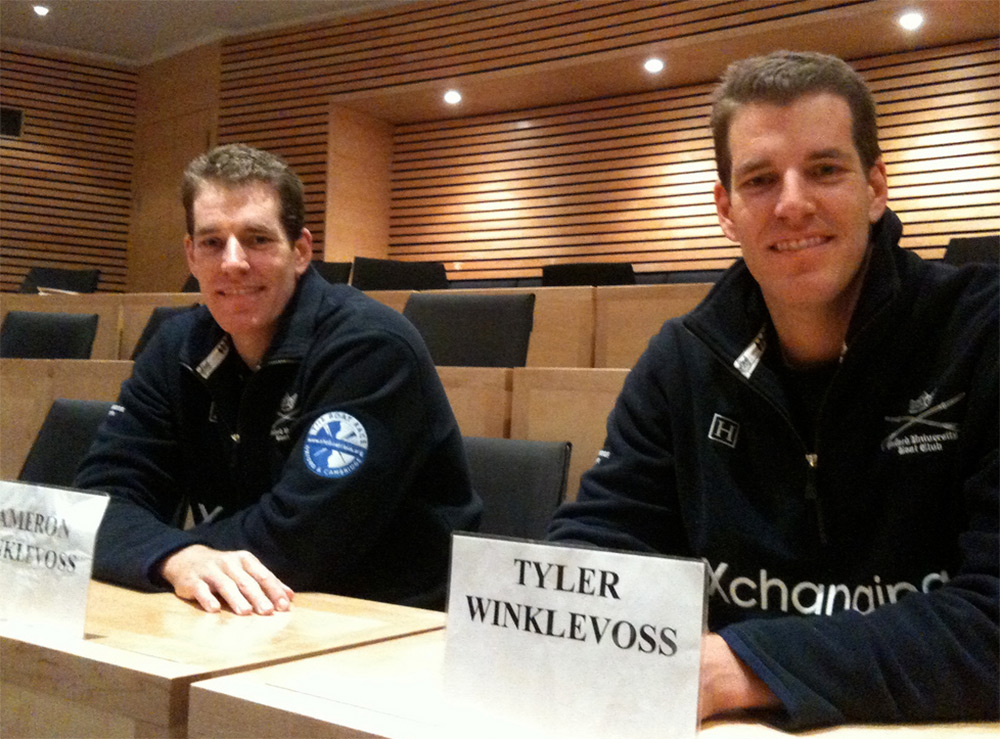 The twins seen here, studying at Oxford in 2010
Ultimately the twins believe that a decentralised currency would allow developing nations to compete on the global financial stage without the need for middle-men which bring their own hurdles and hoops to traverse and slip through.
"Bitcoin potentially could be more impactful because being able to donate 50 cents to someone across the world has more impact than potentially sharing a picture, but they're very different. Facebook is like the internet – a large company and an application," they continued, evidently not resisting taking a jab at their biggest claim to fame.
As it stands, both twins believe the potential of the internet is being held back by payment providers and the banks. In their opinion, a free, secure commerce would open up a lot of businesses and individuals to fame and fortune.
Of course though, without a centralised holding point, there's the issues of accountability. Hacks and scams have been rife in the bitcoin community over the past six months, which perhaps makes it more untrustworthy than traditional currency options.
KitGuru Says: What do you guys think of the twins' prediction? Will bitcoin someday have a bigger impact than Facebook?