Twitch might be almost entirely known for its gaming streams making it one of the most popular video sites in the world, but that isn't all new owner Amazon want to restrict it too. To that end, Twitch Creative was born: a platform within Twitch that lets viewers watch artists of all types painting, sculpting, carving and any number of other artistic endeavours. To celebrate the launch of this new platform and Twitch's partnership with Adobe that made it happen, it's streaming every episode of Bob Ross's The Joy of Painting.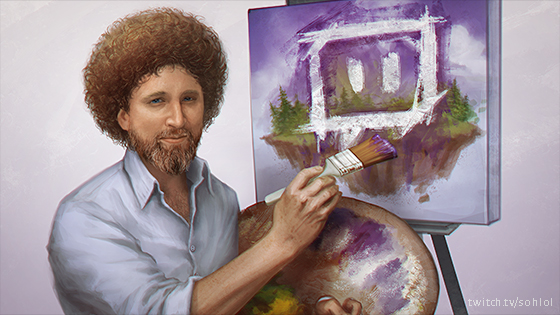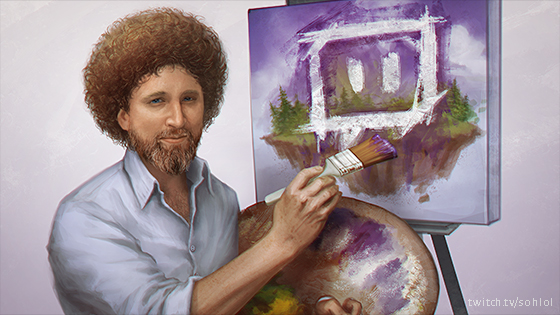 That's a lot of Bob Ross too, as the man was well known to complete entire seasons of his long running painting show in just a few days. There's 403 in total, and while after a couple of days Twitch has certainly ploughed through a lot of them, there's still more than six days worth of shows to get your teeth into if you fancy relaxing or learning some wet on wet painting techniques too.
It's proving a popular stream as at the time of writing there are just shy of 45,000 people enjoying his sultry tones and brush strokes and more than 400,000 have checked in over the last 48 hours. They're also enjoying the new Bob Ross Kappa emote too, which is showing up with an impressive frequency.
The new Twitch Creative platform has introduced a new tagging system too, to help people categorise their work. Whatever their activity, they can add a little tag for #drawing, or #painting, which should make it easy to find the type of creative endeavours that you want to watch.
Discuss on our Facebook page, HERE.
KitGuru Says: Although I don't see Twitch Creative being as popular as its gaming channels, it's an interesting idea that helps separate it from other sites like Youtube which have much more of a general content spectrum.