Youtube announced earlier this year that it had plans to implement a 60 frames per second video standard, that those uploading videos at 720P or higher could take advantage of, and it wasn't lying. Now that feature has been implemented and with the ongoing debate between gamers and developers over how much it matters if a game runs at 30 frames per second or more, it couldn't have come at a better time.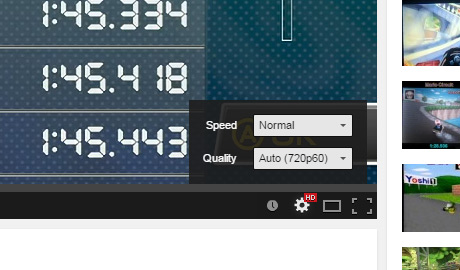 Of course videos aren't the best way to showcase why a video game should support a higher frame rate than 30 – as games are more about feeling smooth than they are about looking it – but there's a definite difference between the standard 30 and the smoother 60.
[yframe url='http://www.youtube.com/watch?v=_zPm3SSj6W8′] [yframe url='http://www.youtube.com/watch?v=T3ny9zIckP0′]
To view either of these videos at the higher frame rate, you'll need to be using Google Chrome and bump the resolution up to 720P, but you can select lower resolutions to compare it to lower frame rates if you want to see what the difference is. It's quite dramatic in places.
While Let's Plays will obviously get a boon from this move, other aspects of gaming like Esports will also benefit. In fast paced MOBAs, keeping track of the action can become incredibly difficult at time, so having a few extra frames each second to display just what the hell is going on could make it a little easier to keep up with.
Discuss on our Facebook page, HERE.
KitGuru Says: I'm not hugely bothered by the lack of 1080p resolution on some games, as I'd rather have features like tessellation and advanced lighting over a higher resolution, but I do want more than 30 FPS in my games. Hopefully this support for 60 FPS will help sway developers to agree.
[Thanks
Kotaku
]