The worldwide scientific community can consider itself one step closer to the goal of one day building a true nuclear fusion reactor, following a successful trial of plasma generation and stabilisation at the Wendelstein 7-X stellarator in Greifswald, Germany. Although the super-hot gas was only stabilised for a fraction of a second, the test confirmed the functionality of many aspects of the system, which can now be pushed further.
"Everything went well today," said Robert Wolf, a senior scientist on the project said (via CBC). "With a system as complex as this you have to make sure everything works perfectly and there's always a risk.
This latest experiement allowed researchers to test the multitude of magnets required, which must be super-cooled during operation. Scientists claimed that they drew a lot of inspiration from the early problems with the Large Hadron Collider's magnet woes in their design of the system.
German Chancellor, Angela Merkel pushed the button herself to begin the hydrogen plasma test. It injected a minute amount of the highly combustible element into a doughnut shaped collection of electro magnets and used microwaves to heat it to extreme temperatures, turning into plasma. Since plasma, unlike other states of matter, is susceptible to strong magnetic fields, that allows such a volatile substance to be stabilised without physical contact.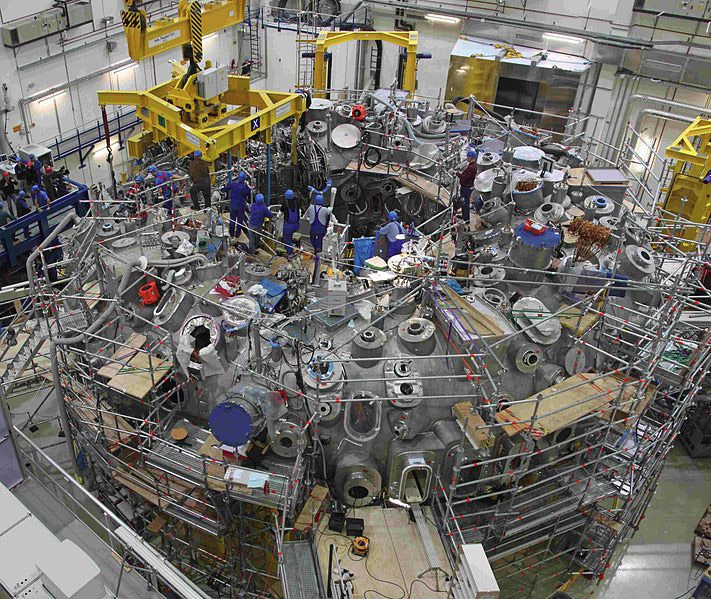 Source: Wikimedia
In theory, keeping a body of plasma stable for an extended period of time would allows scientists to harness nuclear fusion, which would allow for the harvesting of masses of energy without the pitfalls of traditional fuel sources. While those involved understand that this is just a minute step towards that goal, it is an important one, as fusion could theoretically replace almost all other forms of power generation.
The German made Wendelstein 7-X stellarator is not designed to produce energy in its own right, but allows for the testing of many principles of fusion. It is hoped that by 2025, researchers will have made it possible to stabilise plasma for up to 30 minutes at a time, which would pave the way for future research and development.
Merkel, who herself holds a doctorate in physics, is keen to keep Germany pushing the technology forward, seeing it as one of the more important technological breakthroughs that could be achieved this century.
Discuss on our Facebook page, HERE.
KitGuru Says: Fusion would be a massive boon to the human race and could facilitate all sorts of exciting future technologies.