It's been nearly six months since Space X has launched one of its Falcon 9 rockets, after the last one spectacularly exploded due to an overpressure event shortly after launch in June. But this week will see the commercial space venture testing a new and improved version of the rocket, with plans to test another full launch (and potential recovery of the first stage too) this week.
The plan as it currently stands is to perform a static-burn test of the Falcon 9's first stage rocket engines today, 16th December and if all goes to plan, a full launch within three days. The reason the former test is required, is because as part of refining the Falcon 9 design to avoid the problems faced with the last launch, the overall engine thrust has been improved too.
Elon Musk spoke about these changes earlier this week, stating that Space X had also improved the state separation system and increased the size of the upper stage slightly so that it could hold additional propellant (as per Spacenews).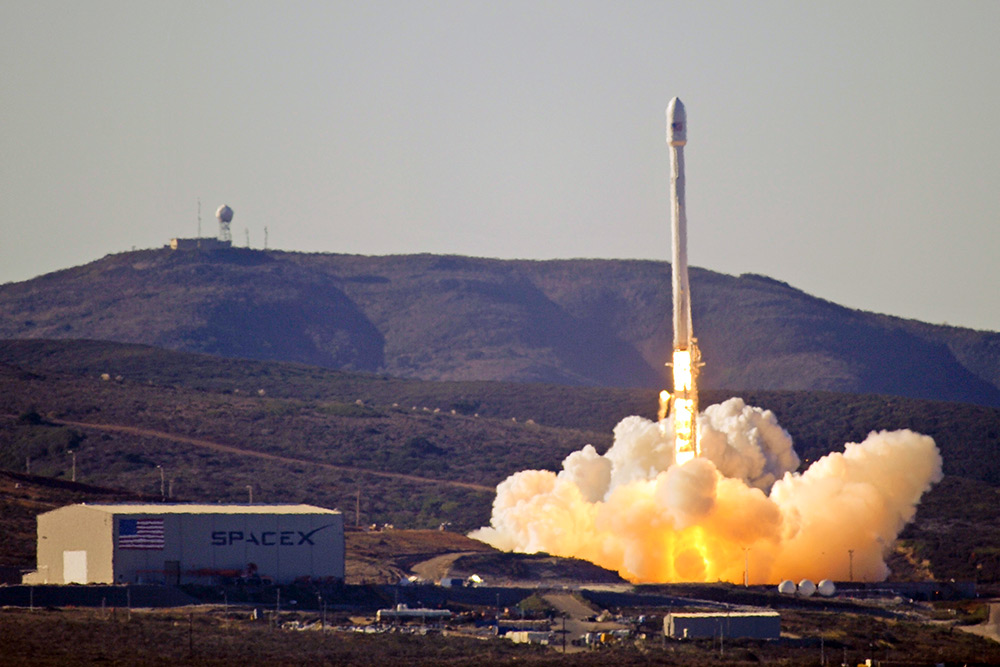 Source: Wikimedia
The big change though that will be expected, is a change of struts within the helium tanks that are used to maintain pressure within the liquid oxygen tanks. During the failed launch of the last Falcon 9, one of the struts broke under heavy acceleration and caused the cannister to careen into the interior of the tank, whereby it released all of its helium at once, overpressuring the oxygen tank and causing an explosion.
Aiming for Falcon rocket static fire at Cape Canaveral on the 16th and launch about three days later

— Elon Musk (@elonmusk) December 10, 2015
However as much as all of these improvements are exciting, much of the attention from fans and scientists around the world will be on whether Space X will be able to recover its first stage rocket booster. Throughout many of its more recent launches, Space X has attempted to land the first stage booster on an automated drone barge, thereby allowing for its recovery, refurbishment and re-use.
While it has yet to do so safely, if successful, it would cut the costs of transporting materials into Low-Earth-Orbit by a huge margin, making it much more efficient and cost effective.
Discuss on our Facebook page, HERE.
KitGuru Says: There's also been hints that Space X may try and land the first stage on land, rather than on water – perhaps to show off against fellow space launching teams like Blue Origins. However it would require permission from the FAA to do so, as there are always risks in trying to land a space craft over land.