Space X made history in the early hours of this morning, when it launched its new and improved Falcon 9 rocket into Low-Earth Orbit, separating the first stage booster part-way through the ascent, and returning it safely to Earth. This is Space X's first successful landing of the first stage and more importantly, the first time anyone has landed such a large rocket booster on land.
Poetically this is also the first rocket launch Space X has taken part in since July this year, when its older model Falcon 9 experienced an overpressure event half-way through the first stage burn, causing it to explode. This time though all went as planned. The rocket took off from Cape Canaveral at 8:29PM ET (1:29AM GMT), burned for a few minutes before first stage separation.
While the second stage and payload continued to orbit, the first stage completed a controlled burn during its descent and safely touched down at a designated launch site.
[yframe url='http://www.youtube.com/watch?v=O5bTbVbe4e4′]
Although the above webcast shows the full 45 minute webcast covering the pre-launch preparations, stage separations and the landing, for those that just want to see the first stage touch-back down, Space X isolated that footage for the sizzle reel:
[yframe url='http://www.youtube.com/watch?v=ZCBE8ocOkAQ']
To make the landing possible, the first stage rocket completed a "Boostback Burn," which utilised three of its nine engines to help slow its descent back to Earth. It also extended its landing legs, which lie near-flush with the rocket body during launch.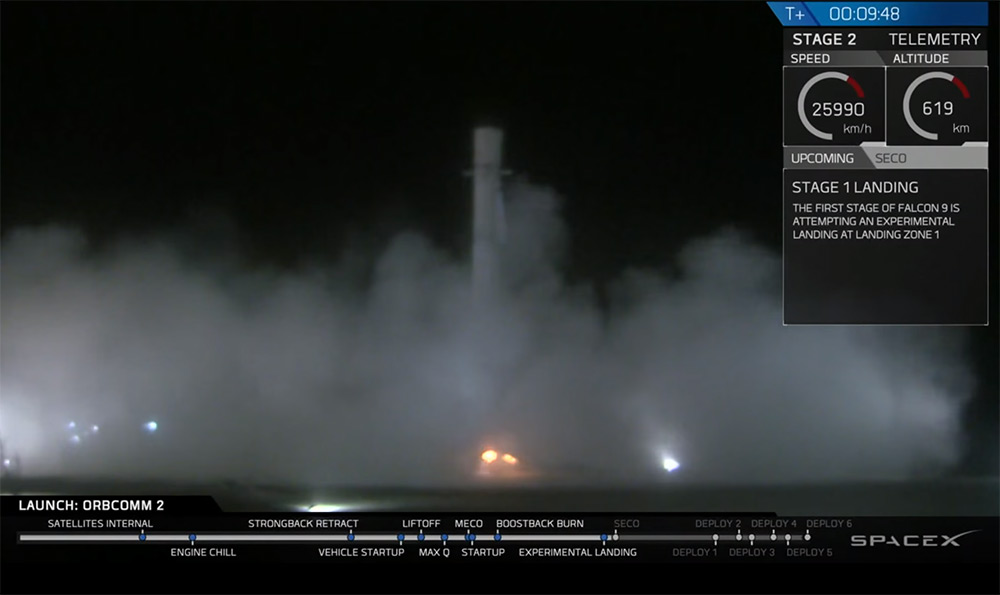 The Falcon has landed
This landing isn't just big news for Space X though. As much as it's a major achievement for the commercial space venture, it's even bigger news for the likes of NASA and other organisations, as it cuts their potential costs by huge margins. Recovering the first stage booster rocket on every launch would save millions in costs and drastically cuts the price of sending hardware and people into orbit.
Live video from LZ-1 pic.twitter.com/Ve6gEXfOdh

— Elon Musk (@elonmusk) December 22, 2015
And on top of that, the satellite payload deployed just fine too.
Discuss on our Facebook page, HERE.
KitGuru Says: This is a historic moment in space travel. It just became much, much cheaper and if it can be repeated, means more launches, more often.