All of the KitGuru team are enthusiast users, just like our readers. We buy hardware every year and for the most part it is a pain free, sometimes even pleasant experience. No feeling can beat upgrading that new video card, or adding a new motherboard and processor. But what happens when it goes wrong ? and like everything in life, you can be sure that sometimes it will.
Matthew Wilson, one of our editorial team bought a new Acer XB270HU Predator Nvidia G-Sync monitor from retailer ARIA, shown HERE on their store. ARIA are a local Manchester retailer for Matthew, so he thought it was easier buying here.
When he fired it up, all seemed to be well – until he noticed that there was a dead pixel, slam in the central part of the screen. You can recap on the original story over HERE. When Matthew drove the screen to ARIA a few streets away, the sales guy refused to replace it, claiming 'up to 19 dead pixels' on a 27 inch 2560×1440 monitor was considered acceptable.
This opened a hornets nest – is this really how customers are being treated when they bring in faulty goods? It seems this grey area of 'it is not really faulty if there are some dead pixels, you can still use it afterall' has been letting companies and retailers get away with less than perfect products. Is it right? would you be happy accepting even a small fault after spending £550? What about up to 19 dead sectors on a new hard drive? Is that acceptable too?
But it got worse.

When Matthew asked for a refund as he found the dead pixel too distracting the representative told him that he could indeed have a refund, but ARIA would claim 25% of the £550 asking price – or £137.50 in total. Perhaps this is a restocking fee? Matthew didn't argue or even tell the representative at the time that he wrote for a popular technology publication in the UK – he simply took the screen home and called me to relay the whole experience. After all, he was simply a customer buying a new, expensive gaming screen. What protection did a punter really have?
During the conversation, we discussed that if other monitors exhibited dead pixels, then it would cost £137.50 each time he would ask for a refund – with the end goal of getting a monitor which exhibited  'no dead pixels'. That is a pretty expensive policy for ARIA to put in place.
Our initial story published on Saturday received over 50,000 views and hundreds of our readers commented in the public thread – detailing their own experiences with retailers. It wasn't all negative, some retailers seemed to have a more supportive policy for their customers. Many readers posted good feedback for retailers such as SCAN and Overclockers UK. A few even said that their local dealers had taken the screen out of the box in store to check for dead pixels. That is truly commendable in my book – that is the kind of store you would want to come back to again.
I have sent out emails to various stores today and we await their own feedback, especially as it would appear that the UK has a new '30 day refund' law in place, implemented on the 1st October – or 4 days ago. You can read about this new law HERE.
After Matthew emailed ARIA highlighting our story and explaining he was a writer for KitGuru they replied via email which we post here today verbatim:-
'It has come to our attention, the Acer Predator XB270HU Gaming Monitor is not meeting the expected satisfactory requirements of our customers. Despite it falling under the manufacturer's acceptable guidelines for the number of dead pixels, here at Aria, we want to help.
For that reason, we have withdrawn the monitor from sale. If you have received your monitor and found it to have any dead or stuck pixels, then we have 2 options available for you.
Option 1 – Refund
Should your monitor have any dead/stuck pixels and you no longer want to take the chance that another one will be fine, please reply to this email with a date and time when you will be available and we will arrange a collection from you and give you a full refund via your original payment method.
Option 2 – Alternative Replacement
If you've received your monitor with dead/stuck pixels, and would like an alternative monitor, please reply with the quickcode of your preferred replacement and I'll arrange for it to be sent out and the difference refunded by your original payment method. The driver will collect your faulty monitor at the same time so please advise a date and time convenient to yourself.
Here at Aria, we can only apologise for the inconvenience, and most likely, the frustration that this issue may have caused you.
We hope that in taking this unprecedented step for a small retailer, your faith in Aria as your number one computer supplier is restored and we can long-continue to be your number one choice for all of your computer needs.
—
Kind Regards
Nick Frost
Key Accounts Manager'
_________________________
ARIA say they have withdrawn this particular monitor from sale and are offering Matthew a full replacement or refund – without the 25% charge he was told he would have to pay in store on Saturday.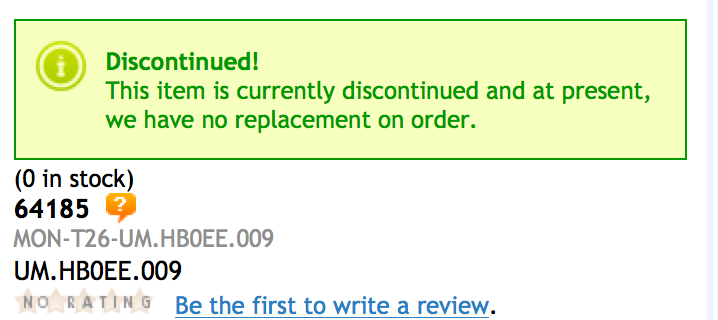 Perhaps Aria have changed their policy since Saturday, or perhaps that 25% 'refund/restock' charge should never have been there in the first place. Are there problems with the ACER monitor and its only came to a head today? Why remove it from sale entirely?
We do urge all our readers if you have ever had to deal with poor customer service or have been told something you thought 'could not be legally enforceable' please do let me know. email me at [email protected] and we can follow up with you. We do hope that replacing a faulty product isn't seen as an 'unprecedented step' for any retailer in the future – regardless of how they might like to try and spin it.
Discuss on our Facebook page, over HERE.
Kitguru say: Matthew has been offered a replacement, or a refund without the claimed 25% charge. But is this the power of the media rather than fixing a customer relations mistake? Do let us know if you have had any problems with any retailer. These kind of practices do need 'named and shamed'.