The Pokemon Company International is demanding $4000 from a fan of the series after he organized a Pokemon themed party to celebrate the kick off of PAX earlier this year. Ramar Larkin Jones organized the unofficial Pokemon PAX party this year but had to cancel it at the last minute following legal threats. However, even though the event didn't go ahead, the Pokemon Company still wants a payout.
The big mistake seems to be the use of two characters of the series on the poster. While the party was always labelled as 'unofficial', due to Pikachu appearing on what could be considered 'marketing material', the Pokemon company isn't letting it go.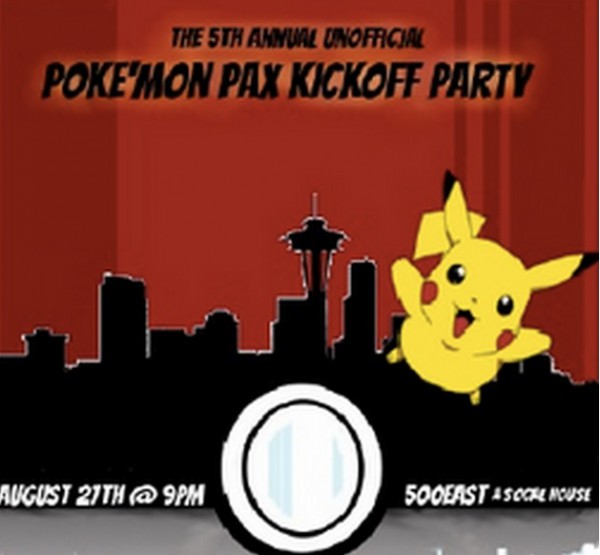 Now, Ramar Larkin Jones isn't rich to the best of our knowledge, he doesn't have the funds to fight this in a court case or even pay the fine himself right away. Instead of trying to fight this, he is going to pay the fine, though he is asking the community to chip in with a GoFundMe campaign:
"Hi, I'm Larkin Jones and I'm being sued by Pokémon. I'm a video gamer, huge Pokémon fan and over all a huge geek. The day before the PAX party, Pokémon sued me. Without even a cease and desist. Totally didn't expect that. Pokémon wants $4000 that I just don't have."
He claims that he offered to pay the fine off in instalments over the course of a year but the Pokemon Company weren't having any of it and demanded the cash within 45 days. Larkin Jones works in a cafe, so $4000 isn't just something he has lying around. While the unofficial Pokemon party has been held prior to PAX annually since 2011, the organizer claims that it always resulted in him losing money, but he continued to put the event on anyway due to positive reception. He had received no objections in the past so this year's lawsuit came as quite a surprise.
Discuss on our Facebook page, HERE.
KitGuru Says: Slapping a fan with a $4000 fine seems a bit excessive, especially since the event was cancelled as per the Pokemon Company's initial request. On top of that, they denied his request for a pay-off period, which just seems to make matters worse. What do you guys think of this? Who is in the wrong here? While I understand that the Pokemon Company need to protect their IP, shaking down a fan for cash seems like an awful move.