Nvidia Corp. is one of the world's most successful developers of graphics processors ever, but the company is constantly searching for new markets for itself. Cars nowadays require a lot of general-purpose processing horsepower and visual processing capabilities, something that Nvidia can deliver thanks to its expertise in GPUs and mobile application processors. However, it is impossible to just flip a mobile SoC into a car, something that has taken years for Nvidia to learn.
For years, Nvidia has been trying to offer a breakthrough highly-integrated mobile system-on-chip for PDAs, media players, smartphones and then tablets, but without a lot of success. While the company could develop excellent graphics processing hardware and integrate ARM Cortex general-purpose cores into its application processors, its mobile SoCs have never become popular with device makers. They either did not support crucial functionality, were late to the market, were too power hungry, or the combination of everything.
But that does not mean that Nvidia Tegra processors were a massive failure. The market of feature-rich application processors for various devices is expanding, so Nvidia took a look at industries beyond personal mobile computing. Modern automobiles use a lot of computing technologies for various things, including infotainment. Trying to sell its excellent graphics processing tech, Nvidia managed to ink a contract with Audi in 2011 and starting from 2012 select vehicles from the company started to use Tegra application processors for infotainment and navigation systems. While both systems are not mission-critical for vehicles, they have to be extremely robust. Nvidia cannot just install its Tegra into an Audi, it has to design the chip for maximum reliability and create software that works perfectly 100 per cent of time.
"We had to be taught what 'automotive grade' meant," recalls Danny Shapiro, Nvidia's senior director of automotive operations, in an interview with Reuters news-agency. "In simple terms, that meant no reboots – because a dashboard screen that fails to light up means an angry customer and possibly an expensive warranty repair."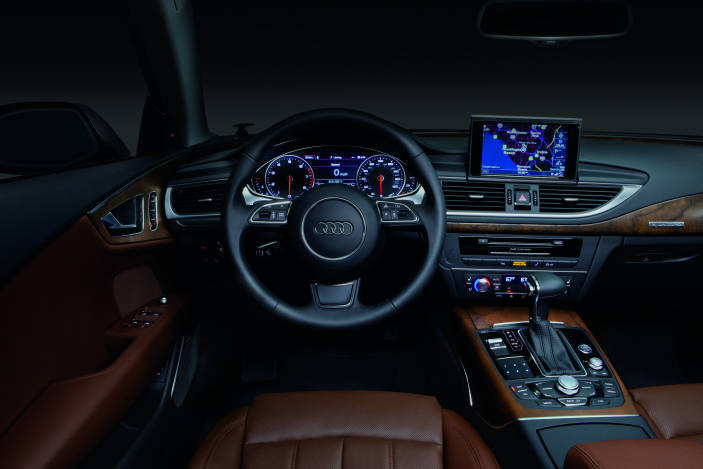 In a bid to be inside cars, Nvidia needed to rethink its development cycles (cars are updated once in a few years, new smartphones are released every year) and design chips in accordance with new requirements.
"We told the Nvidia guys, 'you make one part, but we assemble a car here from 10,000 pieces,'" said Mathias Halliger, Audi's senior systems architect for connected vehicle technologies. "If even one part is bad, we have a problem."
Nvidia is an ambitious company. Today its chips power various systems inside Audi, Lamborghini and Tesla Model S, but tomorrow the company wants to become the brain of cars. Earlier this year Nvidia introduced its Nvidia Drive platform for automotive computers. At present, the company offers Drive PX, for developing auto-pilot capabilities, and Drive CX, for creating advanced digital cockpit systems. The Drive PX features two Tegra X1 system-on-chips, has inputs for up to 12 high-resolution cameras, and can process up to 1.3 gigapixels of visual data per second.
"They offer us computing systems with the strength" to process vast amounts of data required by new driver assistance systems and displays, said Ulrich Hackenberg, Audi's head of technical development.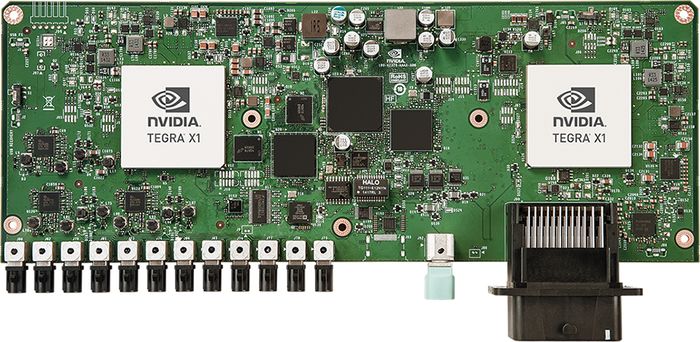 Nvidia is massively behind its competitors in the market of chips for automobiles. Nvidia's automotive sales represented just 4 per cent of the company's $4.7 billion annual revenue in its most recent fiscal year, according to Reuters. By contrast, sales of automotive semiconductors totalled $1.86 billion at Texas Instruments last year.
In a bid to catch up with rivals, Nvidia wants to power self-driving systems inside future cars with extremely advanced chips. The company has excellent graphics processing architectures, which can be used for highly-parallel workloads like image recognition, as well as powerful general-purpose processors for a variety of serial tasks. In the future, Nvidia will probably have to integrate ARM Cortex-R-series cores for real-time computing tasks into its Tegra chips or Drive platforms. There are a lot of other technologies that Nvidia will need to license or build in house for its future solutions for the automotive industry. But the company seems to be ready for a long journey, which is only starting.
"When you work with car companies and you engage in these developments with them, over the years you adopt their culture," said Jen-Hsun Huang, chief executive of Nvidia. "But the car is dying to be reinvented."
One of the problems for Nvidia is that the world does not stand still. Companies like Intel, Qualcomm and many other also sell chips to automakers and they will not just leave because of Nvidia. They also have GPU and general-purpose processing technologies as well as massive financial resources. Therefore, the battle will be tough.
Discuss on our Facebook page, HERE.
KitGuru Says: By discussing its automotive initiatives without revealing any new details Nvidia wants to make it clear for investors that it is absolutely serious about its car chip business. From technology point of view it means that Tegra SoCs will be tailored for cars, not for mobile applications.