Advanced Micro Devices this week quietly updated its official price-list and published the new prices of its A-series accelerated processing units. In addition to updating its official price-list, AMD also notified several web-sites about price-cuts on low-end models not listed at the company's web-site.
For the first time since the formal launch of the latest-generation AMD A-series "Kaveri" accelerated processing units AMD reduced their prices by 8 – 16 per cent depending on the model. The most affordable unlocked "Kaveri" – the dual-core AMD A6-7400K – got even more significant price slash of 22 per cent and is now available for $58 (in 1000-unit quantities).
In addition, AMD reduced prices on select A-series APUs that belong to the previous-generation code-named "Richland", according to the information AMD provided to the Tech Report and Tom's Hardware.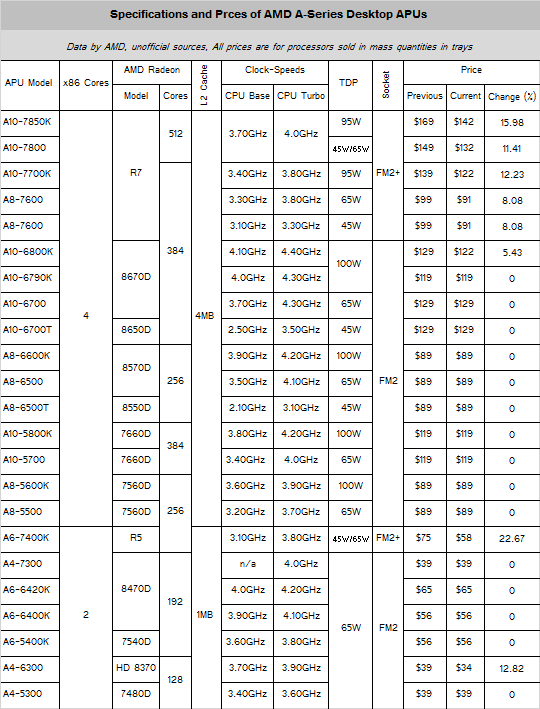 What should be noted is that even though AMD has the official price-list on its web-site, it does not usually reflect real-world prices since the company does not update it too often. For example, AMD slashed prices on select A-series models on the 1st of September, 2014, but it never reflected the move in the formal price-list. Moreover, even now AMD's official price (for direct AMD customers in 1000-unit tray quantities) of the A10-6800K is $122, but the SEP [suggested e-tail price] of the chip revealed by the Tech Report is $112, which generally means that customers of U.S. online stores can buy AMD hardware at a lower price than direct customers of AMD.
The changes in the official price-list of AMD echoes the company's commitment to make its products cheaper in a bid to improve their competitive positions. AMD is usually flexible in terms of pricing and there are many examples when AMD slashed prices of its chips without making formal notifications.
Those, who are lucky enough to get an AMD A10-series APU at a right place until the end of the month will be able to get one of three games for free: Murdered: Soul Suspect, Thief, Sniper Elite 3, or a copy of Corel Aftershot Pro 2 for $5.
Discuss on our Facebook page, HERE.
KitGuru Says: It is nice to see that AMD's A-series APUs are getting more affordable. Perhaps, this will make them more popular among those who need low-cost PCs with basic performance and a decent graphics processor.