Republic of Gamers is a very familiar name when you think of PC components. ASUS has a ROG variant of pretty everything you need when creating a custom build. The range extends from Monitors and peripherals to Motherboards, GPUs, Coolers and Power supplies. In this review we take a look at the missing piece, The ROG STRIX Helios case.
It's been designed specially for showcase builds with AURA RGB lighting and lots of tempered glass to exhibit the components inside. However as with most ROG components you do pay a premium and with the Helios coming in at a whopping £269.99 it doesn't come cheap. So is this case worth the cash?
Watch via our Vimeo channel (below) or over on YouTube at 2160p HERE
TIMESTAMPS:
00:13 Briony Unboxed / Introduction
00:49 The Components breakdown
05:10 Case Filters Closeup
06:20 Panel and PSU Shroud removal
09:40 Taking a look inside the case
11:10 SSD time
12:50 Installing the CPU and Memory
14:20 Installing the ROG Strix Z390-E Gaming motherboard
15:46 Installing the ROG Thor 850W Platinum PSU
19:13 Connecting up the motherboard cables
20:10 Admiring the case design
21:08 Installing the ASUS AIO Cooler
27:20 Cable work
30:25 Installing the ASUS Rox Strix 2060
33:50 Some niggling issues with PCIe Extension cable
35:00 Briony does the Cable Management
39:00 System built !
Gallery:
Specifications:
Motherboard Compatibility: EATX (up to 12" x 10.9"), ATX, Micro-ATX, Mini-ITX
Dimensions (W x H x D): 250mm x 591mm x 565mm
Weight: 18 kg
Material: Aluminum, Steel, Tempered Glass, ABS Plastic
 I/O Port: 1 x USB 3.1 Gen 2 Type-C™, 4 x USB 3.1 Gen 1, 1 x Headphone, 1 x Microphone, LED Lighting Control & Fan Speed Control Buttons
 3.5"/2.5" Drive Bays: 2
 2.5" Drive Bays: 4
 Expansion Slots: 8 x Horizontal PCI-E, 2 x Vertical PCI-E
 Maximum GPU Length: 450 mm
 Maximum CPU Cooler Height: 190 mm
 Maximum PSU Length: 220 mm
 Front Radiator Support: 120, 140, 240, 280, 360, 420 mm
 Top Radiator Support: 120, 140, 240, 280, 360 mm
 Rear Radiator Support: 120, 140 mm
 Front Cooling Support: 3 x 140 mm / 3 x 120 mm (Radiator + Fan Thickness: Max. 90mm)
 Top Cooling Support: 2 x 140 mm / 3 x 120 mm (Radiator + Fan Thickness: Max. 60mm)
Rear Cooling Support: 1 x 140 mm / 120 mm
Front Pre-Installed Fans: 3 x 140 mm
Rear Pre-Installed Fans: 1 x 140 mm
Removable Dust Filters Front: Slide-Out / Top: Slide-Out / Bottom: Slide-Out
Cable Routing Max. 33 mm
Selling points:
ASUS ROG STRIX Helios – Mid Tower Gaming Case
Featuring Brushed Aluminium construction and three Tempered Glass Panels coupled with Addressable RGB Lighting and ASUS Aura Sync. The case also supports up to E-ATX Motherboards, vertical GPU mounting and extensive water cooling.
Cable Management
The adjustable multi-function cover can be adjusted to fit both ATX and EATX motherboards. Featuring a GPU brace, hiding cabling while providing support for heavy graphics cards. There are also screw holes on the cover for mounting either the ROG Aura Terminal or SSD mounting.
 I/O Panel
The top panel supports multiple front USB combinations, up to 4x USB 3.1 GEN1 and 1x USB 3.1 Gen 2 Type-C™. I/O covers are included to cover up the ports not being used. There are also buttons to switch between the various fan speed and addressable RGB control modes supported.
Horizontal or Vertical GPUs
The case design offers flexible multi-GPU mounting. ROG Strix Helios allows up to three graphics cards to be fitted horizontally, or two in vertical orientation for showcasing your build.
Ready for Water-Cooling
With room for an up to EATX gaming motherboard, space reserved for 420mm front and 360mm top radiators and space to install a water cooling reservoir and pump.
Strong Carry Handles
It's design allows transport of the ROG Strix Helios to LAN parties or gaming events6 with the integrated fabric carry handles, tested to support up to 110 pounds (50 kg).
Test Build components: 
The full build gallery:
Acoustics performance: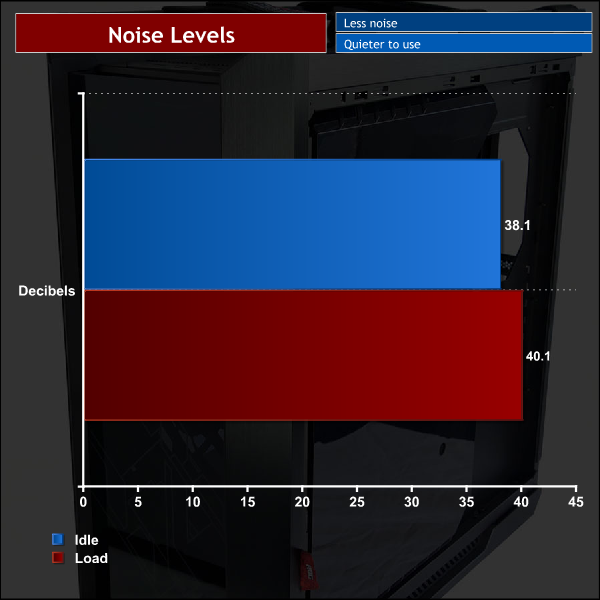 When idle, the fan noise coming from the Helios is just about audible at 38.1 decibels. The 140mm fans that come with the case are high quality & quiet which makes it a very peaceful desk companion. While under heavy load there is a slight increase in noise to 40.1 decibels but this is a lot quieter than some cases we have tested and overall these are some really good results.
Cooling Performance: 
Idle temperatures are 12C to 14C above ambient, with the CPU sitting at 35C and the GPU idling at 37C. This is pretty much as expected and is the same temperature I see regularly with my case reviews featuring the same or similar components. To test how hot the Components got inside the Helios under heavy load they were stress tested using AIDA 64 and the UNIGINE Heaven benchmark for 10 minutes.
This puts the CPU & GPU load up to 100% meaning they both produce plenty of extra heat. The temperatures maxed out at 61C for the CPU and for the 64C for the GPU. This is a good result for the Helios as the components don't get too hot however the tempered glass will impact airflow.
Pros:
Excellent build quality
Included GPU support bracket
RGB lighting with Aura Sync
Loads of tempered glass
Cable management cover makes keeping cables neat easier
Option to mount 2 GPU's Vertically
Cons: 
Incredibly heavy
Carry Handles are impractical for such a heavy case
Only 2 slots for 3.5″ drives
Vertical PCIe bracket obscures other PCIe slots
Expensive
The ASUS ROG Strix Helios case can be found HERE for £269.99

Kitguru says: The ROG Strix Helios is a great case when it comes to build quality, aesthetics and performance. There's loads of room for components and it's easy to build in. If you're looking to build a big show off ROG themed PC then you won't be disappointed however it comes at a high price!