Back in December I made a Christmas wish list of products I would just absolutely love to own. Top of that list was the expensive and hard to find KFA2 HOF RTX 2080 Ti. It's not a GPU that I needed but after seeing photos of the beautiful aesthetic it was something I dreamed of putting in my white-themed build. Fast forward 8 months later and I managed to get my hands on one to unbox and install in my PC. They say money can't buy happiness but for £1,399.99 you can get a lot of FPS and that certainly makes me happy! 
Watch video via Vimeo (below) or over on YouTube at 2160p HERE
GPU Specifications: 
CUDA Cores: 4352

Boost Clock (MHz): 1635

Memory Speed: 14Gbps

Standard Memory Config: 11GB

Memory Interface Width: 352-bit GDDR6

Memory Bandwidth (GB/sec): 616

Feature Support: 

PCI-E 3.0, 

Windows 7 64-bit, Windows 10 64-bit, Linux 64-bit, 

2-way SLI

Connectivity: DisplayPort 1.4 x 3, HDMI 2.0b, USB Type-C ™

Dimensions(with Bracket): 330mmx159mmx57mm

Dimensions(without Bracket): 330mmx145mmx57mm
PC Specifications: 
CPU: I7 7700K
Cooler: RGB H150i Pro 360mm
Memory: Corsair white RGB vengeance Ram 4 x 8GB 3200MHz
Motherboard: ASUS PRIME Z270-A ATX
PSU: Corsair RM750x White Power supply
GPU: KFA2 GTX 1070Ti
3DMark scores: 
3DMark is a great benchmark for comparing different PC systems, laptops and components. I tested the GPUs with 4 benchmarks that use several different resolutions – Time Spy Extreme and Fire Strike Ultra both run at 4K, Time Spy runs at 1440p and Fire Strike 1080p. I took the graphics results from each test to exclude any fluctuations from my CPU and made some comparisons in the graphs below.
Taking a look at the comparison between the 1070 Ti and the 2080 Ti, it is safe to say that this is a pretty huge graphics upgrade. Our Time Spy score more than doubled benchmarks where the DX12 API really allowed the RTX2 080T i to stretch its legs. As the numbers rolled in I was smiling the whole way through at the jump in scores.
Overclocking: 
With the KFA2 HOF RTX 2080 Ti specifically designed for overclocking, it would be a crime not to put it through its paces and squeeze out as much performance as possible. I pushed the hyperboost button on the back of the card which sets the fans to 100% and got to work. I used the HOF AI software rather than something like MSI Afterburner as it has all the settings for the RGB and LED display. However, it also seemed to work really well and is much improved over the KFA2 Xtreme tuner software I was used to using on my GTX 1070 Ti.
.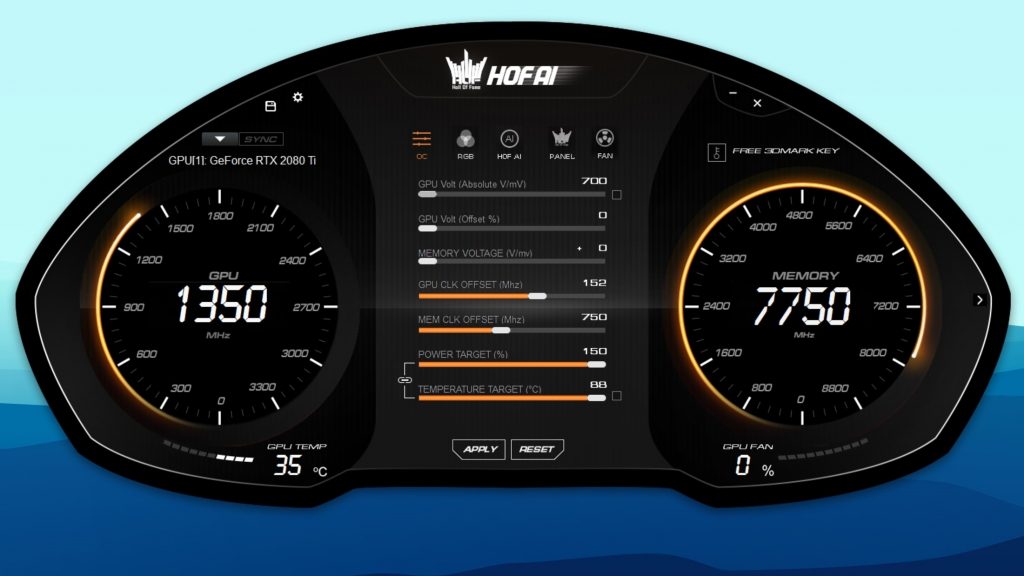 The card didn't seem to react very well to extra voltage so without touching the voltage slider I managed to get the GPU Clock speed to 2100MHz and the memory clock speed to 7750MHz (15000MHz) all with the power target set to 150%. That is a lot of juice! I guess the 3 x 8 pin PCIe connectors make sense now…
The impressive overclock shot the 3DMark scores even higher and although the fans may be loud it was exciting to see how much extra performance I could get for free with just some time spent tweaking the settings. Getting a score of over 10000 on Port Royal felt like a real achievement and I think this card has really given me the overclocking bug. However, I do think that my I7 7700K was holding it back and I would love to try these benchmarks again after a CPU upgrade.
Gaming performance:
To test the real world performance of the graphics upgrade I compared results from a couple of games. I opted to use Shadow of the Tomb raider and Far Cry 5 because they  are both demanding games at 4K and have good in-game benchmarks.
Shadow of the Tomb Raider: 
I tested Shadow of the Tomb Raider at 4K resolution with DX12 On and AA disabled using the Medium, High and Highest preset graphics settings.
The improvement in performance is similar to what I saw in the 3D Mark benchmark tests, as the frame rates more than doubled across all the graphics settings. This shows that the RTX 2080 Ti even at stock speeds is capable of 60fps 4K gaming at really high graphical settings. This makes me very happy as I can enjoy all the eye candy with none of that slideshow effect!
The FPS results from overclocking the HOF card are pretty impressive. Performance increased by at least 10% which is a big difference when it comes to frame rate. I also benchmarked the card with ray tracing set to Ultra and DLSS turned off. The game looked beautiful but as you can see performance takes a huge hit. However, if you're willing to sacrifice frame rates for beauty you can still get a playable 4K 30/40FPS.
Far Cry 5: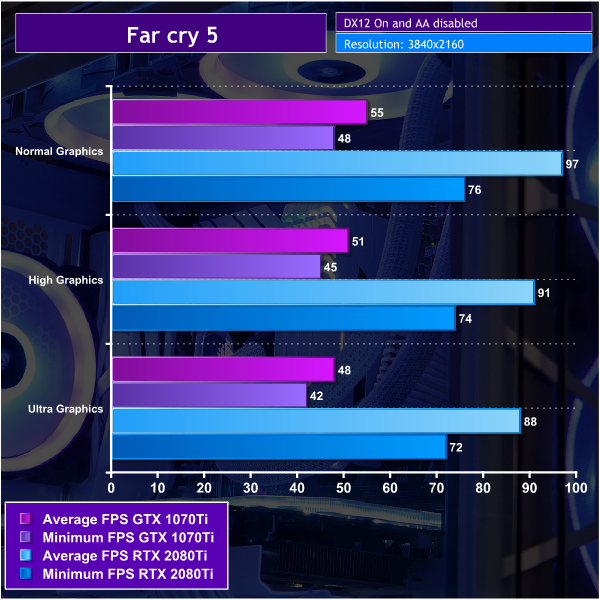 There wasn't quite the same dramatic increase in Far Cry 5 but the performance increase was still very significant and this game is going to be so much more playable for me now at 4K. I never saw it drop below 60FPS on ultra graphics and thats what dreams are made of.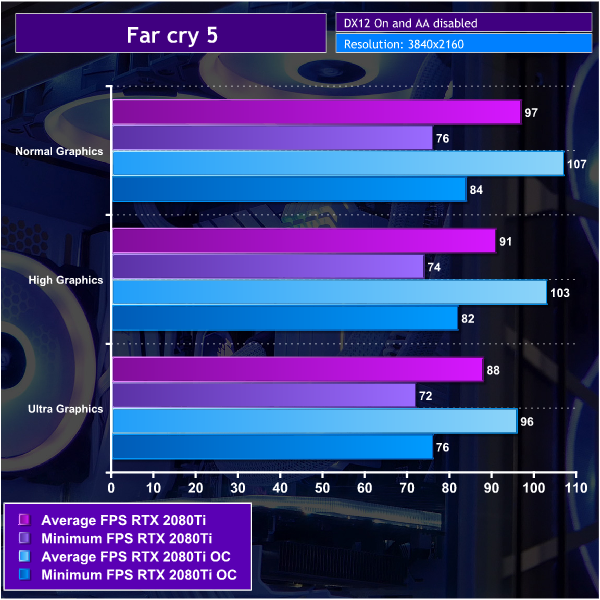 There's no need to overclock the RTX 2080 Ti to get the most out of Far cry 5 but the results are interesting nonetheless. It's a shame I don't have £2000 to drop on a 144Hz monitor… 
Power Consumption: 
As this upgrade was quite a large jump I thought it would be interesting to see the change in power draw between the two cards:
My PC uses a Corsair RM750X power supply which is perfect for my current system. Power supplies are normally most efficient between 50-60% load and with my 1070 Ti drawing 350W it was pretty much bang on and barely breaking a sweat most of the time. Now, although the RM750X meets the RTX 2080 Ti's minimum requirement for a 650W PSU, it's safe to say that it won't be living the easy life from now on when my PC is under load. Before I purchase a CPU it looks like a 1000W PSU will have to be next on my upgrade list!

The KFA2 Hall Of Fame RTX 2080 Ti can be found at Overclockers UK for £1399.99 (reduced from £1589.99) HERE.
KitGuru says: I think its safe to say I won't be craving a graphics upgrade for a while! However, those Ryzen CPUs are looking extremely tempting as I have a feeling my i7-7700K is holding this GPU back…