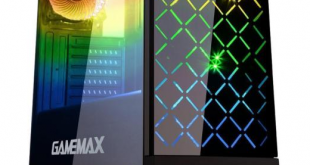 If you are unwilling or unable to spend £150+ on a new chassis then Gamemax have been releasing a series of cheap and cheerful cases which we have reviewed in recent months. Today we look at their Polaris model which features a tempered glass side panel and a remote to control the lighting – and all for the modest asking price of £64.49 – Is it any good?

Watch the video via our VIMEO Channel (Below) or over on YouTube at 1080p HERE

Specification:
Key Features
I/O Ports – The 2 x USB3.0 / USB2.0 and HD Audio.
Remote controller – 1 remote controller controls the LED's freely.
Water-Cooling Support – Front panel supports a 240mm radiator and the back of the case supports a 120mm radiator.
Fans – 3 x 120mm RGB fans on the front,1 x 120mm RGB fans on the rear. Colours include Red, Blue, Green, Cyan, Yellow, Orange and Purple.
Front & Side Panel – With a tempered glass front panel and an attractive tempered glass side panel on the left side allows users to show off there internal components.
Case Specifications
Form Factor: Full Tower
Motherboard Support: ATX
PSU Support: Standard ATX
Gaming Case: Yes
Water Cooling: Water Cooling Ready!
Supported Radiator Size: 240mm
Supported Radiator Positions: Front
Front Bezel Material: Tempered Glass
Side Panel: Tempered Glass
Internal Cable Management Depth: 20mm
Internal Bays: 3 x 3.5" Internal, 2 x 2.5" Internal
Cooling Front: Space For 3 x 120mm fans (3 x 120mm RGB LED inc.)
Cooling Rear: Space for 1 x 120mm fan (1 x 120mm RGB LED inc.)
GPU Max Length: 415mm
CPU Cooler Maximum Height: 163mm
Body Colour: Black
The Gamemax Polaris offers a wide variety of features for the price, such as full control over the RGB LED's, fan speed and tinted tempered glass side panels. A small remote is provided to change and control the LED's with various colours and pre-set colour changes. The LED's on the fans are all connected to a Fan / LED hub which can support up to 8 devices in total – either RGB fans or RGB LED strips.
The cost of this case is £65.00 GBP, which is a very competitive price when you compare it to other cases with similar features or chassis in the same price range that will lack some of these features. This Gamemax Polaris case is very similar to the Bitfenix Neos internally, with obvious differences in the shroud.
It delivers impressive cable management options and accommodates multiple places for cables to be neatly tied, out of sight. You can hide away 3 x 3.5 HDD bays and mount 2 x 2.5 SSD's above and they will be on show.
The case can support graphics cards up to 415mm in length which is big enough for any available today.
Testing
To put this case through its cooling paces we will be using a test system incorporating an Asus ROG Crosshair VI Hero , AMD Ryzen 7 1700x, GTX 970 and an SSD. This system allows us to produce a good amount of heat to effectively test the Shoguns cooling capabilities.
Test System:
Processor: AMD Ryzen 7 1700x.
Motherboard: Asus ROG Crosshair VI Hero.
CPU cooler: Thermaltake Riing Silent Pro
Memory: Geil RGB EVO X Gaming Memory 3200Mhz 2 x 8GB.
Graphics card: Zotac GTX 970.
Power supply: EVGA 650 P2.
Storage drives: OCZ Vector.
OS: Windows 10 Home.
Cooling Performance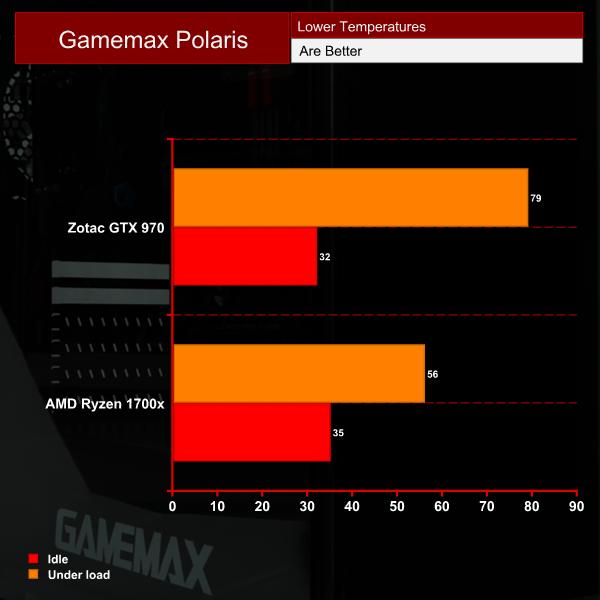 The four case fans working together (alongside the 1 x 120 Riing fan for the CPU cooler) were able to cool the system adequately.
Acoustics performance.
There was a slight issue with the middle of the three front fans when the system was first powered on. It appeared that the fan had been over-tightened and made a clicking noise as it touched the front panel, but other than that they all ran smoothly without much noise. When the fans were set to boost the noise was not intrusive at all.
Closing Thoughts.
At £65 the Gamemax Polaris case offers a lot for the money and we particularly enjoyed the RGB remote control with the tempered glass side panels showcasing the build inside. Bonus points as the Gamemax case does not need a separate software download for RGB control.
There is a small remote control sensor on the front panel but I would have preferred if the sensor was larger as the remote does need to be pointed directly at the sensor, otherwise it won't work at all.
The Fan / RGB LED Hub did require a lot of space to accommodate the cabling so we are really happy that the included shroud hides all of this mess from view.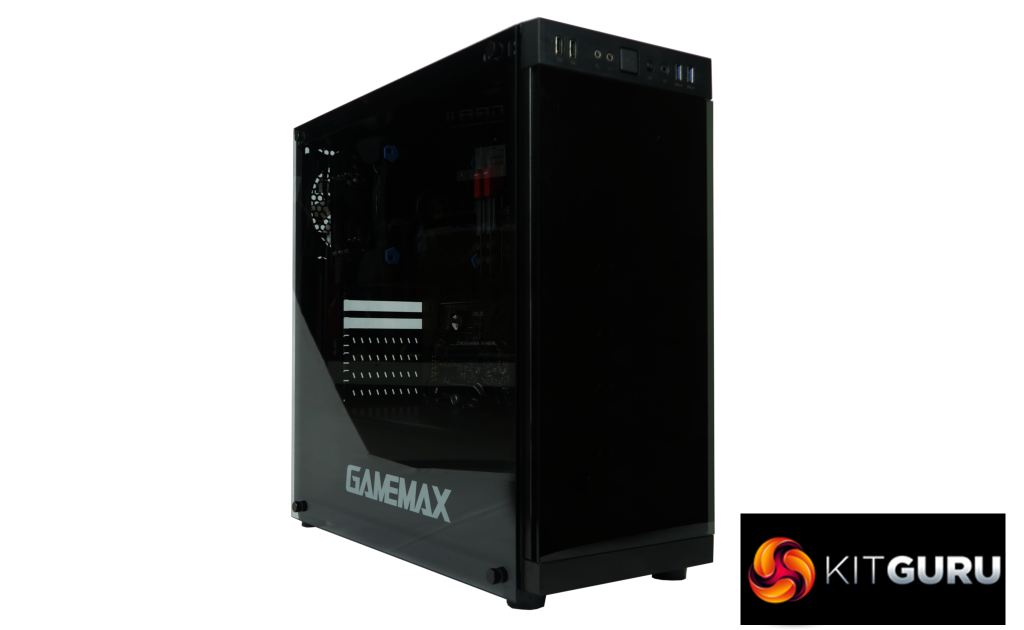 The GameMax Polaris has a 20mm cable management space behind the motherboard tray and it offers just enough space to route a 24-pin cable neatly. This case is good for a beginner PC builder as the side panel can hide away all the cables.
The tempered glass side and front panel showcase the RGB lighting, although it would probably be more aesthetically pleasing to take Gamemax up on their offer of mounting a 240mm radiator in the front of the case. I would suggest using an air cooler so you can make full use of the RGB Fans as you may have to swap them out for pressure fans and then transparency of the front panel becomes somewhat useless.
The GameMax branded wording was a constant irritation for me during the review. The size of the logo is quite frankly ridiculous and a simple, small, neat badge at the front of the case would work much better. Colour coordinating a system build is critical for many enthusiast users in 2017, and having a row of huge white letters on display right below the system build will likely alienate a large audience. I hope they address this in the next version of the case.
Discuss on our Facebook page HERE.
Buy from SCAN For £64.49 HERE.
Pros:
Tempered Glass panels.
20mm Cable space.
RGB LED Fans.
Very good air flow.
Shroud covers everything.
Cons:
More space for CPU 4/8 pin.
Massive Gamemax logo.
Fan/ RGB Led Controller takes a lot of space.
KitGuru says: There is a lot to like about the Gamemax Polaris Case. Its well built and offers full RGB control via a handy little remote control. Tempered glass panels on a sub £70 case is also a welcome addition. We do feel Gamemax need to reduce the size of their logo a little, as it distracts from the overall look of the internal build.