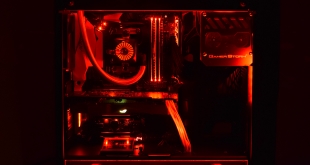 There is no doubt that Deepcool has been bringing some of most innovative case designs to the market in recent years. We've seen the likes of the Tristellar, then the Quadstellar, and now we have the Dukase Liquid. It is essentially a fairly typical mid-tower design, but with an integrated liquid cooler and flow meter. At £150, however, can it do enough to prove a worthwhile investment?
Strip away the liquid cooler – which is Deepcool's very successful Captain 240 EX – and you are essentially left with the Dukase V2. The Dukase V2 is a £50 chassis, which suggests the other £100 is going on the liquid cooling. As such, you lose a degree of flexibility with the Dukase Liquid – if your budget is £150 for case and cooler, you may want to allocate it differently to Deepcool, who is clearly placing more emphasis on the cooling.
Watch our video via Vimeo (below) or over on YouTube at 2160p HERE
Note: if the above gallery is not displaying properly, you may need to disable your ad blocker as it can interfere with our display code.
Specification:
Materials: SPCC+PLASTIC
Product Dimension:  (LxWxH) 482.7×202×504mm
Weight Net Weigh: 8.4 kg; Gross Weight: 9.8 kg
I/O Panel: 1×USB3.0; 1×USB2.0; Audio×1; Mic×1
Motherboards: ATX / MICRO ATX / MINI-ITX
Drive Bays:  5.25" Drive Bays×0; 3.5"/2.5" Drive Bays×2; 2.5" Drive Bays×3
Expansion Slots: 7 (slot covers fixed by screws for easy removing and reuse)
Cooling Fans Pre-installed: Rear: 1×120mm fan; Optional: Front: 2×120mm or 1×140mm Pre-installed: Rear: 1×120mm fan; Optional: Front: 2×120mm or 1×140mm
CPU Cooler Compatibility: 160mm height max.
Liquid Cooler: 240mm radiator liquid cooling system pre-installed at top; Optional: 120mm at rear
Power Supply Type: ATX PS2
Graphic Card Compatibility: 390mm length max
Fan Speed Switch: at front panel 3 working status, control three fans
Radiator Dimensions: 270×120×27mm
Fan Dimensions: 120×120×25mm(2PCS)
Fan Speed: 500±200-1800±10%RPM (4Pin)
Fan Air Flow: 153.04CFM(MAX)
Fan Noise Level: 17.6~31.3dB(A)
Fan Bearing Type: Hydro Bearing
Fan Rated Voltage: 12VDC
Fan Rated Current: 0.12±10%A(MAX)
Fan Power Consumption: 1.44W
Pump Connector: 3Pin
Pump Operating Voltage: 6~13.8VDC
Pump Rated Voltage: 12VDC
Pump Speed: 2200±10%RPM
Pump Current: 0.16±15%A
Pump Power Consumption: 1.92W
Getting to the case itself, there's no denying the Dukase Liquid is a budget case. It's made from steel and plastic but lacks the quality feel we'd expect from other cases at this price. It's full-size side panel window is also noteworthy as it is acrylic, not tempered glass. Considering the additional cost for Deepcool to include a glass panel instead of acrylic cannot be much, this is undoubtedly a shame.
The integrated liquid cooler comes pre-installed to the roof of the case, and while you could theoretically remove it, the flow meter is also attached to the radiator via two rubber tubes, so the unit as a whole is not designed to be moved about. The pump/CPU block comes secured to a small plastic bracket, too, ensuring no mishaps occur when the case is in transit.
Installation of the liquid cooler is pretty straightforward, and we have a full walk-through in the video above, or over here if you prefer. The Dukase Liquid also comes with an integrated fan controller which can accommodate up to 3 fans – making it perfect for the 2 radiator fans and 1 pre-installed fan at the rear of the case.
Building in the rest of the case is a pretty average experience. My biggest issue was getting the power supply in, as for some reason, Deepcool has designed the case so that the power supply has to be slid through a cutout in the frame of the chassis. This means, for power supplies 170mm or longer, you have to insert the unit at a 90 degree angle, and then fiddle it round into place. Installing the PSU through the back of the case would've been much easier.
Other than that, cable management is nothing more than a few cable tie-down points littered around the rear of the motherboard tray, and it is also notable that the cut-outs for the PCIe power and 24-pin connectors lack rubber grommets. This gives the case a cheap feel which belies its £150 asking price.
With the finished system powered on, red LEDs in the PSU shroud shine quite brightly, and there is also a short LED strip positioned at the front of the case as well. The flow meter is clearly visible in the top corner of the case, though it is worth noting I had to set the pump to 'full speed' in the BIOS to get the liquid flowing with enough velocity to actually get the flow meter spinning.
Testing
To test the Dukase Liquid, I installed a system based on a Ryzen 7 1700 CPU, with a ROG Strix RX 570 graphics card. We tested thermals with the fans connected to the 3-speed fan controller, so we took measurements with the fans on 'low,' 'medium,' and 'high' speeds.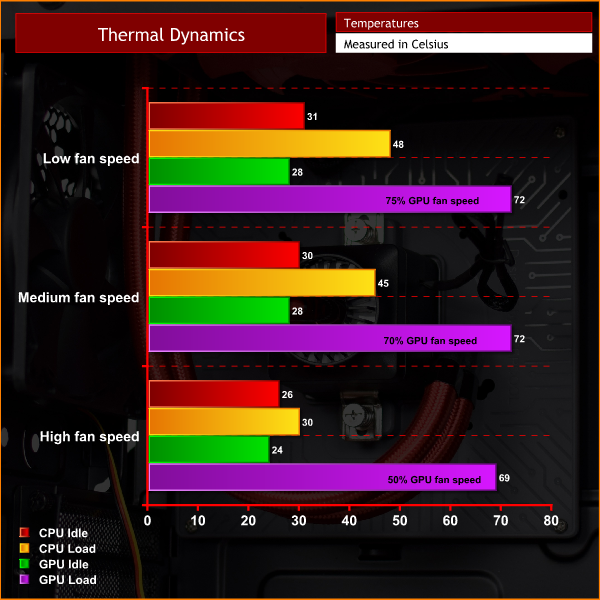 As you can see, the low and medium fan speeds aren't drastically different. The high fan speed, however, dropped the CPU load temperature by 15 degrees, while it also allowed our RX 570's fans to spin significantly slower.
The high fan speed is definitely more audible, though, so if you value silence you would be better off with the fans spinning a bit slower. Still, I am impressed at how capable the integrated Captain 240 EX proved to be.
Closing Thoughts
On the whole, I find the Deepcool Dukase Liquid to be a visually appealing but rather basic case. It's main draw is obviously the integrated liquid cooling and flow meter, both of which work well, but for £150 I can't get over some of the limitations of the case itself – no tempered glass, no rubber grommets and very basic cable management to give just three examples.
I can understand that the Dukase Liquid might appeal if you were planning on spending more money on liquid cooling in the first place, but consumers are limiting their options by getting the case and cooling in one package. You could get a much better case for around £100 – like the Enthoo Pro M Glass – and still have £50 for a cheaper AIO.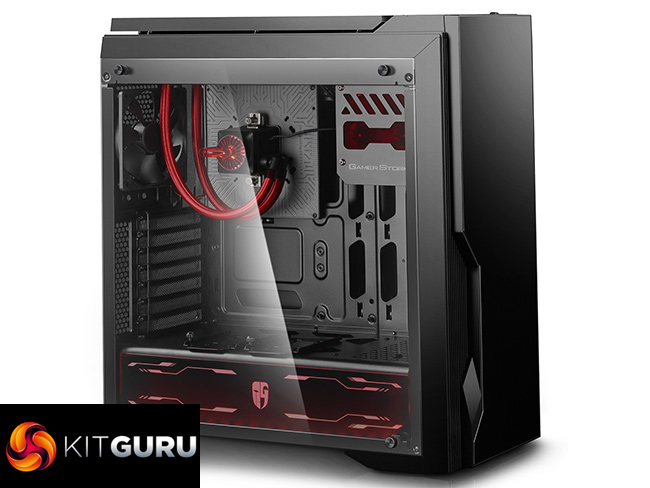 Now, there's no denying that having an integrated flow meter is quite unique, but for £150 the overall case needs to be better to justify its price tag. It will still do a job for those looking for something a bit different, but others may find better value for money by getting their case and cooler separately.
You can buy the Dukase Liquid for £149.99 HERE.
Pros
Flow meter is unique.
LEDs are impressively bright.
Good-looking.
Liquid cooler performs very well.
Cons
The case itself is quite basic.
Acrylic, not glass, side panel window.
PSU is unnecessarily fiddly to install.
Better value can be found elsewhere.
KitGuru says: The Deepcool Dukase Liquid will appeal to those who aren't fussed about the case's limitations and want the visual bling of the flow meter. Other consumers, however, will find better deals out there by getting their components separately.
Be sure to check out our sponsors store EKWB here