At Computex 2015, KitGuru managed to catch up with Thermaltake CEO Kenny Lin. After a hiatus from product design, Kenny became very much more hands and a wave of new designs began to flow last year – including a KitGuru Annual Award for the Frio 14. In the Nangang Exhibition Hall this year, the emphasis is very much on creativity.
First, we asked Kenny about the new wave of product launches.
"We have been manufacturing unique products for 16 years and our passion is still as intense today as it was when we started", he told us. "Our chassis designs plateaued after the Level 10, but last year we re-energised the chassis design team and the result was the stackable Core X case series, that has been really well received in all of our markets. Especially the Core X9 is a perfect chassis to go wild with our Pacific liquid cooling components".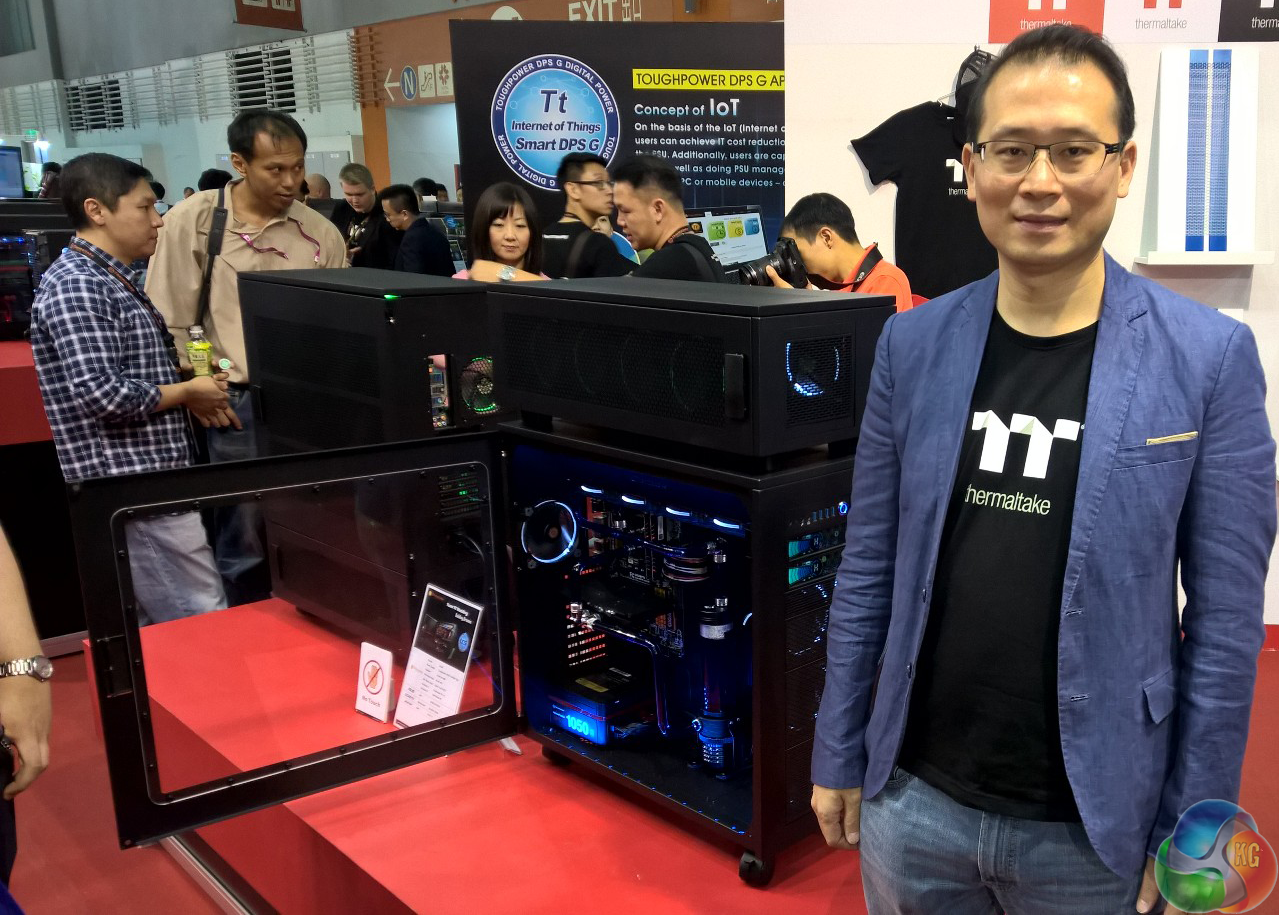 Surely one of the largest chassis ever produced is the latest 'Core W' dominates the stand at this year's show.
"Thermaltake has created some memorable designs over the years", said Kenny. "One that really stands out in people's minds was the Mozart TX which we launched at CES in 2007 with 8 drive bays. Now, for Computex 2015, we have something even more substantial – the Core W Case Series".
Do people really want this much space?
"Sure", he exclaimed. "Over the past 12 months, our theme has been 'expandability', with cases that are easy to upgrade or even stack on top of each other".

So is it all about the chassis?
"As well as the best range of cases that we've ever had, Thermaltake now also has a great range of water cooling products for advanced overclocking – something that will become more important with ASUS's new launches in 2015", he said. 
With Luxa2, Thermaltake has touched lifestyle products already. What about other markets?
"The growth of the Tt eSports brand has also been amazing – especially when you consider how much competition there is in the market", said Kenny. "Our new CONTOUR mobile gaming controller which has just received the APPLE MFI Certification will soon allow Apple enthusiasts world wide to experience a console-like gaming experience on their device when they want and where they want".
Discuss on our Facebook page, HERE.
KitGuru says: We thank Kenny for taking the time to speak with KitGuru. While the Level 10 was a bright beacon in the past, overall, Thermaltake's line up today seems far more appealing to an enthusiast audience – with a firm emphasis on modding.