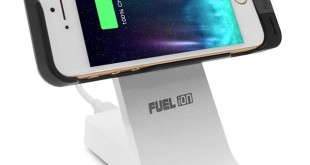 Wireless chargers have been available for flagship phones for some time however they have often been limited in that charging speeds are not as fast as a wired connection and certain manufacturers' phones only work with their corresponding wireless dock.
The Patriot FUEL iON aims to change all of that, however. Essentially, the FUEL iON is a phone case which can connect magnetically to corresponding wireless charging devices. What is so interesting about it is that Patriot claim the 'FUEL iON charges faster than competing products based on Qi and inductive technologies because its magnets form a direct contact connection to charge your phone.' Essentially, we should see charging speeds at the same level as a wired connection – a first in the wireless charging sector.
Cases currently available for iPhone 5/6, Samsung S4/S5 and Note 3.
Car mount, phone stand, and phone 'pad' chargers all available.
Portable wireless charger also available, with a 2100 mAh capacity.
Magnetic connection should charge as fast as a regular AC charger.