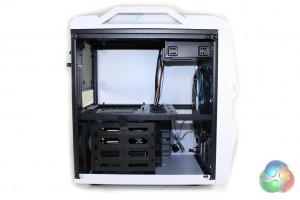 The interior of the Aerocool Strike-X Cube is painted in a combination of black and white, and is divided into two separate sections. The top section of the case is where the motherboard is installed, with the hard drive bays and power supply mountings located underneath the motherboard tray.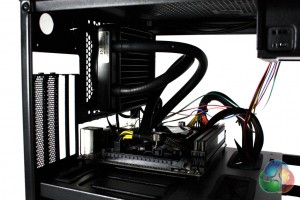 This case can support both micro-ATX or mini-ITX motherboards and features four expansion bays in total. We installed a Gigabyte GA-F2A85XN-WIFI motherboard into the case for testing (is a mini-ITX motherboard).
The stand-offs are pre-installed for mini-ITX motherboards, but those looking to install a micro-ATX model will have to screw in some additionals.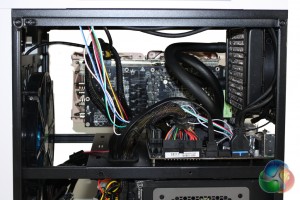 There is a reasonable amount of headroom for large air coolers, but we chose to install an all-in-one water cooling unit instead. The Corsair H75 fits comfortably to the rear exhaust vent of the case, and could be attached to the roof of the case if desired.
There are two thumbscrews holding the hard drive cage in place, which can hold up to three hard drives in total. Each hard drive sits within its own plastic tray, which has mounting points for both 2.5" and 3.5" drive models.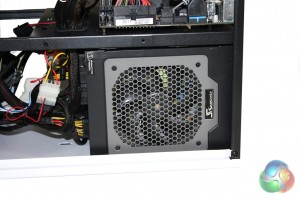 Behind the hard drive cage we find the power supply mounting points. There is plenty of room for large power supplies in the case – even for our larger-than-average Seasonic Platinum 1000W. Cable routing options are limited, though, due to the unusual internal design of the case. It would take a substantial investment of time to achieve a really tidy build in this case.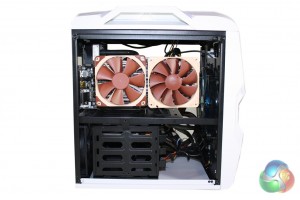 Those looking to build a powerful gaming system are sure to be interested in the large amount of room for long graphics cards. We installed an AMD Radeon R9 290, featuring a Raijintek Morpheus GPU cooler, with ease, although we had to remove the optical drive bay to plug in the power cables. This is fairly simple, and only requires the removal of a few small screws.