Removing the side panel of the Source 530 reveals an entirely black painted interior which should complement most component choices aesthetically.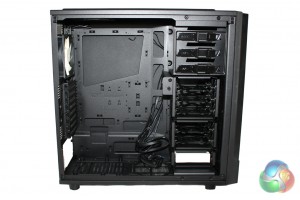 The internal layout of the case is standardised, with the modular hard drive bays located on the right hand side, below the external drive bays at the top. Each hard drive bay features a tray which allows you to install either a 2.5" or a 3.5" unit. There are six bays in total which are arranged in modules of three, two and one so that you can remove surplus bays to improve airflow.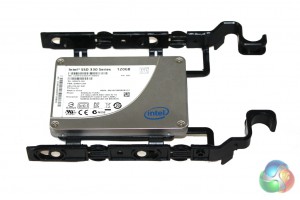 We installed an Intel 330 Series 120 GB solid state drive into the system, requiring four screws through the base of the tray. Installing a 3.5" drive would be simpler as you as the tray can grip it without needing screws.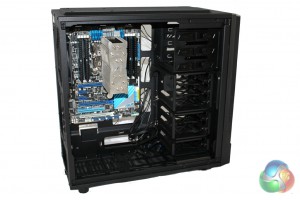 Installing a motherboard into the case is simple as the stand-offs are preinstalled. There is also a sizable cut-out section to facilitate the installation of CPU coolers.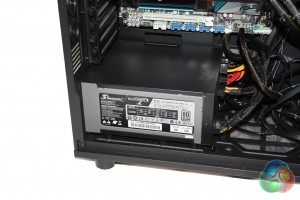 There is plenty of room in the case for long power supplies, meaning we had no trouble securing our Seasonic Platinum 1000W into position.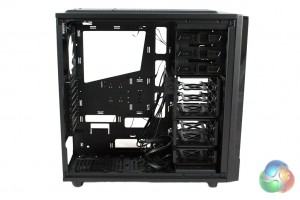 NZXT have clearly put some thought into the cable routing holes in the motherboard tray which should enable any user to achieve a tidy build with most configurations.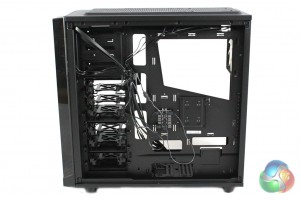 There is also a generous amount of room behind the motherboard tray for cable routing, meaning there is plenty of space to tie cables up together. NZXT have thoughtfully integrated a fan hub into the case which is located behind the motherboard tray. This lets you connect up to ten fans, although it doesn't let you adjust their speed.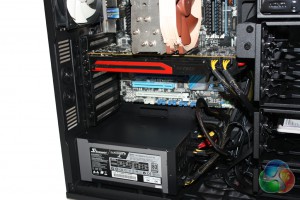 Finally we installed our AMD Radeon HD 7950 graphics card into the case, which was easily secured into place using the provided thumbscrews. Even though there is plenty of room in this case for large graphics cards, you can remove some of the drive bays to create more room if required.