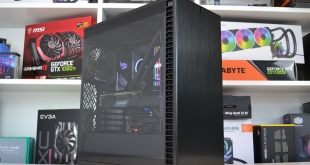 Fractal launched the Define 7 series just a few months ago with the Define 7 and 7 XL, offering consumers a similar core design but with two size options. We absolutely loved these initial Define 7 cases so when Fractal reached out to say there is a third case in the range, it is safe to say we jumped at the chance to see if it can live up to the high standards set by the Define 7 and 7 XL.
Watch via our Vimeo Channel (Below) or over on YouTube at 2160p HERE
The third iteration of the Define 7 series comes in the form of the Define 7 Compact which is set to replace the Define C from 2017, another Fractal case that scored highly in our review back then. It is plain to see that the DNA of the Define 7 Compact has carried over from the Define C, with a few of the best features pulled from the Define 7 series to give this compact mid-tower an even more premium feel.
In typical Fractal Define tradition, the case bears a very understated and minimalist appearance with a solid looking front panel featuring side air intake vents and no sign of RGB lighting in sight. The Define 7 Compact seems to be only available in black initially, but with choices of either light and dark tint tempered glass right-hand side window panel or a steel, sound dampened right side panel.
Improvements made to the Define 7 over the Define C are vast, this is not just simply a refresh of the previous model but a complete rework of the whole case. The textured plastic front panel has been replaced by a premium brushed aluminium fascia equipped with sound dampening material. The top panel is now removable and interchangeable with a vented or sound dampened cover supplied with the case and both the tempered glass and steel side panels feature tool-less top latching.
Front I/O connectivity is now packed full of options with a new USB 3.1 Gen 2 Type-C port, two USB 3.0 Type-A ports, two USB 2.0 Type-A ports as well as the typical 3.5mm HD audio jacks and power/reset buttons. Dust filtration in the top has been upgraded from plastic to nylon with additional filtration placed at the front and bottom of the chassis.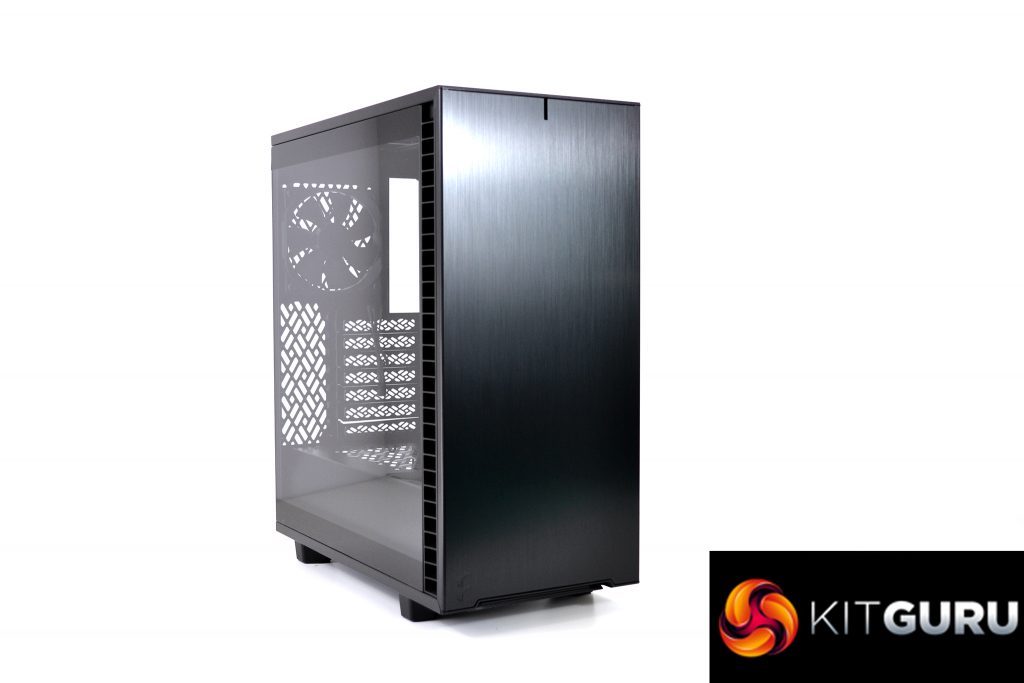 System cooling sees some modest changes in the 7 Compact compared with the Define C. The chassis floor now accepts either a 120mm fan or 120mm radiator, while still allowing for either three 120mm/two 140mm fans fan or up to a 360mm or 280mm radiator to be installed at the front. Up top there is space for either two 120mm or 140mm fans, alternatively, a 240mm radiator can be installed in the roof but with a restriction of 40mm maximum motherboard component height.
The Define 7 Compact arrives with two pre-installed fans. Just like the Define C, the 7 Compact has a 120mm Dynamic X2 GP-12 included in the rear of the case with an upgraded 140mm Dynamic X2 GP-14 pre-installed in the front. Maximum installable GPU length is 360mm total or 340mm with front fans installed, maximum CPU cooler height is 169mm, a slight reduction from the Define C and maximum power supply length is 165mm with front fans and HDD cage fitted.
In terms of drive bays and storage device locations, the Define 7 Compact is rammed with options. There are two 3.5"/2.5" drive mounts included with a maximum of four available via optional multi-brackets. The two included mounts are shipped in the default location inside the drive cage on the case floor. An additional two multi-brackets can be purchased separately and positioned in the top fan mounts.
Two 2.5" drives can be installed on the rear of the motherboard tray using the included SSD brackets. These brackets can be moved to install SSDs on top of the PSU shroud or alternatively, two more brackets can be purchased separately to allow a total of four 2.5-inch drives in both locations.
In terms of cost, the Define 7 Compact with all steel side panels is priced at £96.99, while the light or dark tinted tempered glass versions will set you back £106.99 at launch.
Key Features
Interchangeable top panel
Light or dark tempered glass
Compact but spacious interior
Tool-less panel removal
Flexible storage options
Specifications
Motherboard compatibility
ATX / mATX / ITX
3.5″/2.5″ drive mounts
2 included, 4 max (via optional multi-brackets)
Dedicated 2.5″ mounts
2 included, 4 max
Expansion slots
7
Front interface
1 x USB 3.1 Gen 2 Type-C
2 x USB 3.0
2 x USB 2.0
Audio I/O
Power/Reset buttons
Total fan mounts
7 x 120 or 4 x 140 mm and 2 x 120 mm
Front fan
3 x 120 or 2 x 140 mm
(1 x 140 mm fan included)
Rear fan
1 x 120 mm
(1 x 120 mm fan included)
Bottom fan
1 x 120 mm (requires removal of HDD cage)
Dust filters
Bottom fan + PSU
Front fans
Top panel
Front radiator
Up to 360/280 mm (max 145 mm width)
Top radiator
 Up to 240 mm
Rear radiator
120 mm
Bottom radiator
120 mm (requires removal of HDD cage)
PSU max length
>250 mm w/o HDD cage
<165 mm w/ HDD cage
GPU max length
360 mm total
341 mm with front fan
CPU cooler max height
169 mm
Cable routing space
17-28 mm
Cable routing grommets
Yes
Fixed Velcro straps
Yes
Tool-less push-to-lock
Both side panels and top
Case Material
Steel, Tempered Glass
Case dimensions (LxWxH)
427 x 210 x 474 mm
Net weight
Solid: 8.61 kg / TG: 8.76 kg
Power supply type
ATX
Be sure to check out our sponsors store EKWB here