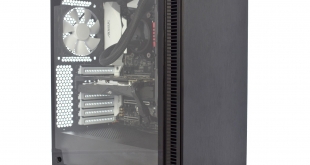 Fractal Design has earned a very good reputation for its quality cases, but until very recently the company had refrained from joining the latest market trend and using tempered glass panels. That looks to have changed, however, as today we are looking at the Define C TG (Tempered Glass) chassis, a compact full-ATX chassis that wastes no space yet retains plenty of worthwhile features.
You may recall my colleague Leo Waldock looked at the Fractal Design Define Mini C last year, and the original full-size Define C launched at the same time. As the name suggests, the Define C TG is an identical chassis to the Define C but it now sports a glorious tempered glass side panel instead of the rather basic acrylic window.
Watch via our Vimeo Channel (Below) or over on YouTube at 2160p HERE
Specification
3.5″ or 2.5″ Drive capacity: 2
Dedicated 2.5″ drive capacity: 3
Expansion slots: 7
Motherboard compatibility: ATX, mATX, ITX
Power supply type: ATX
Total fan mounts: 7
Front fan: 3x 120 or 2x 140 1x Dynamic X2 GP-12 included
Top fan: 2x 120/140
Rear fan: 1x 120 1x Dynamic X2 GP-12 included
Bottom fan: 1x 120
Side fan: No
Dust filters: Bottom fan + PSU Front fans Top panel
Front radiator: 120/240/360mm 140/280mm
Top radiator: 120/240mm (max component height on motherboard 40mm)
Rear radiator: 120mm (max width 125mm)
Power supply depth limit: Maximum 175mm recommended
Graphics card length limit: Max 315mm with front fan mounted
CPU cooler height limit: 172mm
Cable routing: 15-35mm space
Cable routing grommets: Yes
Fixed Velcro straps: Yes
Captive thumbscrews: Both side panels SSD brackets
Left side panel: Tempered glass panel
Right side panel: Dense sound-dampening material
What strikes me most about the Define C TG is just how small it is. It measures (LxWxH): 399 x 210 x 440mm and when I first saw it in the flesh I would've honestly believed that this was the Micro ATX model rather than the full-ATX.
That being said, for such a diminutive chassis, the Define C TG packs in a heck of a lot of features. For instance, as I highlight in the video above, there is plenty of sound dampening all around – it is on the front panel, the steel side panel (but obviously not on the glass panel) as well as on the pre-installed Moduvent cover.
Speaking of Moduvent, that is another excellent feature that simply gives end-users extra options. Essentially, Moduvent is Fractal's removable top-panel cover system that users can tweak to their liking. With the Define C TG, a solid and sound dampened top panel is installed by default and this would obviously keep noise levels down but perhaps hurt thermal performance slightly. However, the panel simply pops out and can be replaced with a magnetic dust filter that comes included – you don't even have to buy it separately. It sounds simple enough but, speaking as a reviewer, a manufacturer is doing well if they provide any sort of top-panel cover at all, so Fractal giving users two options right in the box is very appealing.
The only area where the the compact nature of the Define C TG may cause issues is with graphics card length. The spec sheet states cards up to 315mm long can be used with a front fan mounted, so the vast majority of cards on the market should fit just fine. However, if you have a front mounted radiator, that maximum length drops to around 285mm, and that could certainly prove tricky for anyone with a larger card. It is not a huge deal for me, because those with the biggest of graphics cards are unlikely to be after a case this small, but it is worth bearing in mind.
Turning to the area behind the motherboard tray, regular readers will know cable management is perhaps not my strongest suit. However, building in the Define C TG is a breeze as the cable management options are fantastic. There is a large recessed section of the motherboard tray which allows extra thick cabling to be tucked away easily, while plenty of cable tie-down points and included Velcro straps are also very welcome additions.
I can't detail everything here, so check out the video above if you haven't already, but Fractal really gives users plenty of options to play around with and it makes the build process very satisfying. I was very happy overall with how the build turned out, so I cannot complain a jot.
Testing
Components used:
Ryzen 7 1700
Gigabyte AX370-Gaming 5
Fractal Design Celsius S24 liquid cooler
ASUS ROG Strix RX 570
16GB PNY Anarchy DDR4
Sandisk SSD PLUS 120GB
Seasonic PRIME 650W Platinum
Thermal Dynamics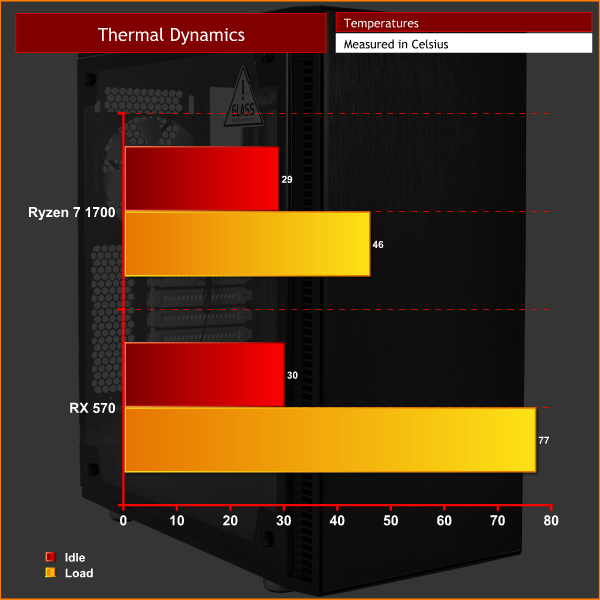 Ambient: 22C
Despite the seemingly closed-off front panel, the Define C TG's thermals are still perfectly fine – in fact, for a case this compact which clearly prioritises noise levels over airflow, the results are actually quite impressive.
Acoustics
The noise dampening material used throughout the case does a good job of muting the whirr of the fans coming from the case. The overall noise levels were noticeably quieter than when I tested with the open-air Cougar Conquer, and though you won't get complete silence when gaming, the Define C TG will get you a lot closer than many other cases on the market right now.
Closing Thoughts
All-in-all, I am very impressed with the Fractal Design Define C TG.
It has the sleek and minimalistic appearance we have come to expect from Fractal Design, with the smart brushed-finish front panel and glossy case feet looking particularly swanky.
For such a tiny case, too, it sure packs a punch as there are plenty of features to get excited about – Moduvent, extensive dust filtration and the removable PSU shroud cut-out being just three of the excellent inclusions.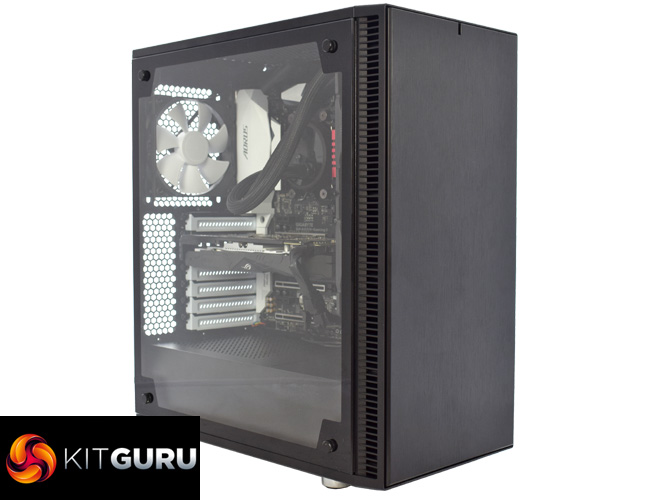 If I am being honest, I find it very hard to fault this case. The only potential issue is that users with longer graphics cards who want to mount a radiator at the front of the case, may find it hard to do so due to the case's compact nature. However, that is just part-and-parcel of buying such a small chassis, so it would be unfair to be too critical here.
If we compare the Define C TG to its closest rivals – the NZXT S340 Elite and the Phanteks P400S Tempered Glass edition – then it is my opinion that the Fractal chassis looks the best, has a superior amount of features and is also the most compact.
Pricing is also very favourable, as the current retail price means you are only paying an extra 10-or-so pounds (depending where you shop) for the tempered glass panel if we compare pricing to the original Define C. This makes it a no-brainer for me, as the tempered glass panel has only improved an already stellar case.
The Fractal Design Define C TG is available from Overclockers UK for £92.99 HERE.
Discuss on Facebook HERE.
Pros
Looks great.
Plenty of excellent features throughout.
Hardly any more expensive than the non-tempered glass model.
Very compact yet still full-ATX.
Nice and quiet thanks to sound dampening material.
Cons
Longer GPUs may not fit with a front mounted radiator.
KitGuru says: The Fractal Design Define C TG is my favourite mid-tower chassis yet. It looks great, is very compact and has a ton of useful features – a true 'Must Have.'
Be sure to check out our sponsors store EKWB here