NZXT S340 Elite is a modern twist on the S340 that launched in 2014. If you stand a short distance away from the Elite, the most obvious change is the tempered glass side panel which looks lovely and shows off the inside of your PC to full effect.
Take a closer look and you will see the I/O panel on the top of the chassis has gained a pair of USB 2.0 ports alongside the existing USB 3.0 ports as well as an HDMI pass through that is handy for hooking up your Vive VR headset.
The final part of the VR set-up is an accessory called a cable puck that clamps magnetically to the steel front panel so you have somewhere to hang your headset (or a pair of conventional headphones).
Watch via our VIMEO Channel (Below) or over on YouTube at 1080p60 HERE.
Specifications:
Motherboard Support: mini-ITX, MicroATX, ATX
I/O Ports: 1x Audio/Mic
2x USB 3.0, 2x USB 2.0
HDMI with VR Support
Filters: Front (Included), Bottom Rear (Included)
Drive Bays: Internal 3.5-inch: 2+1
Internal 2.5-inch: 3+1
Expansion Slots: 7
Fan Support: (Front) 2x 140/2x120mm, (Top) 1x 140/120mm (1 x 120mm FN V2 Fans Included), (Rear) 1x 120mm (1 x 120mm FN V2 Fan Included)
Radiator Support: (Front) 2 x 140 or 2 x 120mm, (Rear) 1 x 120mm
Clearance: (GPU Clearance With Radiator) 334mm, (GPU Clearance Without Radiator) 364mm, (CPU Cooler) 161mm, (Cable Management) Minimum 17mm
Dimensions: W – 203mm H – 474mm D – 432mm
Material: Tempered glass side panel, Steel, ABS plastic
Weight: 8.13kg
Warranty: 2 years
The look and feel of S340 suggests a case that has been shrunk wrap around the ATX chamber. Add in the fact that the case is supplied with a rear 120mm fan and a single 120mm fan in the roof, and you will find yourself firmly guided to build your PC in a certain way. There is no room to install a custom loop so the sensible approach is to use a 240mm or 280mm All In One in the front of the case. The top of the case is ventilated and has no dust filter (the absence of magnetic mesh is a mystery) so the front is the intake and the top is the exhaust.
It would be possible to use a graphics card with a hybrid liquid cooler mounted at the rear but realistically most people will use a conventional air cooled GPU, much like the Asus R9 390 8GB we chose for this build.
Building the system is easy enough, although we have some gripes about drive installation. If you want to install a 3.5-inch hard drive in one of the two lower drive bays it has to be the first component you install as two mounting screws on each drive are obscured by the power supply and cabling. There is a third drive bay in the floor of the case which involves you tipping the case on its side to gain access. If you use this drive position you will find cable routing is awkward.
With the original S340, NZXT supplied two 2.5-inch drive mounts on the power supply cover and has now added a third on the face of the cover that is in full view of the glass side panel. This has required NZXT to cut an access hole in the power supply cover for the drive cables. However, the position means the cables have to make a tight turn and then feed through the 3.5-inch drive positions. If you have installed three drives in the lower positions this is likely to cause a cable conflict.
The upshot is that NZXT has supplied plenty of drive mounts but appears to have written off the optical drive and to have a real downer on 3.5-inch HDD. In an ideal world it would be 2.5-inch drives all the way with S340 Elite.
Testing
To put this case through its cooling paces we will be using a test system consisting of an Intel Core i7-6700K processor, Asus R9 390 8GB graphics card and an SSD. This system allows us to produce a substantial amount of heat and effectively test the NZXT S340 Elite's cooling capabilities.
For stress testing we use AIDA64 to create the maximum heat output to stress our CPU and GPU.
Test System:
Processor: Intel Core i7-6700K (4.0GHz/4.2GHz)
Motherboard: Gigabyte GA-Z170XP-SLI
CPU cooler: NZXT Kraken X61
Memory: 16GB Corsair Vengeance LPX DDR4-2800MHz
Graphics card: Asus R9 390 8GB
Power supply: Seasonic Titanium Prime 750W
Storage drives: OCZ Vector 180 SSD
OS: Windows 10
Cooling Performance

Ambient temperature = 20°C.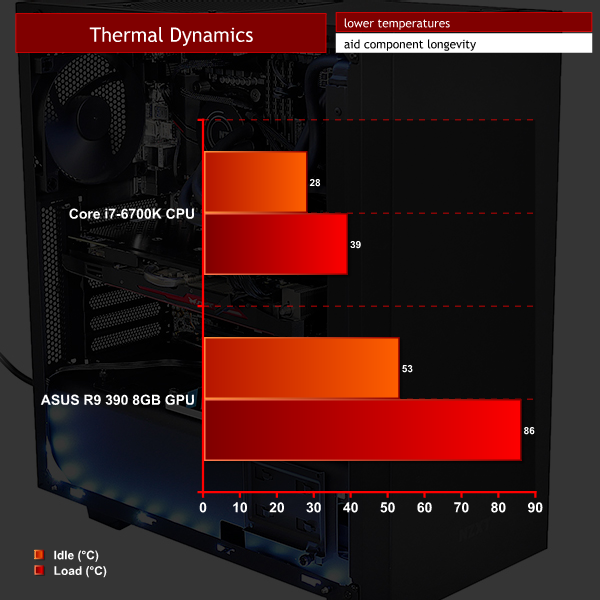 The Kraken X61 cools like a champ and had no trouble keeping our Core i7-6700K under control. The Asus R9 390 ran at exactly the temperature we would expect so it is clear the S340 Elite is capable of flowing plenty of air through the front intake and out through the roof and rear of the case.
Acoustics performance

The stock configuration for S340 has the two case fans linked by a cable with a Molex plug that runs them at full speed which is rather noisy. Provided you have two fan headers free you would be well advised to connect the fans directly to your motherboard. We chose to employ an NZXT GRID+ V2 fan controller for the two case fans and two fans on the Kraken X61 and the result was a PC that was very quiet indeed.
Closing Thoughts
The changes in S340 Elite are relatively minor, although the new glass side panel is welcome. We are happy to see the addition of two USB 2.0 ports on the I/O and the HDMI pass through is a neat touch if you have a VR headset. The same is true of the magnetically attached cable puck, although that could clearly be sold as an accessory for any case with steel panels.
We were less enthused about the extra SSD mount and the cable management clips for reasons we discuss in our video.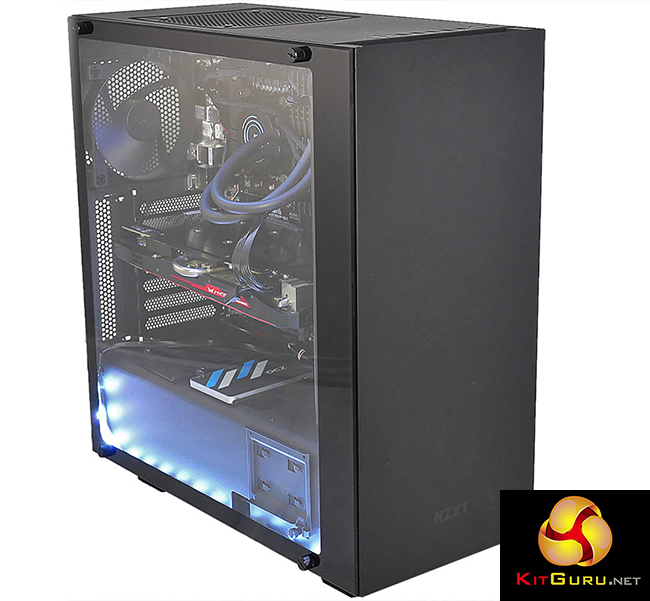 There are two specific problems with S340 Elite that have been carried over from the original version, even though they appear easy to address. The first is the hard drive mounts, as it is simply ridiculous to have to remove the power supply to install a hard drive. The second is the lack of dust filter on the ventilated top panel. There is a fan mount and it follows there should be a dust filter.
It is hard to escape the view that S340 is intended to house a number of NZXT accessories such as the £115 Kraken X61 cooler (or the new X62), a £50 NZXT HUE+ lighting kit, a £30 NZXT GRID+ V2 fan controller and some new AER RGB fans at £40 each. The result is a decent PC that looks great but if you head down that route it gets fairly expensive.

The NZXT S340 Elite case is available from Overclockers UK for £94.99 (inc. VAT).
Discuss on our Facebook page, over HERE.
Pros:
Tempered glass side panel.
Stealth cable management plate.
Stylish good looks.
HDMI pass through and cable puck for VR.
Room in the front for a 280mm cooler.
Cons:
Drive installation is a pain.
No dust filter on the top panel.
Cable management clips are not as effective as Velcro straps.
KitGuru says: NZXT S340 Elite delivers useful updates for VR gamers.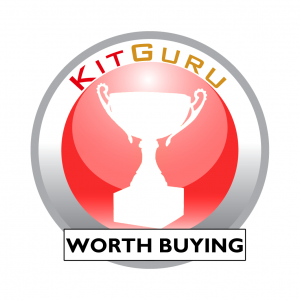 Be sure to check out our sponsors store EKWB here