Fractal Design Define Mini C is a Micro-ATX case that fills a gap in the range of Fractal cases between the mid-tower Define R5 and Mini-ITX Define Nano S.
The cosmetic similarities with other Define models are obvious and so too is the approach that Fractal Design has taken with noise deadening. The air intake at the front is baffled to reduce noise and the main panels are lined with noise deadening material, although the windowed side panel is likely to radiate more noise than the alternative plain panel.
The top of the case is ventilated and closed off with a panel that Fractal Design calls ModuVent (the Define R5 uses three of these panels) which you can leave in place to reduce noise or open up to increase air flow.
Specifications:
3.5″ or 2.5″ Drive capacity      2
Dedicated 2.5″ drive capacity 3
Expansion slots                       5
Motherboard compatibility     mATX, ITX
Power supply type                  ATX
Total fan mounts                     5
Front fan                                 2x 120/140 1 x Dynamic X2 GP-12 included
Top fan                                    2x 120/140
Rear fan                                  1x 120 1x Dynamic X2 GP-12 included
Bottom fan                              1x 120
Side fan                                   No
Dust filters                              Bottom fan, PSU, Front fans, Top panel
Front radiator                          120/240mm, 140/280mm (max width 144mm)
Top radiator                            120/240mm (max component height on motherboard 40 mm)
Rear radiator                           120mm (max width 125mm)
Power supply depth limit        Maximum 175mm recommended
Graphics card length limit       Max 315mm with front fan mounted
CPU cooler height limit          168mm
Cable routing                          15-35mm space
Cable routing grommets          Yes
Fixed Velcro straps                 Yes
Captive thumbscrews              Both side panels, SSD brackets
Left side panel                                    Clear transparent window
Right side panel                      Dense sound-dampening material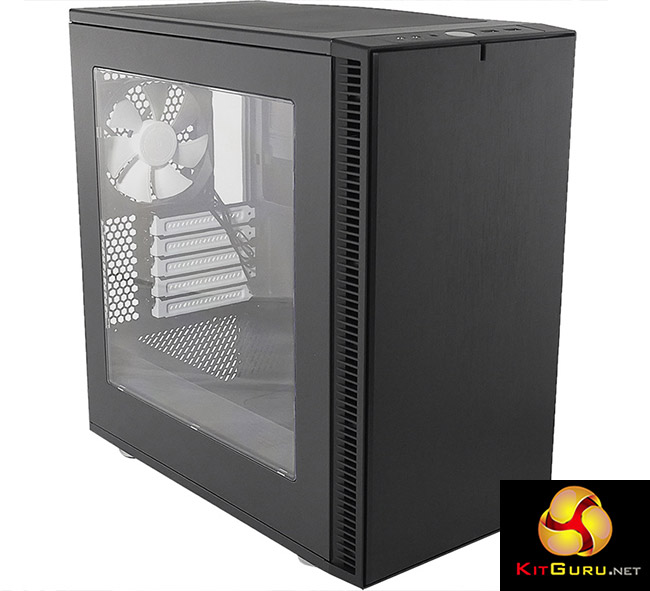 Building a high end gaming PC in the Fractal Design Define Mini C took a certain amount of thought and planning but wasn't especially tricky. We removed the drive cage to provide more room for cable management and piggybacked the DDC pump and reservoir on a fan mount on the 240mm radiator at the front of the case.
Had we chosen, there was space for a 280mm radiator instead.
Using liquid cooling for the dual GTX 980 graphics cards kept the installation looking tidy and also kept temperatures nice and low. We can only speculate how the Mini C case would behave if it was loaded with two air cooled graphics cards, but that seems like an unfair test for any small case.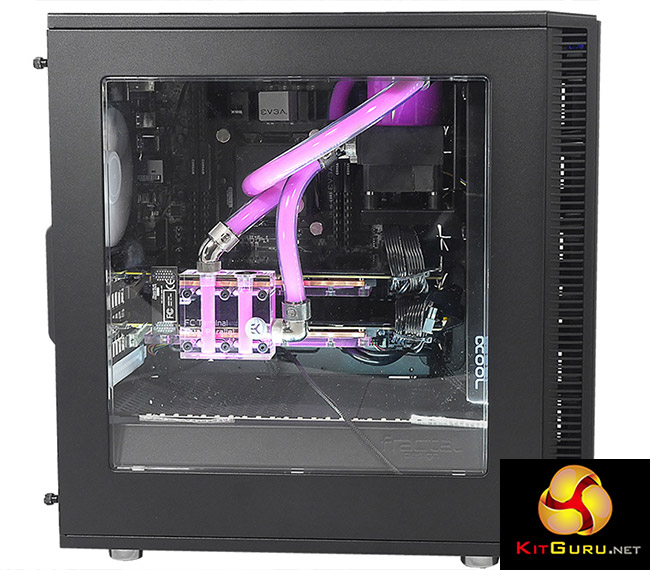 Regulars to KitGuru may have noted that our video features no significant complaints or problems. Certainly the build quality is marginal and the steel used in the chassis is rather thin and the panels are flexible. Having said that, the Fractal Design Define Mini C feels solid enough when it is assembled and we are perfectly happy.
The windowed side panel is the weakest part of the case as the plastic feels soft and we have grown used to tempered glass in enthusiast products.
Testing
To put this case through its cooling paces we will be using a test system consisting of an Intel Core i7-5820K, dual GTX 980 graphics cards and an SSD. This system allows us to produce a substantial amount of heat and effectively test the Fractal Design Define Mini C's cooling capabilities.
For stress testing we use AIDA64 to create the maximum heat output to stress our CPU and GPU.
Test System:
Processor: 3.3GHz/3.6GHz Intel Core i7-5820K
Motherboard: EVGA X99 Micro v2
CPU cooler: Custom loop – Alphacool and EKWB
Memory: 16GB Corsair Vengeance LPX DDR4-2800MHz
Graphics card: Dual EVGA GTX 980 SC 4GB
Power supply: Seasonic Prime Titanium 750W
Storage drives: OCZ Vector SSD
OS: Windows 10
Cooling Performance

Ambient temperature = 20°C.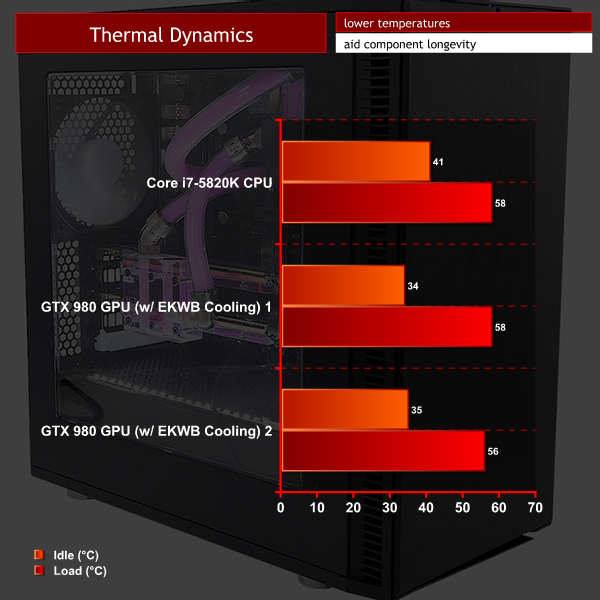 Cooling performance was better than expected, considering this small chassis was loaded with a Core i7 and dual GTX 980 graphics cards. Despite our initial scepticism it is clear that Fractal Design Define Mini C can be used to house a full-blooded gaming PC.
Acoustics performance

With the Corsair Link Commander controlling the two EKWB Vardar fans, and one of the two stock Fractal fans in Quiet mode, we were impressed by the low noise levels.
Again, we helped the situation by using liquid cooling and the Mini C would surely be more rackety if you had two air-cooled graphics cards spinning away. But there is no doubt the Fractal Design Define Mini C has the potential to be just as quiet as you might desire.
Closing Thoughts
Fractal Design has built the Define Mini C down to a price, so you don't get any extras such as integrated lighting or a tempered glass side panel. However, the quality of design means this is a very effective case.
Once you have selected a decent Micro-ATX motherboard you can install a high level of gaming hardware. Or head in the opposite direction and build a compact integrated PC, perhaps based around Core i3 or AMD APU.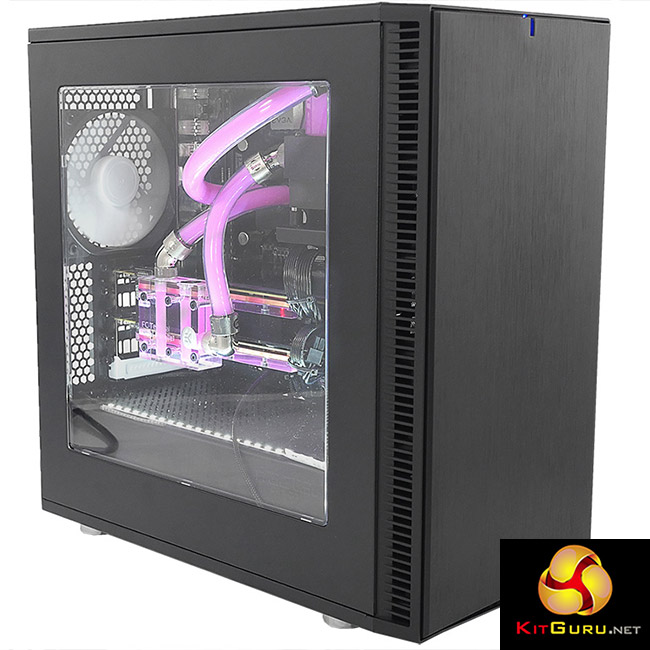 Whether you choose to use an air cooler, All In One or custom loop you will find the fan mounts, radiators mounts and air flow paths give you all the options you need to keep your PC sufficiently cool, and also nice and quiet.
The Fractal Design Define Mini C case is available for £73.49 for the windowed version and £68.99 for the non-windowed alternative.
Discuss on our Facebook page, over HERE.
Pros:
Good airflow
Full length air filters at the front and bottom
Low noise levels
Good cable management
Decent number of drive bays
Top ModuVent panel can be replaced with a magnetic dust filter
Cons:
Where's the glass window?
Main side panel is rather basic
Power supply cover would be improved with a cut-out to show off the PSU
KitGuru says: Micro-ATX is a niche market but Fractal Design Define Mini C is a winner.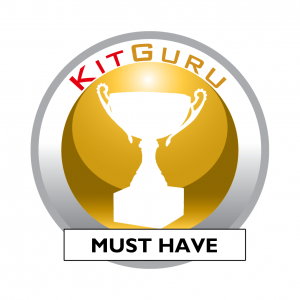 Be sure to check out our sponsors store EKWB here