Valve is tightening up its Steam Store policies this year, introducing new changes that will require developers and publishers to use real in-game screenshots to advertise their games on Steam, rather than concept art or rendered stills. The change was revealed in Valve's updated developer guidelines, though the company admits that they have also been guilty of not using real screenshots on Steam, pointing to Dota 2 as an example of this.
Before the change…
The new guideline notes were obtained by Gamasutra and call for developers to publish in-game screenshots of their game regardless of content. However, if mature content is included, then developers will be required to indicate which images are suitable for a wider audience. These updated guidelines appear to be related to the upcoming Discovery 2.0 update for Steam, which will make some UI changes to the store. In Valve's words, this should help customers understand "what the product is that they are looking at".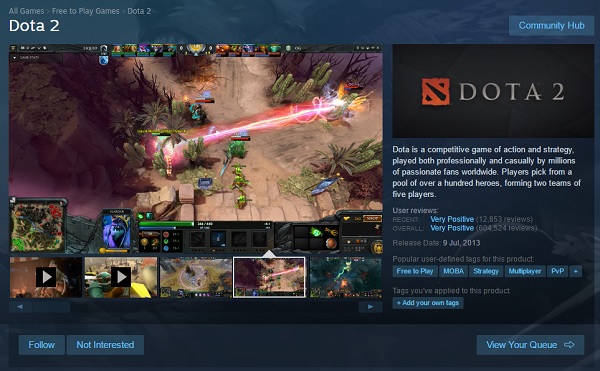 After the change…
There are plenty of games on Steam that use art or cinematic stills to advertise games, rather than actually showing any gameplay. In part of Valve's guideline, the company admitted that Dota 2 is "an example of where we were doing it wrong ourselves". However, Valve will be promptly updating the Dota 2 page to use screenshots of the game itself, rather than artwork.
It is important to note that this change does not apply to trailers featured on the Steam Store, so that may still end up being an issue with certain games.
Discuss on our Facebook page, HERE.
KitGuru Says:There has been a lot of uproar recently in regards to false game advertising. This is particularly true for No Man's Sky, which is currently under investigation by the ASA here in the UK, so it seems that Valve's new changes will make things clearer for buyers when looking at a game on the store.