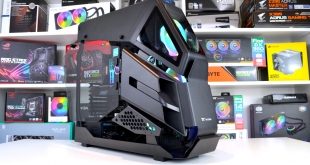 We got our very first glimpse of the Thermaltake AH T600 chassis at CES 2020 earlier in the year and have been looking forward to getting the opportunity to take a closer look at it ever since. According to Thermaltake, the AH T600 is styled around an attack helicopter and is aimed towards those who really want to show off their system with its rather unique appearance. But the real question is, what is it like to build a system inside? Let's find out.
Watch via our Vimeo Channel (Below) or over on YouTube at 2160p HERE
Thermaltake has a history of producing cases that its extensive modding community has adapted into some very interesting creations. In 2016, Thermaltake launched the Core X9 chassis that was later modded to look like a tank and both the Core P3 and P90 have been crafted into some weird and wonderful creations in the past too.
Then in 2019, Thermaltake equipped its production lines with the tooling to make its own unique and outlandish looking cases in-house. The AH T600 attack helicopter themed chassis is the first case to be created from this new production model and is available for enthusiast PC builders to purchase now.
AH T600 is technically an open frame full ATX tower chassis and is intended to be used for showcasing unique builds in the best possible way. It is equipped with five tempered glass panels, three at the front which sort of resemble an attack helicopter cockpit, as well as two glass side windows that are mounted on hinges with thumbscrew fasteners for easy access to the interior. There are also a generous amount of panel gaps around the chassis, so airflow shouldn't be restricted.
The structure of the chassis frame is constructed from steel and the outer shell is manufactured from a combination of steel and plastic panels. Compared with the average mid-tower desktop cases, the AH T600 is a bit of beast. With all the panels installed it measures 750mm from front to back, it stands approximately 620mm tall and weighs in at over 20kg empty.
In terms of hardware component support, the AH T600 can house up to EATX form factor motherboards, CPU coolers up to 195mm tall, power supplies with a maximum length of 200mm and graphics cards up to 440mm long. The rear panel allows for vertical or horizontal PCIe add-in card installation and there is space for up to two 3.5-inch HDDs or a total of three 2.5-inch SSDs or HDDs.
AH T600 is Tt LCS-Liquid Cooling support certified which means it is perfect for hardcore enthusiasts to build complex and extreme custom liquid cooling solutions inside. Generous radiator mounting options are available, with support for up to 480/420mm radiators or 4 x 120mm/3 x 140mm fans in the front,  up to 360mm radiators or 3 x 120mm/2 x 140mm fans in the roof and there is space for up to 360mm radiators or 3 x 120mm/2 x 140mm fans to the right of the motherboard tray.
Pre-installed to the floor of the AH T600 chassis is a removable bracket for installing compatible water pumps or pump/res combos and the front panel I/O consists of power and reset buttons, power and HDD activity LEDs, two USB 3.0 Type-A ports, a single USB 2.0 Type-A, one USB Type-C port and 3.5mm HD audio jacks for headphones and a microphone.
The Thermaltake AH T600 is available in either black or white colour schemes and is available to purchase now. The Black version is priced at around £250 and the Snow white version is a little more expensive at around £265 in the UK, which I suppose doesn't seem too expensive considering the unique design and sheer size of the case, if you are into this kind of thing of course.
Key features
Distinctive attack helicopter design
Support for extreme water cooling setups
Tempered glass front and side panels
Ideal for showcasing unique builds
Specifications
Case type
Full tower
Dimensions (H X W X D)
628.3 x 337 x 763 mm
Net Weight
20.64 kg
Side panel
5mm Tempered Glass x 2
Colour
Black
Material
SPCC
Drive bays
2 x 3.5″ or 3 x 2.5"
I/O Panel
Type-C x 1, USB 3.0 x 2, USB 2.0 x 1, HD Audio x 1
Expansion Slots
8
Fan support
Front: 4 x 120mm or 3 x 120mm or 2 x 120mm or 1 x 120mm /3 x 140mm or 2 x 140mm or 1 x 140mm

Top: 3 x 120mm or 2 x 120mm or 1 x 120mm / 2 x 140mm or 1 x 140mm

Right: 3 x 120mm or 2 x 120mm or 1 x 120mm / 2 x 140mm or 1 x 140mm

Radiator support
Front: 1 x 480mm or 1 x 360mm or 1 x 240mm or 1 x 120mm / 1 x 420mm or 1 x 280mm or 1 x 140mm

Top: 1 x 360mm or 1 x 240mm or 1 x 120mm / 1 x 280mm or 1 x 140mm

Right: 1 x 360mm or 1 x 240mm or 1 x 120mm / 1 x 280mm or 1 x 140mm

Maximum CPU cooler height
195mm
Maximum VGA length
300mm (With Water Pump)
440mm (Without Water Pump)
Maximum power supply length
200mm
Be sure to check out our sponsors store EKWB here