Since the Thermaltake AH T600 is technically an open frame test bench like chassis, we ran a series of simple tests to measure both thermal performance and noise levels at idle and under AIDA64 load stressing CPU, FPU, cache and GPU.
Unlike our usual thermal performance and noise levels test for PC cases, we have omitted results with the case in different configurations as this had virtually no effect on thermal performance or noise levels due to the open frame design of this chassis.
Test System

Processor: AMD Ryzen Threadripper 3970X
Motherboard: Gigabyte TRX40 Aorus Master
Memory: 32GB G.Skill TridentZ RGB DDR4-3200MHz
Graphics card: Gigabyte RTX 2070 Super Gaming OC
Power supply: Seasonic Prime PX-850 850W
Storage drive: 500 GB Corsair Force series MP600 PCIe Gen 3.0 M.2 SSD
CPU cooler: Thermaltake Floe DX360 TT Premium Edition 360mm AIO
Case: Thermaltake AH T600 Black
System fans: 3 x Thermaltake Riing Quad 14, 2 x front and 1 x roof
OS: Windows 10 1909
To measure thermal performance at idle, we used HWINFO to record average Tctl/Tdie temperature of the AMD Ryzen Threadripper 3970X CPU with the system idle in the Windows desktop for 10 minutes. Load temperatures were measured using the same recording method with the system running an AIDA64 stress test (CPU, FPU, cache and GPU) for 15 minutes. The results are recorded in the charts below.
For noise level testing, the AIO pump speed is set to 100% and all fans inside the system are set to the PWM performance mode in the Thermaltake TT RGB Plus software. Noise levels are recorded from a distance of 1m from the front of the chassis with the system idle and after 15 minutes of AIDA64 load.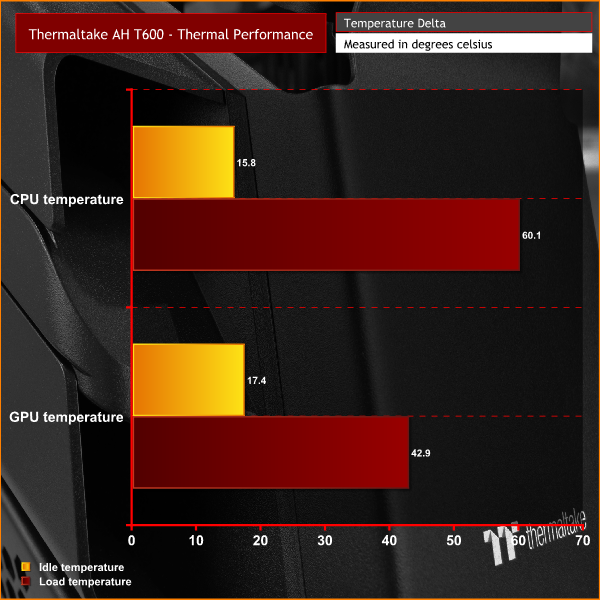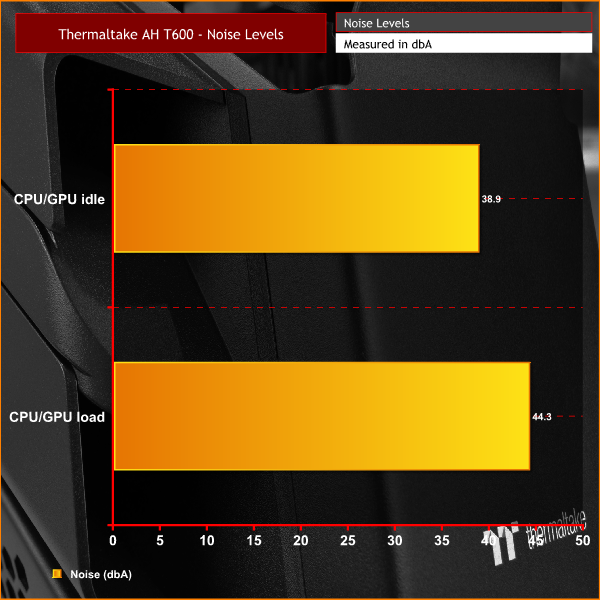 Thermal Performance Overview
With a generous amount of air gaps around the AH T600 chassis, this certainly helps with thermal performance. Even though the 360mm Thermaltake Floe DX AIO CPU block base plate doesn't fully cover the AMD Threadripper heat spreader, the thermal performance was well within safe limits.
Noise Levels Overview
Again, because the AH T600 is an open frame chassis, the level of noise being emitted from the system all depends on the choice of fans. Our system was certainly audible under load and you are obviously going to hear high RPM fans. However, tuning the fan curve to your noise level preference is really what is required with the AH T600.