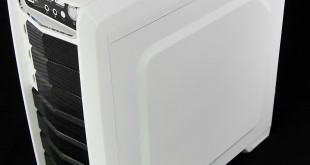 First appearances matter, and the styling of the Aerocool GT-A will easily distract you from the fact that this is a budget ATX case. The appearance of this white version with a blue LED fan at the front is eye-catching with its flared wheel arch thing at the front and the louvred top cover that sits above two empty 120mm fan housings. In front of that top cover there is a discreet sliding cover that conceals a SATA dock and when you look at the front panel you'll find a pair of rotary fan controllers.
One controller is linked to the two top fan positions while the other is for the two front fans (one supplied, one ready for an upgrade). At the rear of the case there is a 120mm fan with a header that connects to your motherboard. In the event the white and blue colour scheme doesn't float your boat, the GT-A is also available in black with red tones.
Watch via our VIMEO Channel (Below) or over on YOUTUBE.

Specification:
Motherboard support: ATX, Micro-ATX.
Expansion slots: 7.
Included fans: 1x 120mm front intake with blue LED, 1x 120mm rear exhaust.
Fan mounts: 1x 120mm front, 2x 120mm roof.
5.25″ drive bays: 3
Internal drive bays: 3x 3.5"/2.5", 3×2.5″.
Dimensions: 485mm H x 475mm D x 185mm W.
The emphasis on the two 120mm fans with an option of adding three more 120mm is significant as the GT-A is not intended for liquid cooling. You may, possibly, be able to install a 120mm AIO at the rear but you will find life much easier if you stick with air cooling and this is where the slender nature of the GT-A raises a fundamental question about your hardware.
You can just about fit a tower cooler with a 120mm fan inside the GT-A (maximum height 159.5mm) but if you use a high end CPU you will find it runs over 80 degrees C under heavy load. Clearly this isn't an issue if you install a low power CPU, however that throws up another issue.
Aerocool has designed the GT-A to accommodate a substantial graphics card up to 310mm/12-inches in length, which is quite a feat in a small case, however the careful location of some 2.5-inch drive bays in line with the graphics card means that you can simultaneously enjoy a compact case, loads of drive bays and a decent graphics card.
Taking these features together means that while you can build a mid-range gaming PC in this budget case, you won't be able to go the whole hog and build a high-end monster.
Testing
To put this case through its cooling paces we will be using a test system consisting of an Intel Core i7-4770K, Radeon R9 285 and multiple drives. This system allows us to produce a substantial amount of heat and effectively test the Aerocool GT-A's cooling capabilities.
For stress testing we use a mixture of Prime95 and FurMark to create the maximum heat output. Prime95′s 'Small FFTs' setting allows us to stress our CPU. FurMark's 'GPU Burn-in' mode creates the maximum amount of load our GPU is ever likely to see.
Test System:
Processor: 3.9GHz Intel Core i7-4770K
Motherboard: ASRock Z97 Killer
CPU cooler: Noctua NH-U12S
Memory: Corsair Vengeance LP DDR3-1600MHz RAM
Graphics card: Sapphire ITX Compact R9 285
Power supply: Seasonic Platinum Fanless 520W
Storage drives: SanDisk Extreme Pro SSD
OS: Windows 8.1 Professional 64-bit.
Cooling Performance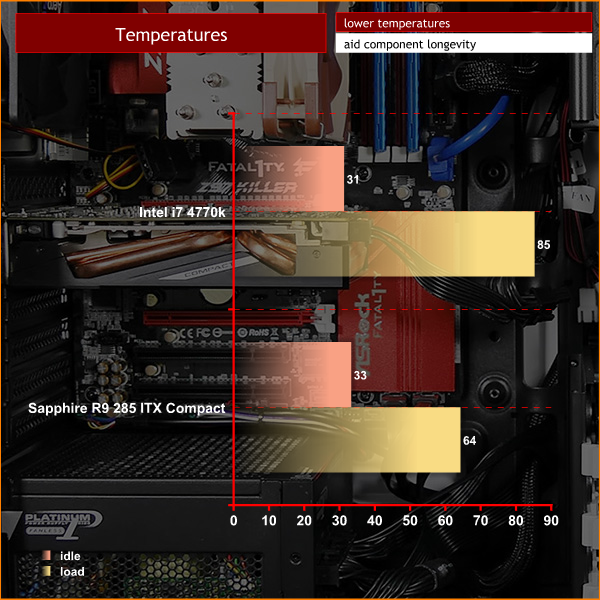 CPU temperatures were about 15 degrees higher than we would have liked to see, however that is a direct consequence of the compact nature of the GT-A and the need to use an air cooler, rather than a liquid cooler. Loaded graphics temperatures were exactly where we expect them in the mid-70's.
Acoustics Performance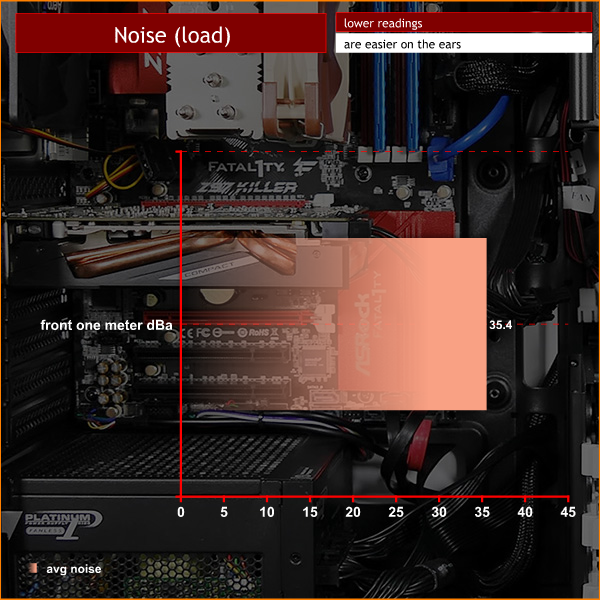 This is a quiet case. The design reduces the roar you can get when air rushes straight through a case and is instead baffled and slowed along the route. On the other hand CPU cooling isn't especially great.
The two rotary fan controllers make life considerably easier if you wish to add extra fans, especially if you have a motherboard that only has a couple of fan headers, rather than the five or six you find on an enthusiast motherboard. Turn the controllers down low and the noise is reduced practically to zero.
Closing Thoughts
We cannot claim the Aerocool GT-A is an enthusiast case however it delivers more features than you might expect at such a low price.
Small details such as the integrated motherboard mounts are a nice touch although you will probably need to use one or two of the extra stand-offs in the package.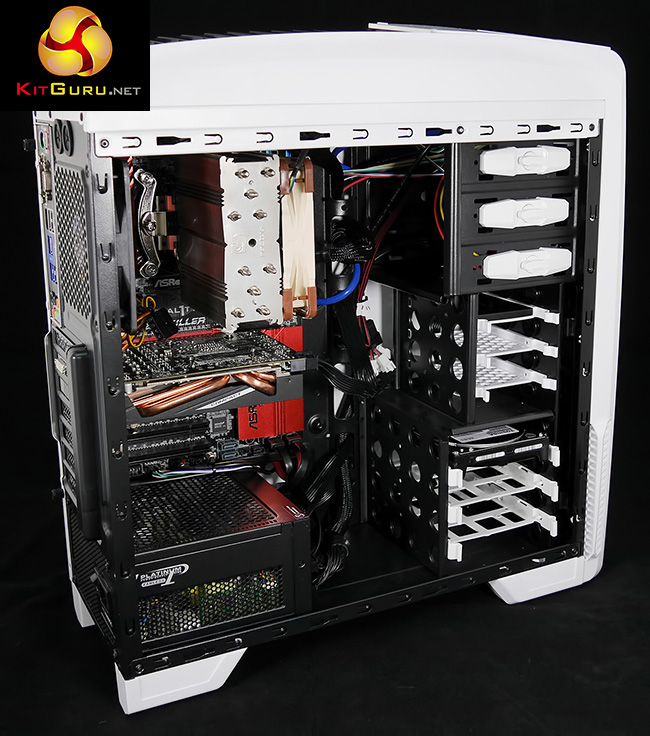 Building the PC in the GT-A is easy enough although space is a little restricted however there are a few points to consider. In particular the room that is available for the CPU cooler reduces your options and there is a distinct lack of space for cable management. You are unlikely to run into many issues with your graphics card but if you want to install a full length 13.5-inch card you'll have to look elsewhere as the GT-A tops out at 12-inches.
This is a personal observation but the funky front panel with its optical drive blanks and various nooks and crannies looks like a dust trap.



Available from Overclockers UK for £59.99 inc vat. (black version also available HERE).
Discuss on our Facebook page, over HERE.
Pros:
Low price.
Integrated fan controllers.
Supplied with two 120mm fans.
Accommodates three more 120mm fans.
Very quiet.
Smart styling.
Tool free design for much of the assembly.
Cons:
Cooling suffers due to the small size.
Restricted space for cable management.
GT-A can accommodate a 12-inch graphics card but not a full length 13.5-inch.
Access to the front air filter is slightly awkward if you install an optical drive.
KitGuru says: We like the Aerocool GT-A but feel it is aimed at the impecunious gamer, rather than the hardcore enthusiast.