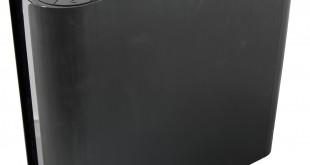 BitFenix lists a number of variants of its Micro-ATX Pandora case. The basic Core model starts at £80 and rises to £84 if you add a windowed side panel. The regular Pandora has an ICON LCD display on the front and costs £90 with plain side panels or £95 if you go for the windowed version. The model we have here is the Pandora in black with windows and ICON display so it is the most expensive version at £95.
BitFenix has clearly worked hard to keep the Pandora small so there is no optical drive bay and the swoopy aluminium side panels curve round at the front to make the case look even thinner. It is notable that the Pandora has curves on every surface.
Pulling the Pandora apart is easy as the side, top and front panels are all tool-free and their removal reveals the bare steel chassis as a regular box-shape that has been dressed in some attractive panels.
Watch via our VIMEO Channel (below) or over on YOUTUBE.
Specification:
Materials Aluminium, Steel, Plastic
Colours (Int/Ext) Black/Black, Black/Silver
Dimensions (WxHxD) 160 x 420 x 465
Motherboard Sizes Micro ATX, Mini-ITX
LCD 2.4″ TFT, 240 x 320
3.5" Drive Bays x 2
2.5" Drive Bays x 3
Cooling Top 120mm x 1 (included)
Cooling Front 120mm x 2 (1 included)
PCI Slots x 5
I/O USB 3.0 x 2, HD Audio
Power Supply PS2 ATX, up to 180mm in length
Extras Brushed Aluminium Side Panels, BitFenix ICON Programmable Display, Cable Management
Testing
To put this case through its cooling paces we will be using a test system consisting of an Intel Core i7-4770K, GeForce GTX 980 and a Samsung SSD. This system allows us to produce a substantial amount of heat and effectively test the BitFenix Pandora Black's cooling capabilities.
For stress testing we use a mixture of Prime95 and FurMark to create the maximum heat output. Prime95′s 'Small FFTs' setting allows us to stress our CPU. FurMark's 'GPU Burn-in' mode creates the maximum amount of load our GPU is ever likely to see.
Test System:
Processor: 3.9GHz Intel Core i7-4770K
Motherboard: Asus Z87I-Pro
CPU cooler: Alpenfohn Wasser AIO
Memory: Corsair DDR3-1600MHz LP RAM
Graphics card: Nvidia GeForce GTX 980
Power supply: Seasonic Platinum Fanless 520W
•torage drives: Samsung 840 SSD
OS: Windows 7 Professional 64-bit.
Cooling Performance.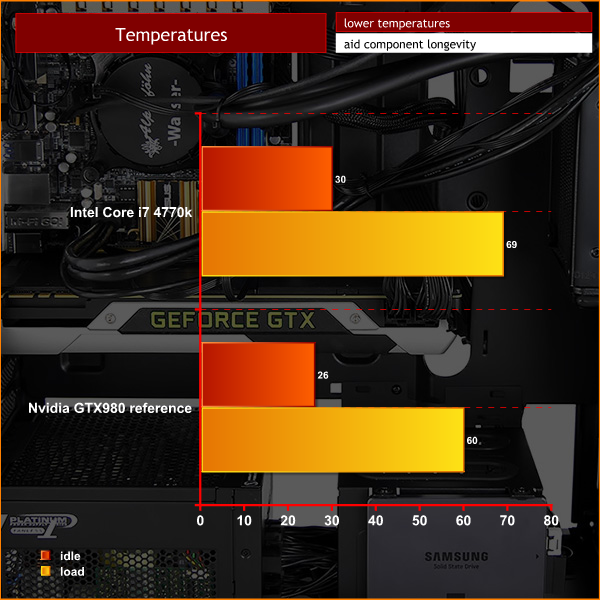 The BitFenix Pandora does a decent job of cooling when the system is idling, and despite our concerns about the small form factor it did sterling service under load. For this build we used a GTX 980 rather than our usual Sapphire R9 290 (purely for cosmetic reasons) and this undoubtedly helped keep the temperatures low but nonetheless the BitFenix Pandora does better than we would expect from a Micro-ATX tower.
Acoustics Performance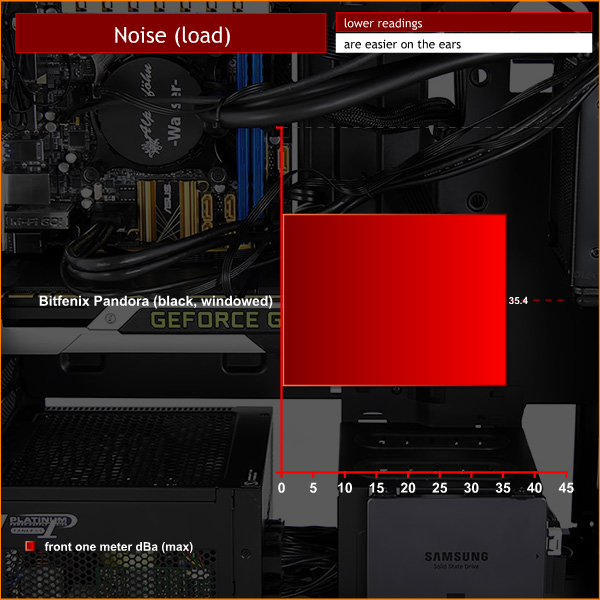 With the fans idling the Pandora is effectively silent, yet when the fans spin up under load the noise levels are far from intrusive. No doubt the baffled air intake at the front of the case, combined with the dust filters, helps a great deal. Even so this level of quiet performance was more than we expected from Pandora.
Closing Thoughts
The top panel of the Pandora doubles up as a filter and simply pops out for cleaning while the front and bottom filters are held in place with magnets. Cooling is provided by a 120mm fan in the top of the case and a 120mm fan at the front. If you choose you can add a second 120mm fan at the front however your options for liquid cooling are limited and this is important as clearance above the CPU limits you to an air cooler that stands no more than 134mm tall. There are coolers such as the Noctua NH-D9L that will fit however coolers that employ a vertical 120mm fan will doubtless prove too tall.
We found it best to replace the stock front fan with a 120mm liquid cooler. There is so little space above the motherboard that you cannot replace the top fan with a radiator.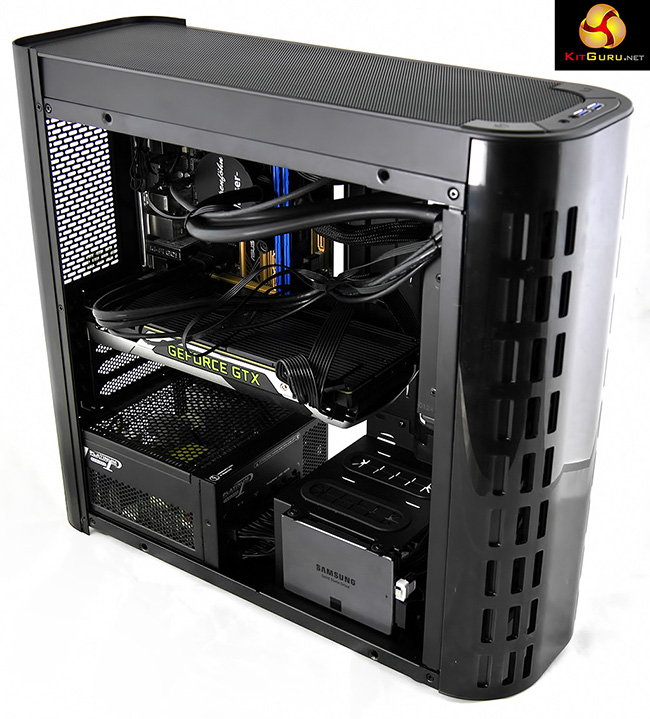 Instead of the usual arrangement of drive towers, BitFenix has scattered the drive bays around so there is a 3.5-inch bay in the roof of the case, one 2.5-inch/3.5-inch bay in the floor under the cable management bracket, a 2.5-inch bay on the outside of that bracket where it is on show through the window and another 2.5-inch bay behind the motherboard tray. This gives you plenty of options but realistically you are best advised to use a single SSD in the window and perhaps a storage HDD in the roof of the case.
We particularly liked the ICON programmable LCD that allows you to display a 240×320 image on the front panel. The ICON is connection to your motherboard using USB and your chosen image is installed with a BitFenix utility.
BitFenix acknowledges that 'Building inside a small case is generally a nightmare' however there is very little space behind the motherboard and this really makes life difficult. You are well advised to use a modular power supply and any excess cables will doubtless end up crammed under that cable management bracket.
On the plus side you can install pretty much any graphics card with a maximum length of 375mm.
Even so it is tricky to do a tidy PC build and cable routing is the single trickiest aspect of the matter.



Buy directly from Overclockers UK HERE for £94.99. Other models in the range can be seen HERE.
Discuss on our Facebook page over HERE.
Pros:
Sleek styling.
Smart aluminum panels.
ICON display customises the front of your PC.
Tool-free design.
Plenty of room to install one or two gaming graphics cards.
Impressive levels of cooling and low noise for such a small chassis.
Cons:
Cable management space behind the motherboard tray is far too restrictive.
The price tag is rather high.
Limited options for cooling – in essence you need a liquid cooler and it goes at the front.
Height restriction pretty much bars you from using an air cooler on your CPU.
The window and panels are prone to picking up marks and cosmetic damage.
Drive bays are scattered around the case in an odd arrangement.
The expansion slot thumb screws are hidden away in an awkward location.
KitGuru says: Overall we like the BitFenix Pandora however the emphasis on a compact form factor makes cable management and cooling too much like hard work.