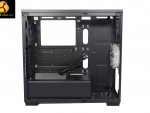 The Corsair Carbide 270R Windowed is a significant new case as it comes in at a bargain price. Bargain, that is, for Corsair which has a massive range of cases with prices that start at £50 and head north of £150. Corsair Carbide 270R is very much at the lower end of the scale and the non-windowed version is £5 cheaper than the windowed case you see in our video.
You don't get much in the way of bells and whistles for your money and can forget about luxuries such as integrated lighting or tempered glass. Those features are simply out of reach at £65. Instead you get a basic plastic window in the side panel and a complete absence of noise deadening material. The rear 120mm fan is a plain black item and perhaps the most exciting part of the deal is the front 120mm LED fan.
Specification:
Motherboard support: ATX, Micro-ATX, Mini-ITX.
Expansion slots: 7.
Included fans: 1x 120mm front intake, 1x 120mm rear exhaust.
Fan mounts: 3x 120mm or 2x 140mm front, 2x 120/140mm roof, 1x 120mm rear.
120mm radiator mounts: 120mm/240mm/360mm front, 120mm/240mm roof, 120mm rear.
140mm radiator mounts: 140mm/280mm front.
5.25″ drive bays: None
Internal drive bays: 2x 3.5-inch, 2x 2.5-inch.
Dimensions: 460mm H x 509mm D x 210mm W.
Truth be told we felt bad as we removed the front LED fan to start our PC build as it felt as though we taking away the only piece of bling you get with Carbide 270R, however we had a plan. The idea was to install a CPU cooling custom loop that used a 280mm radiator in conjunction with a pair of 140mm Corsair ML fans.
The hardware we chose was:
Intel Core i7-5820K
EVGA Micro 2 motherboard
Asus R9 390 graphics card
Corsair Vengeance LPX memory
Corsair Neutron XT SSD
Alphacool XPX CPU block
Alphacool 280mm radiator
Alphacool fittings
140mm Corsair ML fans
EK DDC pump and reservoir
Mayhems Pastel Blue coolant
As we point out in our video this isn't a recommended specification but more a way of showing what is possible. The CPU loop slipped into place without drama and the mighty Asus Strix R9 390 graphics card had loads of space. Admittedly we made life easier by using a Micro-ATX EVGA motherboard but we had no need for a full ATX motherboard so it seemed like a logical choice.
On the rear of the motherboard tray there are four stealth drive bays and plenty of room for your power supply and cabling. The overall look of the build was clean and tidy and we only had two complaints. The first is that cable management above the power supply cover isn't great and the second is that the top of the case is unfiltered and open to the atmosphere.
So there we were, expecting this cheap case to throw up all manner of problems and it actually delivered a pleasant surprise. The build quality is nothing special but the design of this budget case is sensible and works well.
Testing
To put this case through its cooling paces we will be using a test system consisting of an Intel Core i7-5820K, Radeon R9 390 graphics card and an SSD. This system allows us to produce a substantial amount of heat and effectively test the Corsair Carbide 270R's cooling capabilities.
For stress testing we use AIDA64 and Furmark to create the maximum heat output to stress our CPU and GPU.
Test System:
Processor: 3.3GHz/3.6GHz Intel Core i7-5820K
Motherboard: EVGA X99 Micro 2
CPU cooler: Custom loop – Alphacool and EKWB
Memory: 16GB Corsair Vengeance LPX DDR4-2800MHz
Graphics card: Asus Strix R9 390
Power supply: Seasonic Prime 750W Titanium
Storage drives: Corsair Neutron XT SSD
OS: Windows 10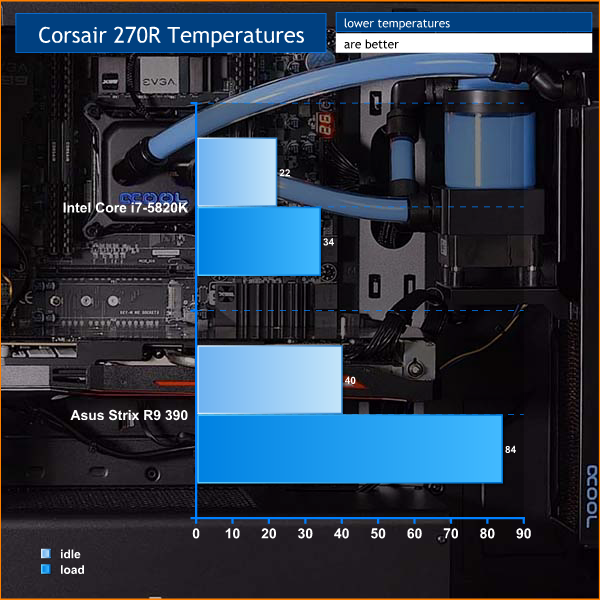 Cooling Performance.
We used a substantial radiator on the CPU and did not extend the loop to the graphics card with the result that our Core i7-5820K remained icy cold. The Asus Strix R9 390 ran at 84 degrees under load, just as we would expect.
Acoustics performance.
There is no noise deadening material in the Corsair Carbide 270R however our choice of cooling hardware resulted in a PC that was very quiet indeed. If you use a noisy graphics card or run your fans at high speed you will surely be able to hear the results.
Closing Thoughts.
We didn't expect a great deal from the Corsair Carbide 270R as the words 'budget' and 'Corsair' do not always sit well together however it turns out to be a perfectly decent case. The problem that Corsair faces is that £65 sounds fairly cheap yet it puts the Carbide 270R head-to-head with cases such as Phanteks P400 which costs £60.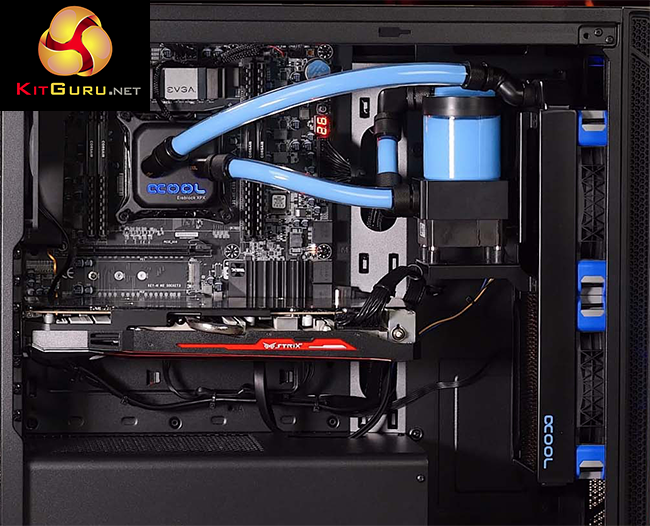 We liked the look of our finished PC but wish to goodness that Corsair had filtered the top panel of the case. While they were at it could we also have some improved cable management above the power supply? Just a few holes in the cover would make a world of difference.
In general terms we were happy and it is good to see that Corsair is capable of making a budget case that does a decent job.

Buy from Overclockers UK for £64.99 inc vat HERE.
Pros:
Stealth drive bays on the rear of the motherboard tray.
Excellent cooling.
Low price.
Roomy interior. An All In One would slip in easily.
Front 120mm fan has LED lighting.
Cons:
Top panel is unfiltered.
Cable management above the power supply cover is poor.
Window is prone to getting damaged.
KitGuru says: The Corsair Carbide 270R isn't perfect but it offers fair quality and good value.