The Cougar MX660 Mesh RGB is a case that offers all the important features we require, including a full sized tempered glass panel and three ARGB fans that add some visual bling. The mesh panel at the front promises a win-win as it aims to please those of us who demand decent cooling and it also caters for the crowd who want to be able to see those ARGB fans in action. So why, exactly, has it left me wanting more?

Watch the video via our VIMEO Channel (Below) or over on YouTube at 2160p HERE
Main features
Advanced Mid-Tower Case with Powerful Airflow. MX660 Mesh RGB is an upgraded mid-tower case, which continues COUGAR's iconic style. The massive mesh front panel with folding angles provides better air flow performance. With three ARGB VK120 fans and a crystal clear tempered glass left panel, you are freely to create a clear view of your computer's internal components.
Iconic Design DNA and Powerful Airflow. MX660 Mesh RGB's front panel combines with COUGAR's industrial style and powerful airflow. Not only make sure your critical hardware can be maximum cooled, but also help you to create an impressive build!
Three ARGB VK120 fans included. VK120 fan with Tri-Directional RGB Circle of Light that deliver a powerful and bright RGB lighting effect. In addition, VK120 equipped premium Hydro-Dynamic-Bearing and PWM function can provide more durable and silent performance.
Massive Tempered Glass Left Panel. With the full-length PSU cover hides cables and a massive tempered glass left panel presents a clean and tidy build, you can easily build a pro-level system. Furthermore, we use metal frames, instead of drilling tempered glass with 4 holes in corners, which helps to upgrade the durability.
Top-notch Gaming Hardware. To offer top-notch performance, MX660 Mesh RGB is able to house a mighty build. Its excellent support for up to 410mm-long graphics cards and E-ATX motherboards bring you unprecedented freedom of hardware system.
Specification:
Motherboard support: E-ATX, ATX, Micro-ATX, Mini-ITX.
Expansion slots: 7+2.
Included fans: 3x 120mm ARGB 1,500rpm PWM front.
Fan mounts: 3x 120mm/2x 140mm front, 3x 120mm/2x 140mm roof, 1x 120mm rear.
Radiator mounts: 360mm/280mm front, 360mm/280mm roof, 120mm rear.
5.25-inch optical drive bays: None.
Internal drive bays: 2x 3.5-inch/2.5-inch, 5x 2.5-inch.
Front I/O ports: 2x USB 3.0 type-A, 1x USB 3.1 type-C, audio.
Dimensions: 495mm H x 474mm D x 213mm W.
Testing
To put this case through its cooling paces we will be using a test system consisting of a Core i7-11700K CPU, RX 6800 XT graphics and an SSD. This system allows us to produce a substantial amount of heat and effectively test the Cougar MX660 Mesh RGB's cooling capabilities.
Test System:
Processor: Intel Core i7-11700K (8 cores/16 threads, 4.6GHz all cores)
CPU Cooler: Cougar Aqua 240 ARGB
Motherboard: Asus ROG Maximus XIII Hero BIOS 1007
Memory: 32GB Patriot Viper Steel RGB DDR4-3200
SSD: 500GB Sabrent Rocket 4.0 M.2 NVMe
Graphics card: Sapphire Radeon RX 6800 XT 16GB
Power supply: Cougar GEX 650W Gold
OS: Windows 10 Pro
Cooling Performance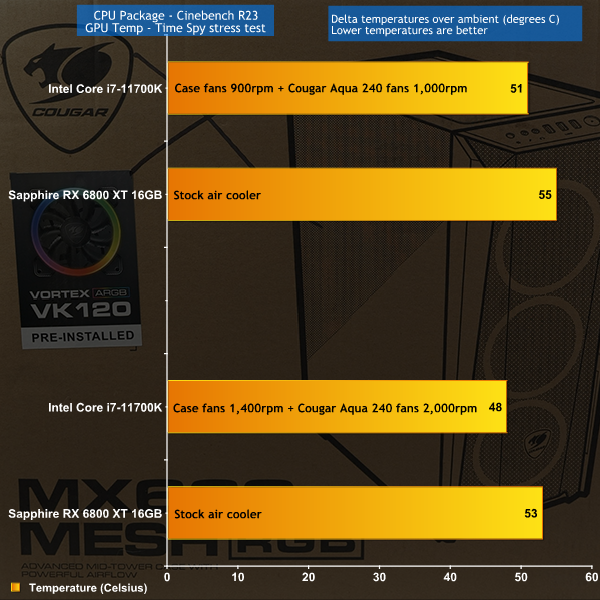 Cooling Performance Overview
During our testing the ambient temperature was 24 degrees so the quick takeaway is that both CPU and GPU remained in the 70-80 degrees C range while they were working very hard. We can confidently state the Cougar MX660 Mesh RGB flows a decent amount of air and you won't need to run your fans at outrageous speed to get the results you want.
Closing Thoughts
In the great scheme of things the Cougar MX660 Mesh RGB is not especially expensive with a UK price just under £80. Add in a consideration for the tempered glass window and the triple ARGB fans at the front and you can argue the core chassis accounts for, say, £50 of the cost.
At that point you can simply throw up your hands, say there's no point arguing about such sums of money and simply pay the asking price, however that isn't how we roll at KitGuru.
The problem faced by Cougar is that on paper the MX660 Mesh RGB is a reasonable product but in practice it comes up short in a number of areas. For example the air filters in the bottom and front of the case are fiddly to remove, clean and replace when it ought to be quick easy.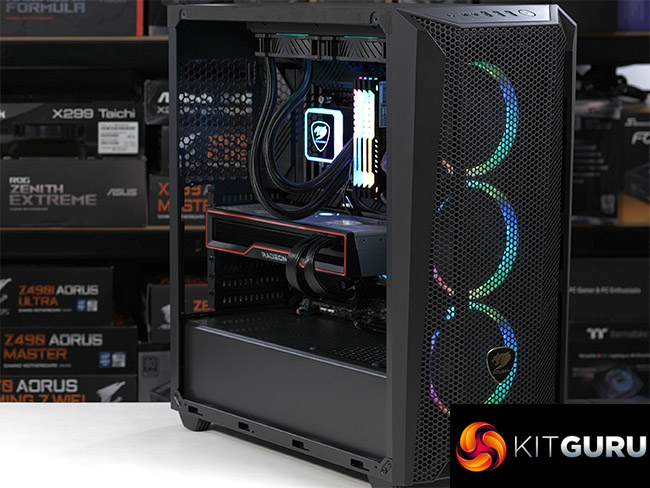 Another area that is annoying is cable management. Corsair uses a system called Rapid-Route which consists of a moulded plastic channel that attaches to the right hand side panel, but most companies do not go to such lengths. Instead they provide a number of cable tie points and perhaps some velcro straps and you will struggle to spot that sort of detail in the specification.
We want to see a decent number of cable tie points however Cougar is trying to win the war of the Features Table so they major on Tempered Glass, Mesh and ARGB Fans, but we want more focus on build quality, innovation and usability.
This results in a product that delivers in most areas but it is clear Cougar can do better than this.
You can buy the Cougar MX660 Mesh RGB for £77.72 from CCL HERE.
Pros:
Supplied with triple 120mm ARGB fans.
Price is reasonable.
Tempered glass panel looks good.
Cons:
Cable management is very basic.
No rear fan included.
Build quality is unimpressive.
Bottom dust filter is fiddly.
Front filter is stuck behind I/O panel.
KitGuru says: The Cougar MX660 Mesh RGB needs a number of tweaks and improvements to become more competitive.
Be sure to check out our sponsors store EKWB here