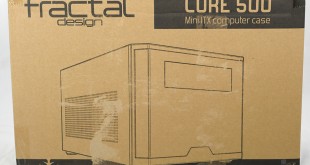 There are two distinctly different ways to approach the Mini-ITX Fractal Design Core 500. The first is to pack out the drive bays with a ton of storage (optical drive, three hard drives and three SSD) to effectively convert your tiny PC into a server or NAS.
The second approach is to rip out some of the bays and build a full-blooded gaming PC. Core 500 supports a graphics card up to 310mm in length along with a liquid cooler using a radiator up to 280mm.
That simply isn't the sort of hardware you expect to be able to cram inside a small form factor chassis and it suggests Fractal Design has created something rather clever.
Specification:
Motherboard support: Mini-ITX.
Expansion slots: 2.
Included fans: 1x 140mm rear exhaust.
Fan mounts: 2x 120/140mm roof.
120mm radiator mounts: 120mm/240mm roof, 120mm rear.
140mm radiator mounts: 140mm/280mm roof.
5.25″ drive bays: 1
Internal drive bays: 3x 3.5, 3×2.5″.
Dimensions: 213mm H x 380mm D x 250mm W.
At the heart of the design of the Core 500 is support for a regular ATX power supply. This gives you many more options than using a smaller SFX power supply and also means you have far greater scope for powering a bunch of drives or a beefy graphics card. The downside is that the cables exiting from the power supply sit tight behind the graphics card such that you are limited to using a 170mm old school non-modular power supply or a 160mm modular unit.
Judging by our experience this is more of a guide than a hard-and-fast rule and we ended up using a 150mm Seasonic Bronze 520W, purely to give us room for the cables. There is an internal cable that runs from the power socket on the back of the chassis to the power supply inside the case and the orientation of the cable required us to mount the Seasonic with the fan facing upwards – rather than inhaling from the filtered intake in the floor of the case.
On the other hand, if you are using a short graphics card such as a Sapphire ITX R9 295 (or using integrated graphics) you can install pretty much any power supply your heart may desire.
Once the power supply and motherboard are installed and you have selected your graphics you can think about the drive bays and CPU cooling. There is a good chance you will have to remove your motherboard to install your CPU cooler as there is no access to the rear of the motherboard inside the chassis.
Running front to rear in the case there is an open frame that supports your chosen radiator, assuming you are going for liquid cooling. If you want to use a full length radiator you first need to remove the optical drive bay that fills the front of the chassis.
That may sound like a long litany of complaints but it isn't really meant that way. The thing about Core 500 is that it can be simple to build a highly integrated PC but it takes some work to make full use of the features on offer.
This is a small chassis and installing a regular ATX power supply, large liquid cooler and a full length graphics card is a tricky task but as you will see in our video and photos the end result is a fully fledged gaming PC.
Testing
To put this case through its cooling paces we will be using a test system consisting of an Intel Core i7-4770K, GTX 980 graphics and a solid state drive. This system allows us to produce a substantial amount of heat and effectively test the Fractal Design Core 500's cooling capabilities.
For stress testing we use AID64 to stress our CPU and GPU simultaneously.
Test System:
Processor: 3.9GHz Intel Core i7-4770K
Motherboard: Asus Z87I-Pro
CPU cooler: Deepcool Captain 240mm
Memory: 4GB Adata DDR3-1600MHz RAM
Graphics card: GeForce GTX 980 4GB
Power supply: Seasonic M12 II Bronze Evo Edition 520W
Storage drives: 480GB SanDisk Extreme Pro SSD
OS: Windows 10 64-bit.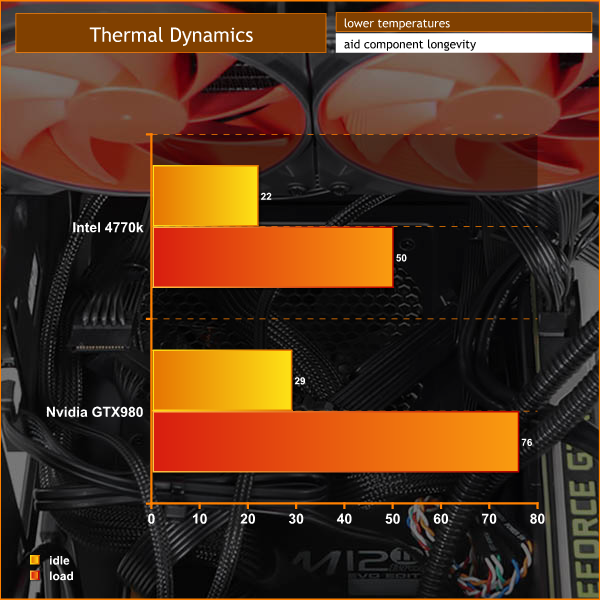 Cooling Performance
As small cases go, the Core 500 did a good job of keeping things cool. Maintaining a Core i7 at 50 degrees is very satisfactory and we expect a GTX 980 should run in the mid-70s, which is exactly the figure we saw. It is worth pointing out that our ducted GTX 980 graphics card had its cooling fan within a few millimetres of the filtered vents in the side of the case which clearly helps the cooling.
Acoustics Performance
The downside to a small case is that it is rather noisy flowing enough air to cool a Core i7 and gaming graphics card. There simply isn't enough space to flow air in a sophisticated, measured manner but instead it's a bit crash bang wallop and the noise levels are noticeably high. We measured around the 40dBA mark under load.
Closing Thoughts
The Fractal Design Core 500 looks like a simple case but it is more sophisticated and subtle than it first appears. You can stick with a relatively lowly CPU and minimalist graphics card which allows you to leave all the drive bays in place.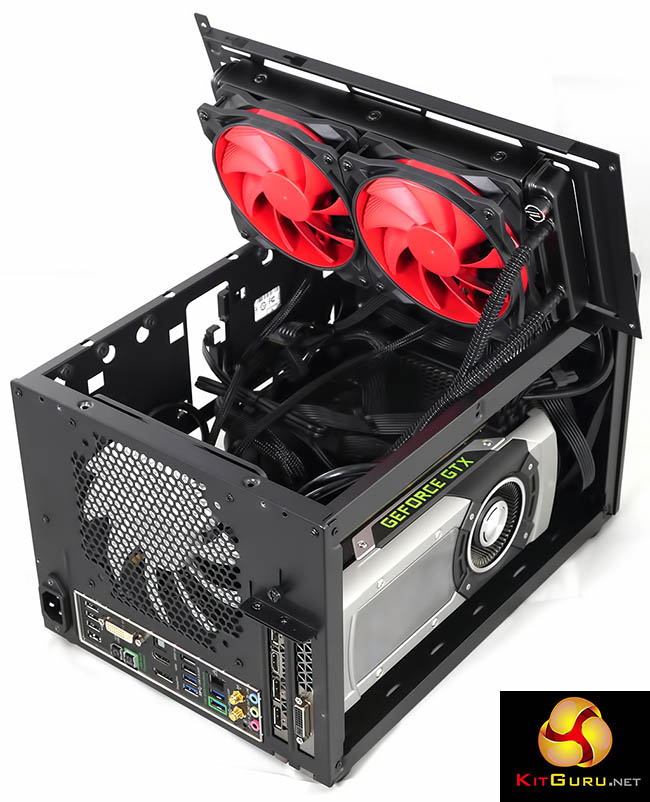 Alternatively you can install the hardware you need to power and cool a proper processor, along with a decent graphics card. This is a more tricky proposition that requires some care during the build. You cannot blindly follow Fractal Design's guidelines about compatible hardware but instead have to choose carefully, especially when it comes to your power supply.
There is little prospect that you will be able to keep the cabling under control, particularly if you install upwards of five storage drives, but the result is a PC that punches far above its weight at a remarkably low price.

You can buy from Overclockers UK for £49.99 inc vat HERE.
Discuss on our Facebook page, over HERE.
Pros:
Low price.
Massive number of drive bays.
Compatible with a full length graphics card.
Supports ATX power supply.
Ability to install a liquid cooler up to 280mm
Good cooling for a small form factor chassis.
Cons:
The location of the power supply means the cables may conflict with your graphics card.
Tricky to keep the build tidy.
A fairly noisy chassis, when it is working hard.
No access to back of the motherboard.
KitGuru says: Fractal Design has delivered a cheap and versatile Mini-ITX case.