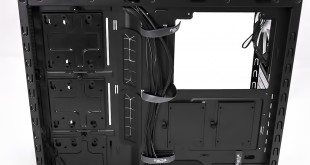 Fractal Design has taken an innovative approach with the Define S. This ATX case bears a strong resemblance to the Define R5 but when you take a look inside you find … nothing. It is almost entirely empty apart from a 140mm fan at the front and another 140mm fan at the rear. At first glance there are no storage drive bays and certainly there is no optical drive bay on the front of the case, and while the design looks clean and tidy it appears to be missing something or other.

Pull off the two side panels (our windowed sample had a heavy piece of sound deadening material in the rear panel), pop off the front panel and unclip the full length magnetic dust filter and you reveal a number of fan mounts. Unclip the three ModuVents on top of the case to reveal even more mounting holes and you realise the Fractal Design Define S has an enormous number of cooling options. You can install a 420mm radiator in the roof and a 360mm radiator at the front or go for three fans at the top and another three at the front. That's a huge amount of cooling however that is only part of the story.
Watch via our VIMEO Channel (below) or over on YouTube
Specification:
Motherboard support: ATX, Micro-ATX, Mini-ITX.
Expansion slots: 7.
Included fans: 1x 140mm front intake, 1x 140mm rear exhaust.
Fan mounts: 3x 120/140mm front, 3x 120/140mm roof, 1x 120/140mm rear, 1x 120/140mm bottom.
120mm radiator mounts: 120mm/240mm/360mm front, 120mm/240mm/360mm roof, 120mm rear, 120mm floor.
140mm radiator mounts: 140mm/280mm front, 140mm/280mm/420mm roof, 140mm rear, 140mm floor.
5.25″ drive bays: none
Internal drive bays: 3x 3.5/2.5", 2×2.5″.
Dimensions: 465mm H x 533mm D x 233mm W.
We have all seen cases that support large radiators and a number of fans. Fractal Design avoids two obvious pitfalls by using slotted mounts for the hardware so you aren't forced to mount a given fan or radiator in any particular position and the slots are offset to one side to clear the motherboard. The other thing is that the front panel I/O is attached to the case so when you remove the front panel and dust filter you don't have to wrestle with a bunch of wiring.
While we're on the subject of dust filters, the bottom filter that protects the power supply slides to the rear of the chassis, which is awkward. Far better if it slid out to the front or the side.
The biggest single issue with the Define S is the lack of filtering on the top of the case, although this only applies if you open the ModuVents. If the top of the case is closed then filtering isn't a problem. On the other hand if you open the vents and install a set of fans or a radiator the case is open to the outside world. Clearly the problem is lessened if the fans are set to exhaust the hot air upwards, although there is a significant amount of space around the radiator that will allow dust to creep inside. By contrast if the fans are set to draw cold air in from the top you'll be soon be filling the case with all sorts of nastiness.
I clean forgot to mention in the video that the floor of the case where you usually find a drive tower is drilled so you can easily mount a water pump. Above the pump location there are mounts where you can attach a fluid reservoir using two supplied brackets.

Many enthusiasts will choose an All-In-One cooler and we naturally plumped for the Fractal Design Kelvin S36, mainly because this 360mm liquid cooler is new to us but also so we could see what a full Fractal Design system looked like in action. Check out our indepth review of this cooler over on THIS page.
Behind the rear panel there are three 2.5-inch/3.5-inch drive caddies that mount flat to the case and on the back of the motherboard you'll see two SSD bays. In total the Define S can accommodate five drives yet there are no towers or bays obstructing airflow from the front of the case.
Testing
To put this case through its cooling paces we will be using a test system consisting of an Intel Core i7-4770K, Radeon R9 290 and multiple storage drives. This system allows us to produce a substantial amount of heat and effectively test the Fractal Design Define S's cooling capabilities.
For stress testing we use a mixture of Prime95 and FurMark to create the maximum heat output. Prime95′s 'Small FFTs' setting allows us to stress our CPU. FurMark's 'GPU Burn-in' mode creates the maximum amount of load our GPU is ever likely to see.
Test System:
Processor: 3.9GHz Intel Core i7-4770K
Motherboard: ASRock Z97 Killer
CPU cooler: Fractal Design Kelvin S36 360mm
Memory: Corsair Vengeance LP DDR3-1600MHz RAM
Graphics card: Sapphire Tri-X R9 290
Power supply: Seasonic Platinum Fanless 520W
Storage drives: SanDisk Extreme Pro SSD
OS: Windows 8.1 64-bit.
Cooling Performance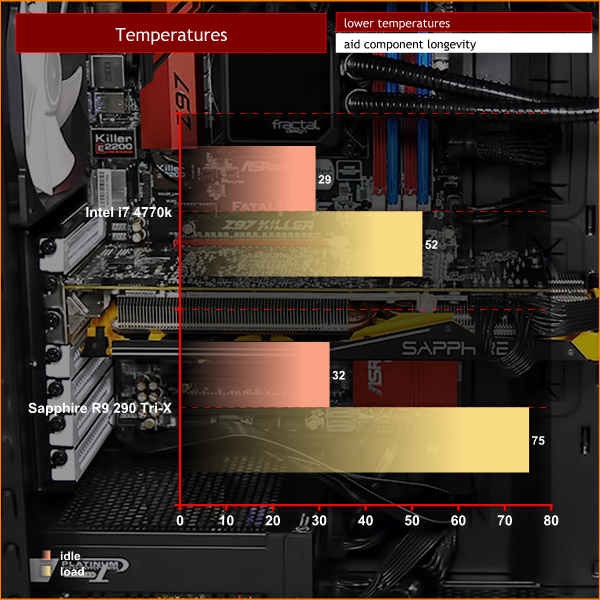 The Kelvin S36 cooler is a beast of a system that clearly isn't stressed by a Core i7. With the BIOS set to silent it cools tolerably well and as you step up through the cooling profiles the temperatures drop. It is crystal clear the Define S chassis is able to deliver as much or as little airflow as you require.
Acoustics Performance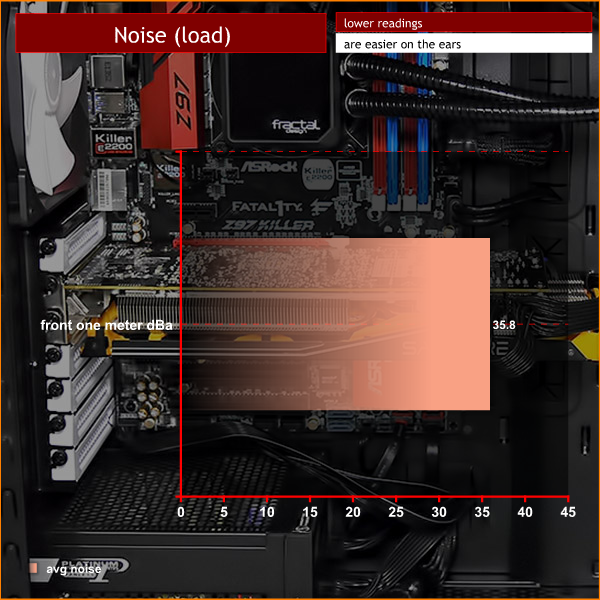 The downside to the open design of Define S is that the noise levels can easily become intrusive. This is especially true when the ModuVents are open and you whack up the fan speeds to keep your CPU and GPU icy cold.
Closing Thoughts
The Fractal Design Define S isn't perfect but it is both an exciting and important new case that is aimed at the enthusiast. You could use the Define S with the stock fans and an air cooler on your CPU however this would be pure madness. Installing an All In One liquid cooler is a wise move however the Define S is intended for use with an extensive custom liquid cooling system.
The huge amount of space and the mounting points for all those fans, radiators and other components are a massive draw for the enthusiast PC builder. Added to that you have the benefit that you don't need to do any preparation work by removing drive towers or de-rivetting the case as it arrives ready for action.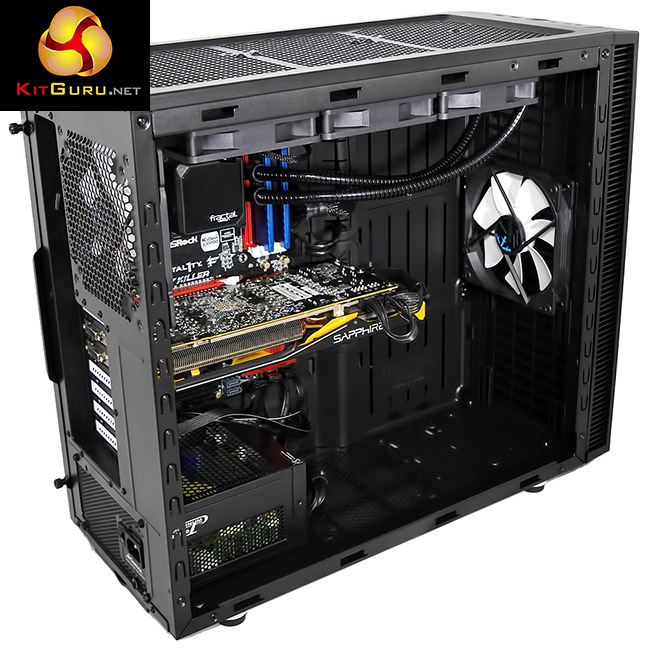 This is a side issue to the review of the Define S but it is worth mentioning the Kelvin S36 is an impressive piece of hardware that would benefit from a USB connection and some monitoring software.
Discuss on our Facebook page, over HERE.
Pros:
Massive open space for two large radiators.
Huge grommeted holes for tidiness and airflow.
Low price.
Velcro straps for cable management.
Up to 40mm space for cable management.
Radiator mounts are offset to clear the motherboard.
Excellent user manual.
PSU mount has a cushion to reduce vibration.
Cons:
No filters in the top ventilated section.
Case is flexible when the panels are removed.
Bottom filter pulls out to the rear.
Perhaps a PSU cover would improve things.
KitGuru says: Anyone looking for epic cooling should buy this case.