UPDATE: After our initial look at Fractal Design's Torrent Compact last month, I felt it was time for a revisit. Instead of the Celsius AIO liquid cooler used in the original review (as below), we swapped in a Noctua NH-U12A chromax.black air tower for cooling duties. Does it make much of a difference in this case? That's what we're finding out today…

Original review as follows:
When KitGuru reviewed the Fractal Design Torrent with its funky 180mm fans we had mixed views. Indeed, we were so undecided we took a second look at the Torrent and concluded we had been correct in the first place that Torrent was interesting, effective and rather large for our tastes. So imagine our delight when Fractal Design announced the Torrent Compact which promises more of the 180mm goodness in a smaller chassis.
Timestamps
00:00 Start
00:15 Introduction
01:24 Pulling off the panels / specs
02:36 Compact details against Torrent
04:58 Build into the Torrent Compact
06:05 Fitting an AIO – moving fans to floor
08:13 Motherboard install
09:09 PC is up and running – some thoughts
11:13 Thermal Testing and sound levels
13:01 Leo's closing thoughts
Main features
Open front grille and full-length base intake with 180 mm fan support
Fractal Design 180×38 mm Dynamic X2 PWM and Prisma AL PWM ARGB fans leverage power, size, and thickness for greatly enhanced air-moving capacity
Streamlined open interior with extra headroom for components and support for E-ATX motherboards up to 274 mm in width
Top mounted PSU compartment with aerodynamic shape and integrated ARGB effects (TG versions only)
Two 180mm PWM fans preinstalled
Supports standard radiator sizes up to 360 or 280 mm in the front (using the included fan adapter brackets) and up to 240 or 280 mm in the bas
Nexus 9P Slim PWM fan hub pre-installed
External cable tie-downs help manage the power cord and other cables on the rear exterior
GPU support bracket included
Integrated LED lighting (on TG versions) and Prisma ARGB fans use standard 5V RGB connectors for full software control on motherboards with addressable RGB support
Removable top bezel and cable guides with Velcro ties behind the motherboard plate
Vibration-damped HDD/SSD tray and three dedicated SSD brackets included
An additional 2.5" drive can be mounted to the underside of the HDD/SSD tray
Front and bottom dust filters easily accessible by removing the front panel
Seven bridgeless expansion slots ensure obstruction-free hookup
Built-in fill port with convenient top-panel access
Specification:
Motherboard support: E-ATX up to 274mm, ATX, Micro-ATX, Mini-ITX, SSI-CEB
Expansion slots: 7.
Included fans: 2x 180mm x 38mm Dynamic X2 GP-18 1,200rpm PWM.
Fan mounts: 3x 120mm, 2x 140mm or 2x 180mm front, 3x 120mm, 2x 140mm or 2x 180mm front, 1x 120mm rear.
Radiator mounts: 360mm/280mm front, 240mm/280mm floor, 120mm rear.
5.25-inch optical drive bays: None.
Internal drive bays: 1x 3.5-inch/2.5-inch, 3x 2.5-inch.
Front I/O panel: 1x USB 3.1 Gen 2 Type-C, 2x USB 3.0, headset jacks.
Dimensions: 467mm H x 450mm D x 222mm W.
Testing
To put this case through its cooling paces we will be using a test system consisting of an AMD Ryzen 5 5600X, Sapphire RX 6800 XT 16GB and an SSD. This system allows us to produce a substantial amount of heat and effectively test the Fractal Design Torrent Compact 's cooling capabilities.
Test System:
Processor: AMD Ryzen 5 5600X (6 cores/12 threads)
CPU Cooler: Fractal Design Celsius+ S28 Prisma
Motherboard: MSI MAG B550M Mortar
Memory: 32GB Patriot Viper RGB DDR4-3200
Graphics card: Sapphire RX 6800 XT 16GB
Power supply: Fractal Design Ion+ 2 Platinum 860W
SSD: 500GB Sabrent Rocket 4.0 M.2 NVMe
OS: Windows 11
Cooling Performance
Cooling Performance Overview
Our test PC was drawing 450W at the wall socket with 76W going to the Ryzen 5 and 255W going to the RX 6800 XT graphics card. That's a fair amount of load inside a mid-tower case and we consider the temperatures inside the Torrent Compact were absolutely fine. It is worth noting the bottom and front fans were all set to intake and there may be scope for improvement with the addition of a rear exhaust fan.
Closing Thoughts
You will have gathered from our video that we have mixed feelings about the Fractal Design Torrent Compact. The simple explanation is that we are perfectly happy with cases such as the Lian Li O11 Dynamic EVO that rely on 120mm and 140mm fans and do not feel an immediate need for 180mm fans.
Fractal Design Torrent cases allow you to install 180mm fans in the floor and front of the case and house the power supply in the roof so if – like us – you're not much fussed about that feature you may well be feeling a touch of meh.
On the other hand, if you love the look of the Torrent family you have to think that things are looking pretty darned great. The original Torrent is a large case, this Compact is medium sized and the Nano is fairly tiny so it seems that Fractal Design has covered all the bases.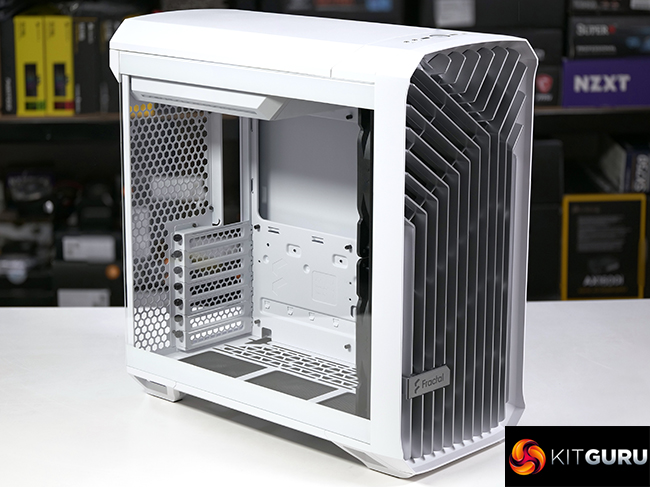 We decided to follow Fractal Design's guide and move the 180mm fans to the floor of the case and then install a 280mm AIO in the front. While that worked well enough we think we may have made a mistake, not least because there is a fair amount of steel in the floor of the case that obscures those huge 180mm 1,200rpm fans. We are confident the better approach is to leave the 180mm fans alone, perhaps add an exhaust fan in the rear, and stick a simple air cooler on the CPU.
This is a stylish and attractive case with one of the best front panels we have ever seen but the fact remains that you have to work at it to get decent results.
You will be able to buy the Fractal Design Torrent Compact in White with Clear Tint for £122.99.
Discuss on our Facebook page HERE.
Pros:
Quirky design based on 180mm fan units.
Stylish looks.
RGB looks great in the Torrent Compact.
Cons:
Needs more space behind the right hand panel for cables.
Front dust filter clashes with radiator screws.
Cable management is awkward inside the main compartment.
KitGuru says: If you fancy the looks of the quirky Torrent Compact you will need to accept its slightly unusual layout.
Be sure to check out our sponsors store EKWB here