Fractal Design Torrent uses an updraught design with three 140mm fans in the floor and two 180mm fans in the front that maintain positive air pressure in the large, open main chamber. To add to the unusual nature of the Torrent we find the power supply in the roof of the case, housed in a separate compartment. Whether Torrent is good, bad or indifferent, it certainly is not boring… (spoiler alert: it isn't bad).
Watch the video via our VIMEO Channel (Below) or over on YouTube at 2160p HERE
Main features
Open grille and 180 mm front fans optimized for maximum air intake
Newly developed 180 x 38 mm Dynamic X2 PWM or Prisma AL PWM ARGB fans (in the RGB version) leverage power, size, and thickness for massive air-moving capacity
Includes five PWM fans (three 140 mm and two 180 mm) for balancing performance, cooling and noise
New layout with expansive base intakes and extra-large bottom fan support offers exceptional GPU cooling
Optional front and bottom nylon filters included, allowing the user to prioritize between dust filtering or even higher airflow
Streamlined open interior provides plenty of breathing room for components and maximizes performance potential for both air and water cooling
Comes with the new Nexus 9P Slim PWM fan hub pre-installed
Fans and LED lights fully controllable through motherboards supporting addressable RGB (3-pin 5V header) (RGB version only)
GPU support bracket that helps your GPU stay level (user assembled, instructions included)
Comes with external cable straps for tidying up behind your computer
Seamless tempered glass panels with bolt-free top-latching mechanisms for easy handling
Top mounted aerodynamic PSU shroud with integrated ARGB effects (RGB version only)
Front fan brackets allow for unblocked airflow to the larger fans while catering to standard radiator sizes
Removable top bezel and cable guides with cable straps make for easy installation and cable management
Two sturdy steel drive trays with vibration-damping rubber grommets cushion 3.5" hard drives for smooth, quiet and reliable operation
Four dedicated SSD brackets included
Dual recessed channels in the base for adding LED strips and under-lighting effects (both available separately)
Both front and bottom panel can support extra-thick radiators and push-pull fan configurations up to 420 mm
Integrated support for a water-cooling reservoir on the motherboard tray
Seven bridgeless expansion slots allow for extensive customization
Specification:
Motherboard support: E-ATX, ATX, Micro-ATX, Mini-ITX, SSI-EEB, SSI-CEB
Expansion slots: 7
Included fans: 2x 180mm x 38mm bottom intake, 3x 140mm front intake.
Fan mounts: 3x 120mm/140mm or 2x 180mm front, 1x 120mm/140mm rear, 3x 120mm/140mm or 2x 180mm floor.
Radiator mounts: 360mm/420mm floor, 120mm/140mm rear.
5.25-inch optical drive bays: None.
Internal drive bays: 2x 3.5-inch/2.5-inch, 4x 2.5-inch.
Front I/O panel: 1x USB 3.1 Gen 2 Type-C, 2x USB 3.0, headset jacks.
Dimensions: 530mm H x 544mm D x 242mm W.
Testing
To put this case through its cooling paces we will be using a test system consisting of an AMD Ryzen 9 3900X, Palit RTX 3080 and an SSD. This system allows us to produce a substantial amount of heat and effectively test the Fractal Design Torrent's cooling capabilities.
Test System:
Processor: AMD Ryzen 9 3900X (12 cores/24 threads, 4.0GHz all cores)
Thermal compound: Arctic MX-5
Motherboard: Asus TUF Gaming X570-Plus
Memory: 32GB G.Skill TridentZ Neo DDR4-3600
Graphics card: Palit RTX 3080 Gaming Pro 10GB
Power supply: Seasonic Prime TX-850 850W Titanium
SSD: 500GB Sabrent Rocket 4.0 M.2 NVMe
OS: Windows 10
Custom Loop Cooling
Pump/Reservoir: EK Quantum Kinetic TBE 300 D5 PWM
CPU Block: EKWB Quantum Magnitude Nickel
GPU Block: EKWB Quantum Vector Nickel and backplate
Radiator: Alphacool NexXxos ST30 280mm Nickel
Case fan: 1x Phanteks PH-F120MP
Fittings: Alphacool
Soft Tube: EKWB 16mm/10mm
Coolant: EKWB Cryofuel Solid White
Cooling Performance
Cooling Performance Overview
We pummelled the test PC with a combination of Cinebench R23 and Time Spy Stress Test which drew 500W at the wall socket. The temperature of our Ryzen 9 3900X remained just below 80 degrees C while the RTX 3080 graphics card ran at an icy 51 degrees C.
Closing Thoughts
The Fractal Design Torrent uses a novel design that is vaguely similar to a Corsair Carbide Air 740 from 2016 in the sense you have a large open chamber with all the obstructions removed. The major difference is that Corsair chose a dual chamber design that is pretty much a cube with plenty of space for the power supply and drives.
By contrast Fractal Design has tried to keep Torrent slender which is an uphill struggle as the case supports enormous 180mm fans. The approach used is to minimise the space in the right hand side of the case, despite the inclusion of four SSD mounts and two full sized drive bays.
Quite how Fractal thought we would be able to cram in all the necessary cables is something of a mystery, and you can see the consequence at the end of our video.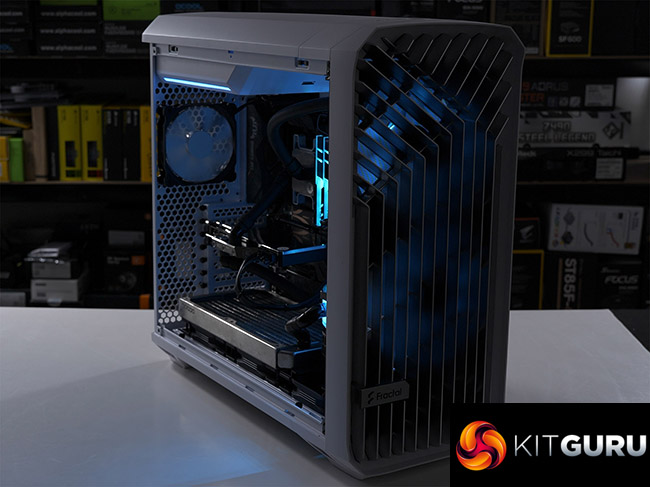 Once you have worked hard to find the necessary space for your cables you can turn to the other aspects of the Torrent which are generally rather good.
The construction is decent and while we did not like the feel of a couple of panels we were confident the hardware was sensibly specified and up to the job. One annoying detail is that Fractal tell us the case supports a 420mm radiator in the floor and while this is technically correct it is problematic in practice.
Fractal has recently produced some excellent designs and we are confident the Torrent 2 will work better. Shall we schedule it for 2022 or 2023?
We don't yet have a buy link but we have been told you will be able to buy the Fractal Design Torrent for £165.
Update 3/9/2021: Leo has revisited the Torrent, this time using a fully air cooled system instead of the custom loop shown here. Find out if that changed his views over HERE.
Discuss on our Facebook page HERE.
Pros:
Effective cooling
Decent price/good value for money
Full length front and bottom filters
Novel design
Cons:
Requires more space behind the right panel for cables
No rear fan included
Plasticky feel to some of the panels
KitGuru says: Fractal Design Torrent is a decent case but it came close to being superb. So close.
Be sure to check out our sponsors store EKWB here