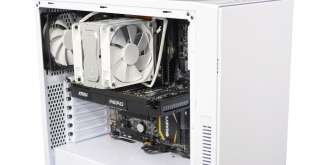 KitGuru has recently reviewed two budget GameMax cases however the GameMax Silent White is my first exposure to this brand and the cheapest case by far to get the KitGuru video treatment.
The shiny white painted finish of the Silent White is attractive and fairly well applied with only minor signs of orange peeling. Open the stealth door at the front, pop out the filter grille and remove the two side panels and you can see everything the GameMax Silent White has to offer. By rights that shouldn't be very much, but in fact the list of features is pretty impressive for such a cheap case.
Specification:
Form factor Mid tower
Motherboard ATX, Micro ATX, Mini-ITX
PSU support ATX
Case material 0.7mm steel
External drive bays 2x 5.25-inch
Internal drive bays 2x 3.5-inch/2.5-inch, 3x 2.5-inch
Expansion slots 7
Fans supplied 1x 120mm rear
Fan mounts 2x 120mm/140mm front
2x 120mm/140mm roof
I/O 2x USB 3.0, 2x USB 2.0, headset jacks, SD card reader
2x fan controllers, each controls 3 fans with 3-pin connector
Dimensions 468mm(H) x 475mm(D) x 230mm(W)
To put this case through its cooling paces we will be using a test system consisting of an Intel Core i7-5820K, GeForce GTX 1080 and an SSD. This system allows us to produce a substantial amount of heat and effectively test the GameMax Silent White's cooling capabilities.
For stress testing we use AIDA64 to create the maximum heat output.
Test System:
Processor: 3.3GHz/3.6GHz Intel Core i7-5820K
Motherboard: Gigabyte GA-X99-UD4
CPU cooler: Phanteks PH-TC12DX
Memory: 16GB Corsair Vengeance LPX X DDR4-2600MHz RAM
Graphics card: MSI GeForce GTX 1080 Aero 8GB
Power supply: Seasonic Prime Titanium 750W
Storage drives: SanDisk Extreme II SSD
OS: Windows 10 Pro.
As the model name suggests the emphasis is on silence so the side panels are lined with noise deadening material and there is no window. The top of the case is ventilated however you can either use a magnetic dust filter or a magnetic panel that is lined with more noise deadening material. In other words you can either leave the top of the case open for ventilation or close it off to reduce noise even further.
You only get a single 120mm fan at the rear of the case however this is connected to one of the two fan controllers, each of which can control three fans and which each have three speeds. In other words you can install two more 120mm/140mm fans in the roof and two in the front and connect them all to the supplied fan controllers.
GameMax says you can install a liquid cooler either in the roof or at the front but realistically you should reserve the top of the case for fans and the front for an All In One. The top of the case is tight for space while the front is lovely and open. You might stretch to installing a custom loop however you will likely struggle finding a location to mount the pump and reservoir. We have to be realistic and accept the GameMax Silent White was never designed for custom loop cooling.
Cooling Performance.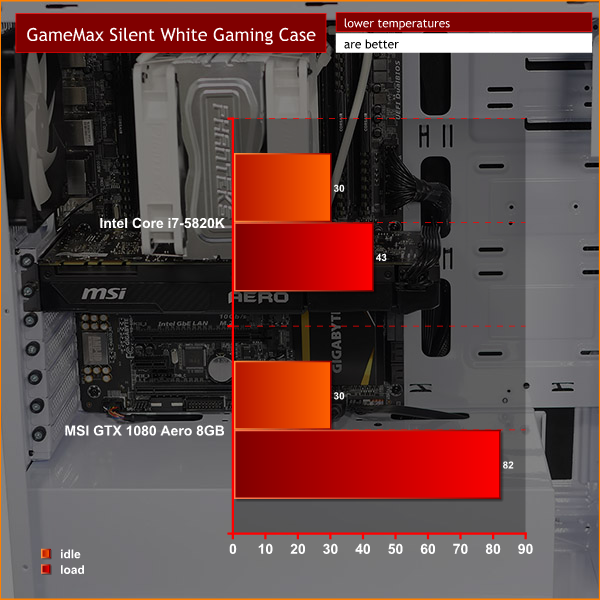 This is the reason we chose to install a Phanteks PH-TC12DX air cooler on the Core i7-5820K processor and to run with an MSI GTX 1080 Aero graphics card. It makes for a quick and simple build that looks elegant but also means you cannot precisely compare our test results with previous case reviews as we have not used this exact combination of hardware before.
The two fans on the Phanteks cooler and the stock rear fan did a fine job of cooling the PC. We couldn't see any difference in performance between the Silent White and be quiet! Pure Base 600, which is a positive mark in favour of GameMax.
Acoustics performance.
We left the top of the case open for ventilation and had fan speed turned down to a minimum yet the PC was very quiet. Had we closed the top of the case it would have been even quieter (but hotter). When we cranked up the fan speed it became noticeable louder but still unintrusive. That noise deadening material in the side panels works really well.
Closing Thoughts.
We expected very little from the GameMax Silent White and it surprised us at every turn. The build quality is solid, it looks good and the shiny white finish on the panels and power supply cover looks the part. It is tempting to demand a windowed panel to show off the interior however that may well make the case noisier and the low noise levels are a real feature of this model.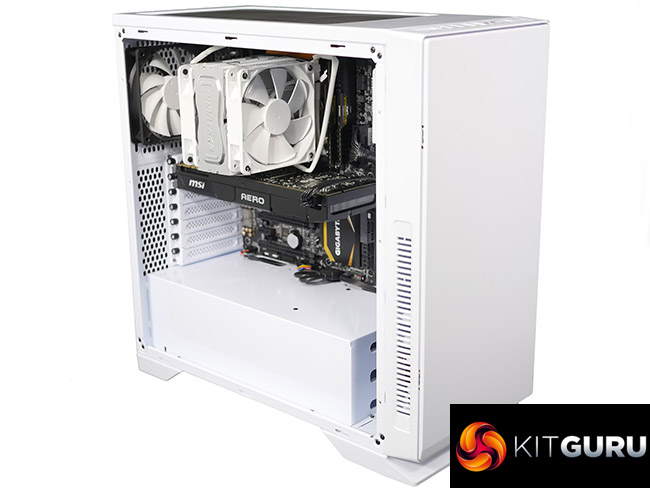 The details of the case such as the wiring to the rear fan look cheap and cheerful however this is entirely acceptable in such an inexpensive case. We have no complaints whatsoever and only a couple of minor quibbles. If the case cost, say £70 we would have issues but at this price point it would be churlish to kick up a fuss.
If you want a windowed case or fancy building a custom loop there are better cases on the market but for a beginner the GameMax Silent White is close to perfect.
Buy for £44 inc vat from Advanctec HERE.
Discuss on our Facebook page, over HERE.
Pros:
Noise deadening material in the side panels makes this case very quiet.
Dual fan controllers.
Solid construction
Supplied with magnetic top filter and magnetic top cover.
Power supply cover.
240mm radiator support top and front (although the top is very tight).
Front door, two optical drive bays
Decent number of cable tie anchor points.
Cons:
Wiring for the fan controllers is a bit messy.
Installing the power supply can require some care.
The plastic top panel doesn't match the painted panels.
Front panel is tethered by cables.
KitGuru says: Where were budget cases like this when I first started building PCs?