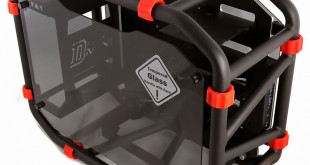 In-Win manufactures a curious mix of PC cases. In the past we have seen basic (but worthy) Mini-ITX cases such as the BL641 and more recently the GR One gaming tower and GT1 (as seen in our Falcon PC review). Then we come to the In-Win Signature Products which include the £320 D-Frame and this £249.95 D-Frame Mini. It's an open system that is constructed from welded aluminium tubes with smoked tempered glass panels on both side. The result is a visual delight. The chassis we saw is black with red silicon bumpers. Alternatively you can have red with black bumpers or orange with blue bumpers which may sound foul but actually looks amazing.
Watch on our VIMEO Channel (Below) or on

YOUTUBE

.
Motherboard support: Mini-ITX.
Expansion slots: 2.
Included fans: None
Fan mounts: 2x 120mm bottom.
120mm radiator mounts: 120mm/240mm bottom.
140mm radiator mounts: None.
5.25″ drive bays: None
Internal drive bays: 3x 2.5"/3.5.
Dimensions: 405mm H x 501mm D x 230mm W.
Testing
To put this case through its cooling paces we will be using a test system consisting of an Intel Core i7-4770K and Radeon R9 290. This system allows us to produce a substantial amount of heat and effectively test the In-Win D Frame Mini's cooling capabilities.
For stress testing we use a mixture of Prime95 and FurMark to create the maximum heat output. Prime95′s 'Small FFTs' setting allows us to stress our CPU. FurMark's 'GPU Burn-in' mode creates the maximum amount of load our GPU is ever likely to see.
Test System:
Processor: 3.9GHz Intel Core i7-4770K
Motherboard: Asus Z87I-Pro
CPU cooler: Corsair H100i
Memory: Corsair LP DDR3-1600MHz RAM
Graphics card: Sapphire Radeon Tri-X R9 290 4GB
Power supply: Seasonic Platinum Fanless 520W
Storage drives: Samsung 840 SSD
OS: Windows 7 Professional 64-bit.
Building a PC into the D-Frame Mini is simple enough. Lay the motherboard in place, add a power supply at the rear, hook up the liquid cooler and it's job done. Moving the components around to route the cables in a vaguely pleasing way takes considerably longer. Mainly this is because cable management is a complete nightmare as there is nowhere to hide anything away.
Once the smoked glass covers are in place they hide a multitude of sins however there is very little space behind the rear cover. Indeed things are so tight you'll struggle to tuck unused SATA connectors out of sight. A modular power supply is an absolute necessity with this chassis as you want to strip things back to the bare minimum.
The only glitch we came across was the location of the eight screw holes at the bottom of the chassis where you secure the liquid cooler and 120mm fans. Two of the holes are obscured by the aluminium tubes that form the bottom of the chassis.
If we were to level a criticism at the D-Frame Mini it would be to request a bracket or mount for a case fan to blow air across the motherboard socket and the VRMs. A liquid cooler at the bottom of the chassis keeps the CPU cool but doesn't help the rest of your hardware.
Assess cooling.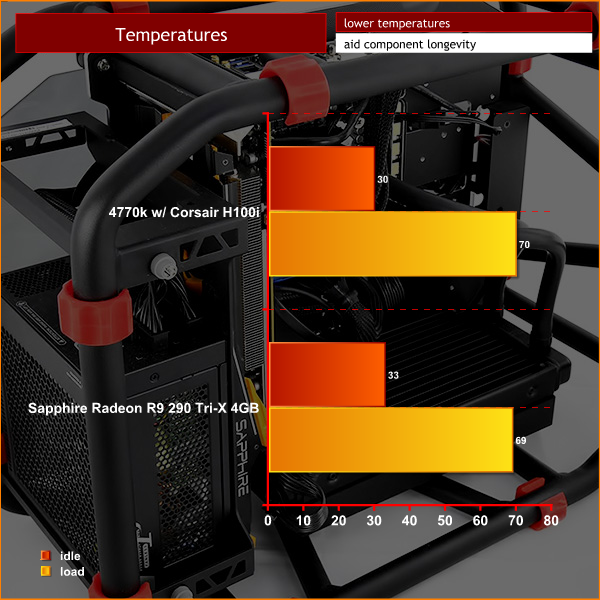 It makes almost no sense to assess the cooling of an open chassis that has no case fans as it is pretty much dependent on your choice of hardware. A high end graphics card such as the Sapphire R9 290 Trix runs in the mid-30's Celsius and peaked around 70 degrees under load, exactly as you would expect.
CPU cooling also has no problems. The CPU is sat in the open (the glass cover is open at the sides and has no effect on air flow) and the liquid cooler at the bottom of your chassis can flow air freely. The CPU temperature for our Core i7-4770K started around 30 degrees and peaked at 70 degrees, which is exactly what you expect.
Assess noise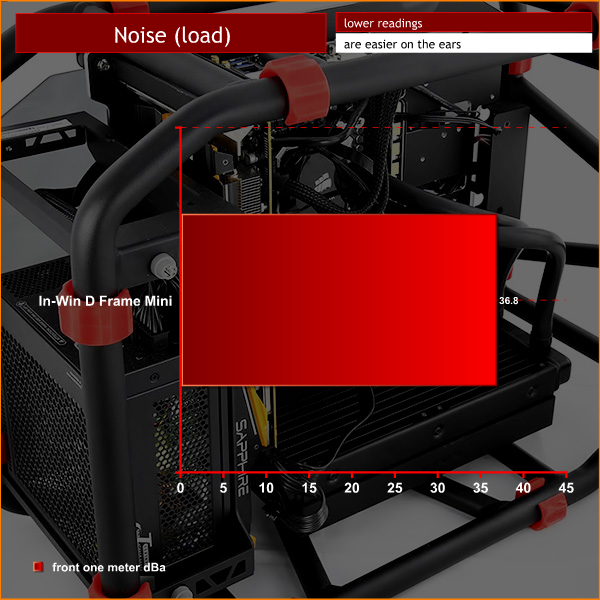 Noise is a tricky issue. If you select your components carefully and run your CPU and graphics at stock clocks the cooling can be effectively silent. The Sapphire Trix is very quiet, much more so than a reference AMD design. Most liquid coolers have quiet fans but that does rather depend on your settings. Obviously your power supply also plays its part which is why we decided on a passively cooled Seasonic Platinum Fanless 520W PSU.
The system you see in the video is effectively silent at idle and very quiet under load. Raise clock speeds and fan speeds and of course you'll hear the extra noise immediately. There is no air filtering or baffling – it simply isn't possible with the design of the D Frame Mini – so you very much reap what you sow.
Closing Thoughts
The In-Win D Frame Mini is adorable, gorgeous and a fine piece of work. It is also very expensive, fairly impractical and a pain in the parts when you build your system. And the cable management is non-existent. These criticisms shouldn't affect you one little bit as you will either see the photos and videos and immediately place an order.
Alternatively my honeyed words will fail to move you. 'What, £249.99 for a bunch of tubes? Gedouttahere.' There can be no middle ground.



Buy from Overclockers UK for £249.95 inc vat.
Discuss on our Facebook page, over HERE.
Pros:
Superb quality.
Lovely, wonderful, adorable welded aluminium tubing construction.
Machined aluminium plates and tempered glass.
Knurled carry handle.
Two options for mounting the power supply.
Stand the D Frame Mini on end for a different take on things.
The three drive bay shelves are lovely pieces of metalwork.
Two SSD mounts on the motherboard tray.
Surprisingly good cooling.
Cons:
No motherboard tray cut-out for access to the back of the CPU.
No I/O shield mount so the ports are unsupported.
Cable management is a nightmare. Very little space behind the motherboard tray and everything is exposed and on show.
It could use a bracket or two for mounting case fans to blow air across the VRMs on your motherboard.
Hellish expensive.
KitGuru says: What are you waiting for? Go and buy this chassis immediately!