We took a look at the Lian Li Lancool II when we reviewed the Cyberpower Ultra 7 RTX Gaming PC back in 2020, and that whetted our appetite for a review of the new Lian Li Lancool III which brings a number of significant updates to the party. With four 140mm fans and acres of mesh it may indeed provide enough cooling for the imminent RTX 4090.

Main features
Open the left and right side tempered glass panels by the aluminium door handles.
The top, front, and bottom of the case can each fit a 360mm radiator.
The design of the storage trays has been revised to include modularity. Each unused HDD/SSD tray can be individually removed.
New cable management design:
2 x Magnetic hinged back side cable covers, easier to open and still removable for unrestricted access.
3+5 Velcro channel straps: 4 small straps help route the CPU and fan cables, and another small one for shorter 24 pin cables, while 3 large ones are for the remainder of the cables.
Sliding front side cable cover (also can mount distro plate) By loosening a screw behind the motherboard tray, the bar can slide to adapt for wider motherboards and let the user customize the curve of their cables passing through
Specification:
Motherboard support: E-ATX under 280mm wide, ATX, Micro-ATX, Mini-ITX
Power supply support: ATX
Expansion slots: 8
Included fans: 3x 140mm front intake, 1x 140mm rear exhaust (200-1,800rpm)
Fan mounts: 3x 120mm/140mm front, 3x 120mm/140mm roof, 1x 120mm/140mm rear, 3x 120mm power supply cover
Radiator mounts: 360mm front, 420mm roof, 360mm power supply cover
5.25-inch optical drive bays: None
Internal drive bays: 4x 3.5-inch/2.5-inch, 8x 2.5-inch
Front I/O ports: 2x USB 3.0 type-A, 1x USB 3.1 type-C, audio
Dimensions: 523mm H x 526mm D x 238mm W
Our finished PC build almost vanished inside the spacious Lian Li Lancool III and the cables were neatly hidden away and out of sight.
Testing
To put this case through its cooling paces we will be using a test system consisting of an AMD Ryzen 9 5900X, Sapphire RX 6800 XT graphics and an SSD. This system allows us to produce a substantial amount of heat and effectively test the Lian Li Lancool III 's cooling capabilities.
Test System:
Processor: AMD Ryzen 9 5900X (12 cores/24 threads)
CPU Cooler: Noctua NH-D15 chromax-black
Motherboard: Asus TUF Gaming X570-Plus
Memory: 32GB Corsair Vengeance LPX DDR4-3600MHz
Graphics card: Sapphire Radeon RX 6800 XT 16GB
Power supply: Phanteks Amp 1000 White Edition
SSD: Sabrent Rocket 4.0 M.2 NVMe
OS: Windows 11
Cooling Performance
Cooling Performance Overview
We tested the Lian Li Lancool III in sweltering hot weather (for the UK) and it stormed through the tests. While we saw some improvement in temperatures as we ramped up fan speeds we also heard a great deal more noise and would strongly recommend you run the fans at a nice, quiet 1,000rpm.
Closing Thoughts
Reviewing the Lian Li Lancool III was a breeze as it packs in a great many features and has very few problems. We reviewers are grumpy by nature and get bored delivering reams of praise so this sort of product puts us in a tricky position.
One of my complaints centred around the small screws that are used to secure the SSD covers in the power supply shroud and while this is a totally legitimate issue it is the sort of thing that would get lost in a review of certain other problematic cases that spring to mind. After all, who cares about a few screws if the case runs as hot as a furnace and is a pig to work inside?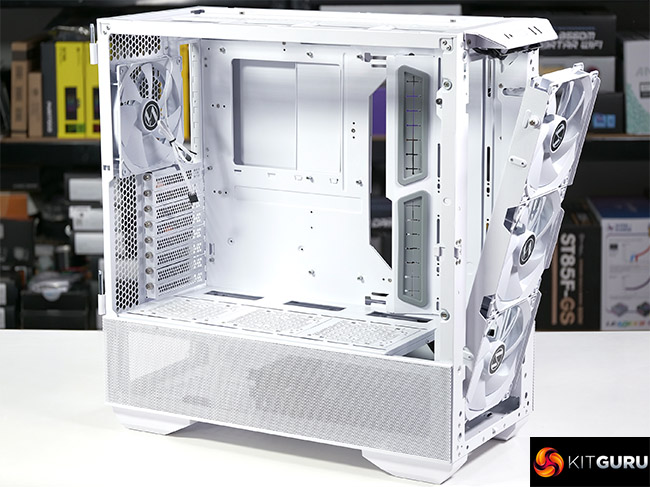 The point here is that Lian Li has given the Lancool II a major overhaul and the Lancool III is a fine piece of work that ticks a great many boxes. If you don't much fancy the Lancool III, our guess is that you have no need for a bazillion storage drives and don't much fancy installing an E-ATX motherboard.
These are solid reasons for looking elsewhere and of course Lian Li might suggest their own O11 Dynamic EVO or perhaps their O11 Air Mini as alternatives. Lian Li has a wide and varied range of cases that cover a broad swathe of the enthusiast market and while the Lancool III won't be ideal for everyone, it certainly addresses a particular niche in an impressive manner.

You can buy the Lian Li Lancool III from Overclockers UK for £159.95 HERE.
Discuss on our Facebook page HERE.
Pros:
Designed for airflow with mesh panels and 4x 140mm fans.
Loads of options for cooling.
Masses of storage bays.
Modders will find it easy to dismantle.
Clever design allows you to remove fan racks and drive bays with ease.
Cons:
Big and tall case requires plenty of space.
The smaller screws are fiddly.
Significant price jump over Lancool II, although you get loads more hardware in return.
Supplied front 140mm fans won't line up with a 360mm radiator.
KitGuru says: Lian Li Lancool III sets a new standard for 2022.
Be sure to check out our sponsors store EKWB here