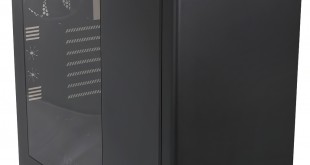 NZXT has updated its enthusiast H440 case. This new version goes by the unimaginative name 'H440 New Edition' however the list of changes from the original H440 is very encouraging: All black matte colour, Scratch resistant paintwork, Tinted black window (with optional no window version), Increased height & depth with ventilation increase in size for better airflow, 8-way PWM Fan hub (all fans controlled by master pin header) to maximise airflow efficiency with low noise.
The fundamental reason for the change is that the original H440 was very quiet but wasn't especially good at cooling when the going got tough. NZXT addressed this issue with the 450 Noctis which gained a huge amount of ventilation in its front and top panels and now the new H440 is a half-way house between H440 and N450.
It is still very quiet but now promises to give your CPU the ventilation it requires.
Watch via our VIMEO Channel (Below) or over on YouTube at 1080p50 HERE
Specifications:
Motherboard support: ATX, Micro-ATX, Mini-ITX.
Expansion slots: 7.
Included fans: 3x 120mm front intake, 1x 140mm rear exhaust.
Fan mounts: 2x 140mm front, 3x 120/2x 140mm roof, 1x 120mm rear.
5.25″ drive bays: None.
Internal drive bays: 8x 3.5″/2.5", 3x 2.5″.
Dimensions: 415mm x 332mm x 458mm.
As you can see in our video and photos the new front and top panels looks superb. They are lined with a rubber material to keep noise to a minimum and there are discreet vents that allow air to flow. You also get rubber material inside the back panel although this is one area where NZXT has dropped the ball as there isn't enough room for both the PWM hub and the noise deadening material. As you can see in our photos the PWM hub has clearly dragged against the rubber and has pulled it loose. No doubt a few seconds' work with some scissors would resolve the issue.
The PWM hub is very useful as there are three front 120mm fans and a rear 140mm fan so you would otherwise need a good number of connections. As things stand the hub simply needs to connect to a single header on your motherboard (an extension cable is provided) and the job is done.
If you are using an All In One liquid cooler and don't have a branched cable as provided on the NZXT Kraken 61 you could also connect the radiator fans to the PWM hub.
It took a few minutes to remove the handful of twisty ties that NZXT has used on the wiring for the fans and LED lights and then replace them with cable ties. NZXT has done a fine job of providing a huge number of cable tie anchor points.
Building our Skylake PC was straightforward in most respects. There is a huge motherboard cut-out that provides plenty of access for installing your CPU cooler and you get a fair amount of space inside the case. Having said that, the internal organisation isn't perfect and you may well find it necessary to connect the 8-pin EPS connector before you mount a radiator in the roof of the case, especially if it is a large 280mm unit. This is the obvious location for your cooler as installing it in the front will require you to first remove the three 120mm fans and that doesn't really make a lot of sense.
There are heaps of drive bays that mount as individual caddies that plug into a fixed back plate, somewhat like a series of shelves. It's a neat system however it would be improved if the vertical steel plate could be removed in one or two parts as this would open up the front of the case.
During the build we were concerned there might not be enough space behind the rear panel however there is plenty of space for the cables in front of the power supply and we had no trouble keeping everything tidy.
Testing
To put this case through its cooling paces we will be using a test system consisting of an Intel Core i7-6700K, Gigabyte Z170XP-SLI motherboard, GeForce GTX 980 graphics card and a Samsung SSD. This system allows us to produce a substantial amount of heat and effectively test the NZXT H440 New Edition's cooling capabilities.
For stress testing we use AIDA64 to stress our CPU and create the maximum amount of load our GPU is ever likely to see.
Test System:
Processor: Intel Core i7-6700K
Motherboard: Gigabyte Z170XP-SLI
CPU cooler: NZXT Kraken X61
Memory: 8GB Corsair Vengeance LPXDDR4-3200MHz
Graphics card: Nvidia GTX 980 4GB
Power supply: Seasonic Platinum 520W Fanless
Storage drives: 500GB Samsung 840 SSD
Operating System: 64-bit Windows 10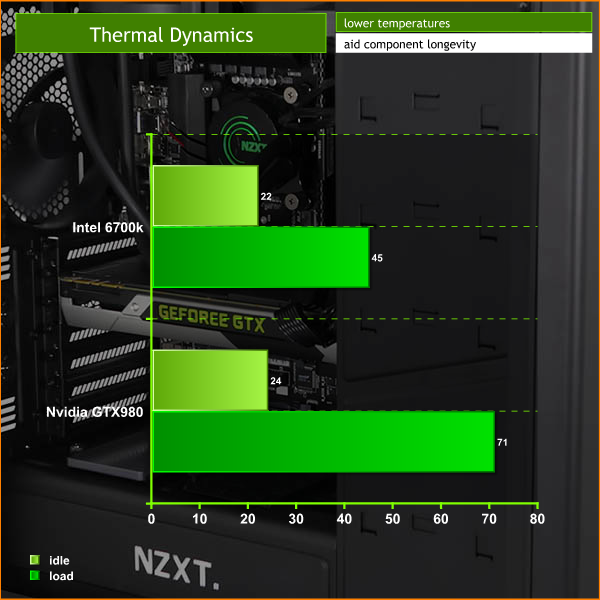 Cooling Performance
Initially we had the Kraken X61 and BIOS set to 'Silent' mode however this allowed the CPU temperature to rise close to 50 degrees under extreme load. Changing the settings to 'Full' had the expected effect and was nowhere near as noisy as you might expect so we compromised on 'Performance' and were happy with a reported CPU temperature of 45 degrees.
Noise Emissions
The NZXT H440 New Edition is astonishingly quiet. In 'Silent' mode it lives up to the name while 'Full' is perfectly acceptable. 'Performance' mode was not measurably any more noisy than 'Silent' and was very quiet indeed. Clearly it helps that we were using a silent Seasonic 520W Fanless power supply and that Nvidia GTX 980 is quiet but nonetheless the new H440 was very impressive.
Closing Thoughts
We like the revisions made to NZXT H440 and in particular admire the revised panels with their matte black finish. The attention to cooling is an important change that improves the H440 without going all-out in the same way as Noctis 450. Adding a PWM hub is a useful change as there as four fans supplied with this case and they all have to connect somewhere but this also highlights the nature of H440.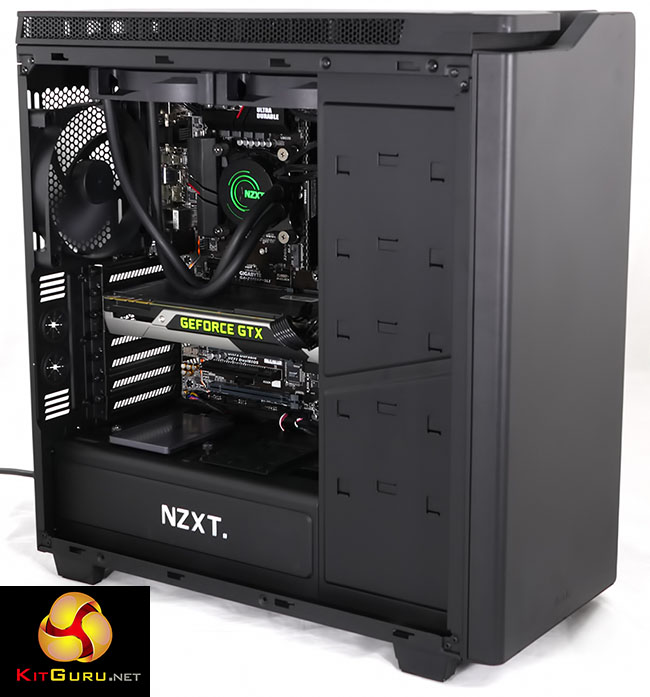 This is clearly a case that has had changes made to the original design with a tweak here and an addition there. The upshot is that the PWM hub attempts to occupy the same space as the rubber noise deadening material inside the rear panel and that clearly isn't a good idea. The updates to H440 are welcome but it seems to us that it is time for a brand new model that will take the H series onward and upward.

Buy from Overclockers UK for £89.99 inc vat HERE.
Discuss on our Facebook page, over HERE.
Pros:
Superb styling of the front and top panels.
Very low noise levels.
Large number of cable tie anchor points.
8-way PWM hub.
Triple 120mm fans at the front of the case.
Plenty of room for cable management in front of the power supply.
LED lighting in the power supply cover and rear panel.
Huge number of drive bays.
Cons:
The arrangement of drive bays can make it tricky to route radiator hoses.
Tight for space above the motherboard.
The PWM hub doesn't have enough space inside the rear panel.
KitGuru says: The revised H440 is amazingly quiet and the new cosmetics are very appealing, however there is still room for improvement.