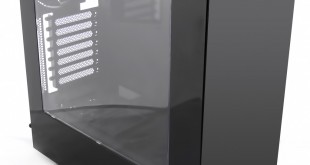 The NZXT S340 is a mid-tower case that employs a sleek design with styling that makes it almost look as though it is shrunk-wrap around your ATX motherboard. It is available in either black or white.
The front panel is shiny painted steel with no optical drive bay to cause any visual distractions and the enormous window in the side panel shows off pretty much everything inside the case.
NZXT supplies a 120mm fan at the top of the case and another 120mm fan at the rear while the front of the case can accommodate a liquid cooling system with a radiator up to 280mm in length.
In the floor of the case you get a power supply cover that is riveted in place and beside the motherboard tray there is a cable management plate that covers the cables as they feed from your power supply to the motherboard. These two features really help you to build a stylish PC that looks both tidy and appealing.
Watch this review on our VIMEO Channel (below) or on YOUTUBE.
These features grab the attention and there is no denying the S340 has a high level of visual appeal, so the fact that is priced under £55 inc VAT comes as something of a surprise.
When you look at enthusiast cases that are typically priced at £80 or more that is a low price point that should appeal to a large number of PC builders.
Specification:
Motherboard support: ATX, Micro-ATX, Mini-ITX.
Expansion slots: 7.
Included fans: 1x 120mm top exhaust, 1x 120mm rear exhaust.
Fan mounts: 2x 120/140mm front, 1x 120/140mm roof.
120mm radiator mounts: 120mm/240mm front, 120mm rear.
140mm radiator mounts: 140mm/280mm front.
5.25″ drive bays: None.
Internal drive bays: 3x 3.5, 2×2.5″.
Dimensions: 445mm H x 432mm D x 200mm W.
Testing
To put this case through its cooling paces we will be using a test system consisting of an Intel Core i7-4770K, Radeon R9 270, an SSSD and a storage hard drive. This system allows us to produce a substantial amount of heat and effectively test the NZXT S340's cooling capabilities.
For stress testing we use a mixture of Prime95 and FurMark to create the maximum heat output. Prime95′s 'Small FFTs' setting allows us to stress our CPU. FurMark's 'GPU Burn-in' mode creates the maximum amount of load our GPU is ever likely to see.
Test System:
Processor: 3.9GHz Intel Core i7-4770K
Motherboard: ASRock Z87 Extreme4
CPU cooler: NZXT Kraken X61
Memory: Corsair Vengeance LP 1600MHz RAM
Graphics card: Sapphire Radeon R9 260 Tri-X 4GB
Power supply: be quiet! Straight Power 400W
Storage drives: 500GB Samsung 840 SSD
OS: Windows 7 Professional 64-bit.
Assess cooling.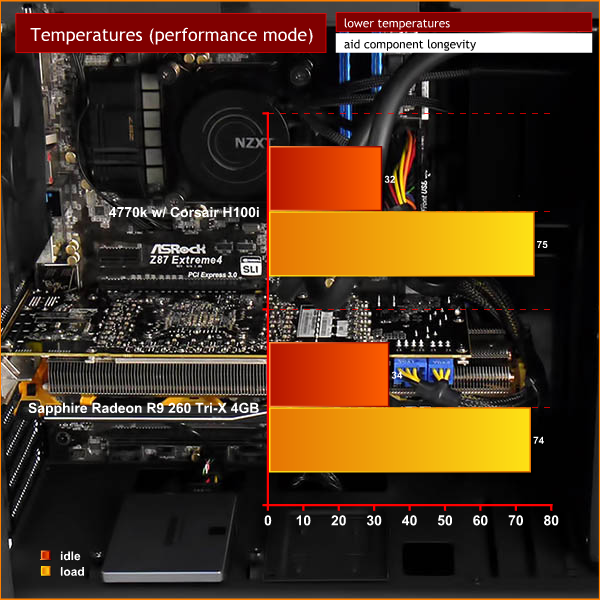 The GPU temperature delta of 40 degrees is absolutely fine and shows the Sapphire Radeon R9 290 remained at a good low temperature when when it was under load.
By contrast our Core i7-4770K was a little hotter than ideal at 75 degrees, however this was almost certainly due to the fact that we had the NZXT Kraken X61 280mm liquid cooler expelling air to the front of the case. The smaller Kraken X41 with 140mm radiator would have allowed us to draw cool air from the front and then exhausted to the rear.
Assess noise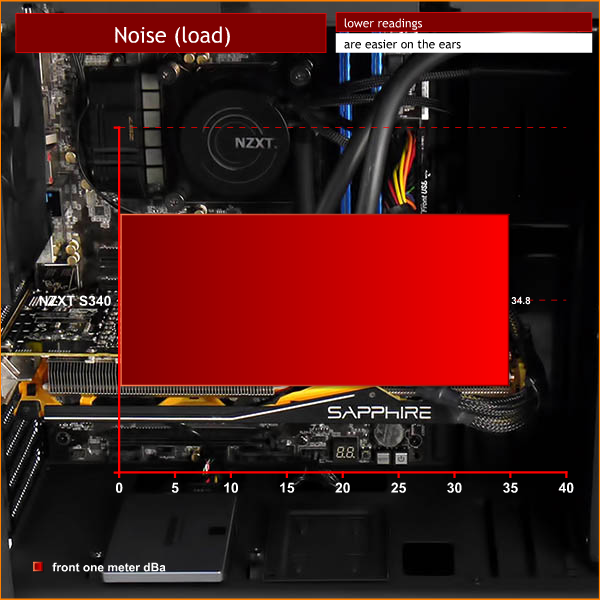 No problems here. The NZXT S340 doesn't use any noise deadening material but despite that it works quite effectively and doesn't cause any concerns. The enormous window in the side panel means you get more noise radiating to the side than you get at the front.
Closing Thoughts
This is a superb chassis. It looks great, pulls apart easily and doesn't cause more than the odd problem when you build your PC. The power supply cover and cable management plate really help to keep the finished PC looking as neat and tidy as possible with the minimum or effort.
The full length magnetic dust filter at the front of the chassis and the clip in screen over the power filter will both ensure your PC remains dust-free inside.
You need a degree of confidence to ditch your DVD drive but really that isn't much to ask for those of us who use optical media once in a blue moon.
By any standards the S340 is a success and the fact it is priced under £55 makes it a compelling purchase.



You can buy the Black or White version direct from OVERCLOCKERS UK for £54.95 inc vat.
Discuss on our Facebook page, over HERE.

Pros:
Impressively low price.
Superb minimalist styling.
Enormous windows shows the interior to good effect.
Cable management plate and power supply cover keep the build tidy.
Cons:
Clearance to the rear of the CPU socket needs a little more working room.
No optical drive bay.
If you use a 280mm liquid cooling system you may have to expel hot air to the front of the system.
You have to slide the power supply in from the rear of the case when the side is more convenient.
KitGuru says: The NZXT S340 offers superb value for money and while it isn't quite perfect it is very good indeed.