You need to build a tidy PC inside the Phanteks Evolv ATX Tempered Glass Edition as both side panels are full frame tempered glass with a tiny painted black bezel so absolutely everything inside the case is on show. In addition to that Phanteks encourages you to light inside both panels with an RGB LED kit, which means there is simply no place to hide a sloppy build or dubious cabling.
There are two new features in the Phanteks Evolv ATX Tempered Glass Edition, compared to the Phanteks Evolv ATX we reviewed for Computex 2016, and while that may sound like a small matter it is actually quite a big deal.
Watch via our VIMEO Channel (Below) or over on YouTube at 1080p60 HERE
[vimeo 165049801 w=758 h=426]
Specification
Motherboard support: ATX, Micro-ATX, Mini-ITX (and E-ATX up to 264mm wide)
Expansion slots: 7
Included fans: 2x 140mm front intake, 1x 140mm rear exhaust
Fan mounts: 3x 120mm front, 3x 120mm or 2x 140mm roof, 1x 120mm rear
120mm radiator mounts:  120mm/240mm/360mm front, 120mm/240mm/360mm roof, 120mm rear
140mm radiator mounts:  140mm/280mm front, 140mm/280mm roof, 140mm rear
5.25″ drive bays: None
Internal drive bays: 8x 3.5-inch/2.5-inch, 3×2.5-inch
Dimensions: 495mm H x 510mm D x 235mm W
In the Phanteks range Evolv cases (ITX, mATX and ATX) come with aluminium panels on the front, top and sides and while you get a decent sized window in the main panel it is the cosmetic look of the aluminium that dominates the design. When we first saw Evolv mATX in Glacier White it was a striking statement that certainly caught the eye.
The versions of Phanteks Evolv ITX and Evolv ATX we saw were rather more sedate in Anthracite Grey and Satin Black and were impressive pieces of hardware. On the downside you were paying a hefty premium for the aluminium side panels, and that is a simple matter of money versus the cosmetic appeal of aluminium. It is clear to see the thinking behind the Evolv ATX Tempered Glass Edition as both side panels look like the acrylic panel used on Enthoo Pro M Acrylic  (a case we sadly did not see) however, as the name suggests, in this model the panels are made from tempered glass and as a result they are scratch resistant.
The second change made by Phanteks centres around RGB lighting. There is a button on the front I/O panel that allows you to cycle through ten colours for the illuminated power button or to change from static colours to a breathing mode. Phanteks has also included two connectors so you can extend the lighting with a one metre PH-LEDKT_M1 kit (£14) or a two metre PH-LEDKT_M2 kit (£20) inside both the front and rear glass panels.
Building the PC can be very quick and easy if you use a CPU air cooler or an All in One liquid cooler in the roof of the case using the sliding radiator mount. If you want to get the full benefit of the Evolv ATX Tempered Glass Edition you really should install a custom loop. This will take longer but the added visual impact is huge. On the other hand installing a custom loop could drastically cut the number of drive bays you have available, partly because you are likely to block the mounts for the modular 3.5-inch drive bays, but also because the Phanteks pump mount is installed in place of the two drive caddies in the floor of the case.
However you choose to build your PC you will doubtless enjoy the little touches such as the PWM fan hub and the cable management straps. If your case has the Phanteks logo upside down in the same way as ours we can only say that we feel your pain.
If you haven't already watched our video please go and take a look and we think you will agree the finished result is a smart, appealing and effective PC.
Testing
To put this case through its cooling paces we will be using a test system consisting of an Intel Core i7-6700K, Asus R9 390 Strix  and an SSD. This system allows us to produce a substantial amount of heat and effectively test the Phanteks Evolv ATX Tempered Glass Edition's cooling capabilities.
For stress testing we use AIDA64 to create the maximum heat output to stress our CPU and GPU.
Test System:
Processor: 4.2GHz Intel Core i7-6700K
Motherboard: Gigabyte Z170XP-SLI
CPU cooler: Corsair H100i v2
Memory: Corsair Vengeance LPX DDR4-2666MHz RAM
Graphics card: Asus R9 390 Strix 8GB
Power supply: Seasonic 520W Platinum Fanless
Storage drives: OCZ Vector 180 SSD
OS: Windows 10 64-bit.
Cooling Performance
We kept the Corsair H100i fan speed low to keep noise down to reasonable levels with the consequence that cooling was absolutely fine without being anything special. Our experience with a custom loop installed in Phanteks Pro M (which has a virtually identical interior) is that you can easily get CPU and GPU temperatures below 40 degrees Celsius. With the system you see in our photos and video the Phanteks scores a passing grade for cooling.
Acoustics Performance
Phanteks Evolv ATX Tempered Glass Edition has no noise deadening material inside the panels. There are a few useful design features such as the baffled air vents in the top and front, and the air filters in the front and bottom also play their part. Balanced against that we have aluminium panels at the top and front with glass at the sides which means the case is relatively noisy. Having said that, the Phanteks isn't terribly loud and provided you choose your components sensibly it works well with noise levels that are entirely acceptable.
Closing Thoughts
The Phanteks Evolv ATX Tempered Glass Edition is all about the visual bling. Those glass panels show the innards of your PC to the world so you had better give them something worth seeing. The tempered glass panels are superb and transform Evolv from previous models into something entirely new. The RGB lighting and expansion strips are nice enough but cry out for a control unit such as NZXT HUE+. If Phanteks can work on this area it will have a real winner on its hands.
Overall we were very impressed by the Evolv ATX Tempered Glass Edition and think it is well worth the asking price. The only down side, apart from the need to build a tidy PC, is that it really doesn't make sense to use an All in One liquid cooler in this case. Switch to a custom loop on your CPU and GPU and the pieces all fall into place.
The downside is that you will lose a number of drive bays, however that is a price well worth paying.
Discuss on our Facebook page, over HERE.

Buy from Overclockers UK for £149.99 inc vat HERE.
Pros
Superb tempered glass side panels
Three 140mm fans supplied with the case
Dust filters in the front and floor
Sliding radiator mount in the roof
Good cable management with hook and loop straps
Accessory pack includes three hard drive mounts and a pump mount
Six-way PWM hub
Built in RGB LED light control
RGB lights can be expanded with extra light strips
Cons
RGB light system is fairly basic
A few more cable tie points would be useful
Minimal noise deadening features
KitGuru says: Phanteks has used tempered glass to make a feature of both the front and rear of your PC.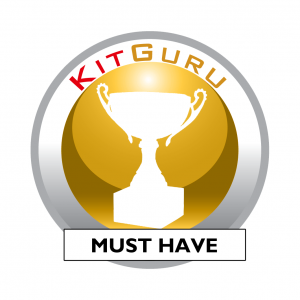 Phanteks Evolv ATX Tempered Glass Edition