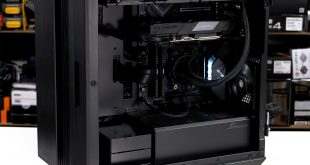 Seasonic, the power supply company, has delivered its first PC case and it is an adventurous piece of work. If you check back to our coverage of the Seasonic Connect power supply and cabling system you might be able to guess where this is going. Syncro Q704 is an E-ATX case that has been designed to work with Connect and the model we have on review is supplied with the Syncro DGC-750 power supply. To say that Q704 is unusual does not do it justice as it has an inverted motherboard tray, four 120mm Nidec fans and a cable system that is unique.
Watch the video via our VIMEO Channel (Below) or over on YouTube at 2160p HERE
Main features
Seasonic Syncro Q7 features an aluminium body with a tempered glass panel on one side and the Seasonic Connect on the other.
The Connect module functions as a cable management hub, to which the components are directly connected with generally shorter cables.
Inverted motherboard design.
The Seasonic Syncro Q704 model ships with four 120mm Nidec fans.
Syncro Q7 supports up to eight 120 mm cooling fans, as well as various liquid cooling solutions.
Front I/O panel includes USB Type-C
Large removable air filters in the top, front and bottom.
Specification:
Motherboard support: E-ATX, ATX, Micro-ATX, Mini-ITX.
Expansion slots: 7.
Included fans: 3x 120mm front intake, 1x 120mm rear exhaust. (Nidec 2,150rpm)
Fan mounts: 3x 120mm/140mm front, 3x 120/140mm roof, 1x 120mm/140mm rear, 1x 120mm power supply shroud.
Radiator mounts: 360mm front, 360mm roof, 120mm rear.
5.25-inch optical drive bays: None.
Internal drive bays: 2x 3.5-inch/2.5-inch, 3×2.5-inch.
Dimensions: 493mm H x 537mm D x 234mm W.
As you will see in our video, Syncro Q704 is dramatically different to a regular PC case. The motherboard tray is inverted and once the power supply and cables are installed you have the basics of a PC that looks different to anything you are likely to have seen before. In particular, the way the cables run from the Connect unit to the motherboard and graphics card is very interesting. We were somewhat disappointed to see the cables that are included with Syncro are the regular black liquorice where we felt this case deserves something truly special. If ever a case was crying out for sleeved cables from the likes of CableMod then Seasonic Syncro is that case.
Testing
To put this case through its cooling paces we will be using a test system consisting of an AMD Ryzen 9 3900X, Gigabyte RTX 2080 Super and an SSD. This system allows us to produce a substantial amount of heat and effectively test the Seasonic Syncro Q704's cooling capabilities.
Test System:
Processor: AMD Ryzen 9 3900X (12 cores/24 threads, 4.0GHz all cores)
CPU Cooler: Fractal Design Celsius S36 (2,000rpm fans)
Motherboard: ASRock B550 Extreme4
Memory: 32GB Corsair Vengeance LPX DDR4-3600MHz
Graphics card: Gigabyte RTX 2080 Super Gaming OC 8GB
Power supply: Seasonic Syncro DGC-750 Gold
SSD: 240GB Toshiba RC100 M.2 NVMe
OS: Windows 10
Cooling Performance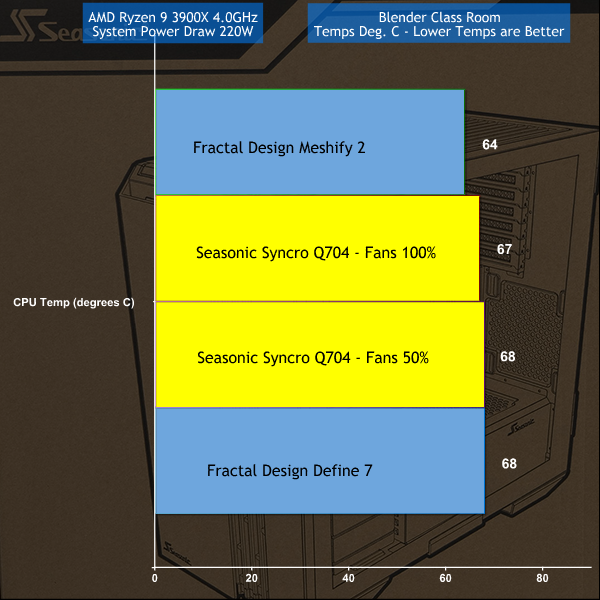 Cooling Performance Overview
During our testing it was clear that Syncro Q704 does a decent job of cooling, but frankly we expected nothing less with four case fans running at 2,150rpm and three 120mm fans on the Celsius S360 cooler. While we are confident the front panel of the case allows cooling air to enter the chamber, and we could see the large filters in each panel have plenty of surface area and offer little obstruction, even so it felt like something odd was going on.
When we slowed the fans from 100 percent to 50 percent we saw the CPU temperature fell by one degree in Time Spy and rose by one degree in Blender. Let's split the difference and say that temperatures remained constant despite a huge change in fan speed, which means we have a bit of a puzzle on our hands. It is our best guess at least some of the air coming in the front of the case is immediately exiting through the roof.
Closing Thoughts
Seasonic Syncro Q704 is an interesting PC case but the main reason for its existence is to support the Connect power supply and cable module.
This avoids the need to have a bundle of cables running up the back of the motherboard tray but the main benefit is to tidy up the cables that connect to your motherboard and graphics card. By running short cables from the Connect module to your motherboard, Seasonic has made a feature of the cables and we can see this has the potential to look both interesting and appealing. The problem is that the cables supplied with Syncro Q704 are shorter versions of the cables you get with any high end Seasonic power supply and that is something of a disappointment.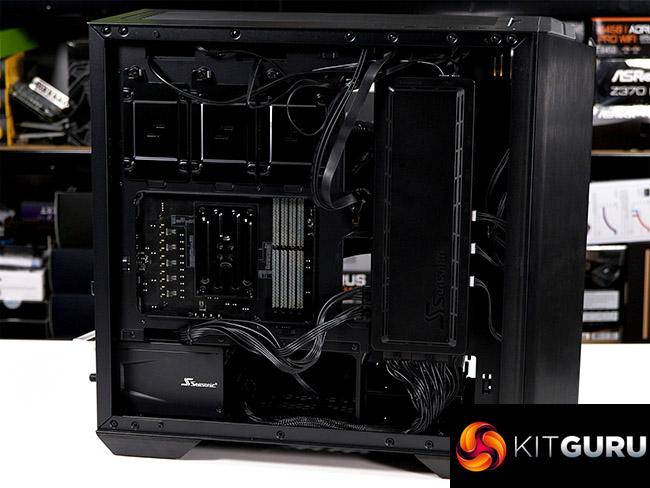 The thing is, the Q704 case is a decent piece of work and when you consider it is Seasonic's first step into the case market we find it is very impressive. The aesthetics, construction, filters, I/O panel and drive bays all pass muster and leave little room for complaint.
Instead we find ourselves taking a step back and looking at the fundamentals of the design. This case supports Connect, which means the cables connections are arranged in a certain area of the case, and that means the best way to shorten the cable paths is to invert the motherboard. That inevitably means you end up with a graphics card that has the cooling fans positioned next to the cooling in the roof of the case, and whether or not that works correctly it looks very unusual and slightly odd.
Having worked with Syncro Q704 we are quite sure the best way to approach this case is with custom loop cooling on both CPU and GPU, and we also think it would be a good idea to add a decent amount of RGB.
You will be able to buy the Seasonic Syncro Q704 with Syncro DGC-750 for £349.90 in December.
Discuss on our Facebook page HERE.
Pros:
Full dust filtering on all intakes.
Neat design and tidy construction.
Four impressive Nidec fans are included with Syncro Q704.
Seasonic has shown there is room for innovation with a case and power supply combo.
Cons:
You pay a steep price for Q704 and Connect.
The cables supplied by Seasonic are the usual black liquorice.
Gaining access to your HDDs is a fiddly job.
KitGuru says: Seasonic Syncro Q704 is rather expensive but we are happy to see that Seasonic is making waves and shaking things up.
Be sure to check out our sponsors store EKWB here