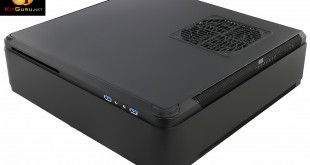 You can think of the SilverStone FTZ01 as a member of the Fortress Series Z with a B suffix for Black or S for Silver. FTZ01 is described as a 'premium slim form factor case with superior thermodynamics and construction' and while these claims are correct they tell only part of the story.
Construction is all metal with a steel chassis with an aluminium panel that curves around the front and sides of the case. The top and bottom covers are steel, however most of what you see is aluminium, provided you stand the FTZ01 vertically on the two plastic holders. Lay the case down horizontally and you see rather less aluminium and rather more steel.
Watch via our VIMEO Channel (below) or over on YouTube HERE
As you can see in our video and photos when the top cover is removed it is clear the FTZ01 is arranged in two chambers. One side of the case is dedicated to your graphics card while the other is for the Mini-ITX motherboard (we can ignore Mini-DTX as a side show) and the SFX power supply.
Specification:
Motherboard support: Mini-ITX.
Expansion slots: 2.
Included fans: 1x 120mm top, 1x 120mm bottom.
Fan mounts: 1x 120mm bottom.
5.25″ drive bays: 1 slimline
Internal drive bays: 1x 3.5, 3×2.5″.
Dimensions: 107mm H x 351mm D x 376mm W.
The key figures that describe the FTZ01 are support for a graphics card up to 13-inches in length and 83mm vertical clearance for the CPU cooler. To put that in context the Fractal Design Node 202 we recently reviewed has 56mm clearance for the CPU cooler which severely limits your options so 83mm is more – but is it enough?
The obvious limitation here is that many tower coolers use a vertical 120mm fan and stand 140mm-160mm tall so mainstream coolers are not an option for this chassis. The user manual for FTZ01 and the product web page have notes that cover the topic of liquid cooling however these are a bit of a fudge and say that you can plumb in a custom loop, provided there is enough space. This is a statement of the obvious as you can always plumb in a cooling system where there is space, as we have seen with specials such as a liquid cooled Xbox.
As you can see in our video there isn't a simple way to install an off-the-shelf All In One liquid cooler so you are effectively stuck with using a low profile air cooler.
Assembling a PC inside the SilverStone FTZ01 was a fiddly process as you first install an SFX power supply with a 3.5-inch storage drive in the bay on top of the power supply. Next you install an ITX motherboard, hook up the various cables and then plug in the graphics card. We tried to install a low profile Noctua NH-L12 with the top fan removed to reduce the height however it wasn't practical. The fundamental problem is that the Noctua covers a large part of an Mini-ITX motherboard and with no access from the sides it is pretty much impossible to connect some of the cables.
You may well think this talk of CPU coolers gets a little dull but giving up on the Noctua meant we had to kiss goodbye to either a Core i5 or i7 and instead settled for a modest Pentium Anniversary G3258 dual core.
Choosing a graphics card was more complicated than you might think. Sure we could install a card up to 13-inches in length and yes, there was a 120mm case fan below the graphics compartments. If that proved inadequate there was an empty housing all ready for a second fan so realistically we expected no problem with graphics cooling.
On the downside our chosen be quiet! SFX Power 2 is rated at 300W and has a single graphics connector. We could have switched power supplies for a more beefy SFX unit (there are a couple on the market) but that wouldn't have helped us with regard to the limitation imposed by the G3258.
While we could have used an R9 380 ITX or a GTX 960 we instead chose an HD 7770 as we had one to hand. That may sound like a casual way of selecting a graphics card but we were well aware the Pentium G3258 would as a performance bottleneck if we went heavy on the graphics so it seemed like a better idea to choose a system that was cool and quiet.
Testing
To put this case through its cooling paces we will be using a test system consisting of an Intel Pentium Anniversary G3258, Radeon HD 7770 and multiple storage drives. This system allows us to produce a substantial amount of heat and effectively test the SilverStone FTZ01's cooling capabilities.
For stress testing we use AIDA64 to stress both the CPU and GPU to create the maximum amount of load the system is ever likely to see.
Test System:
Processor: Intel Pentium Anniversary G3258
Motherboard: Asus Z87I-Pro
CPU cooler: Intel air cooler
Memory: Generic DDR3-1333MHz
Graphics card: Sapphire HD 7770
Power supply: be quiet! SFX Power 2 300W
Storage drives: 480GB SanDisk Extreme Pro SSD and 3TB Seagate HDD
OS: Windows 8.1 64-bit.
Thermal Performance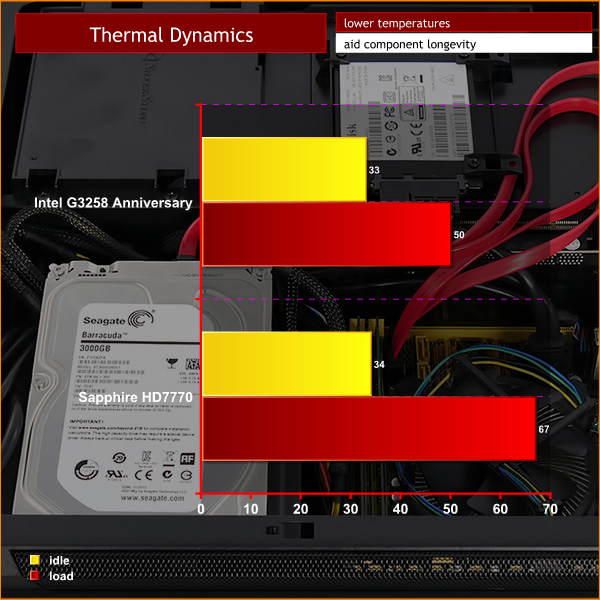 The compartment for the motherboard and CPU is very tight on space however the airflow through the case kept our dual Core G3258 nice and cool. The stock Intel cooler is a feeble piece of hardware but does an adequate job and the way that SilverStone has positioned a case fan directly above the CPU means we have no grounds for complaint.
On the graphics side of things the single 120mm fan was all we needed for the HD 7770 and the option of installing a second fan for anyone using a gaming graphics card is welcome.
Acoustics Performance
Our combo of G3258 and HD 7770 didn't stress the FTZ01 especially hard so we were gratified that the fans were nice and quiet and overall the system was very well behaved. It is easy to speculate that if you install a toasty graphics card that requires vigorous fan action then the position of the two case fan housings in the graphics compartment might allow some noise to escape.
A more likely cause for complaint would arise if you install a mainstream quad core CPU along with a cooler that can only keep the silicon cool by working the fan hard. In other words, if you get ambitious with choice of processor you may suffer from a certain amount of noise.
Closing Thoughts
Deciding on the main components to go inside the SilverStone FTZ01 is tricky as we are restricted to an SFX power supply and further restricted by the space that is available for the CPU cooler. Selecting a graphics card is easy enough, provided it can be powered by a power supply and won't be throttled by the processor.
Installing the hardware can try your patience as various screws are tucked away and require you to install the components in a specific sequence. That point is true of many small form factor cases however SilverStone really doesn't help as it reserves half the space in the case for the graphics card, which means the other hardware is squeezed into a very tight area.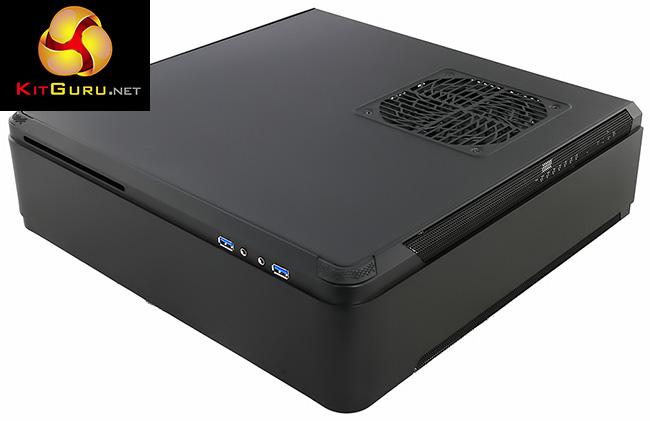 The final part of the build is installing the top cover and that simple job caused a few problems as the fan cable is prone to tangling in the CPU cooler which is a short distance below.
Happily the finished system looks good, works well and is nice and quiet. SilverStone has aimed for a premium look to the FTZ01 and it certainly hits that particular target.



Buy from Overclockers UK for £112.99 inc vat HERE.
Discuss on our Facebook page, over HERE.
Pros:
Aluminium panels add a pleasing highlight to the steel chassis.
Two 120mm fans supplied with the option of adding a third.
Dual 2.5-inch drives bays conveniently mounted on the graphics caddy.
Graphics caddy assists airflow by separating the CPU from the GPU.
Option of standing the chassis on end or laying it down flat.
Cons:
Very little space around the CPU for a decent cooler.
SFX power supply restricts your options.
Building the PC is the usual small form factor fiddle.
There is no cable management worthy of the name. You just find a place to shove the cables.
The top case fan is positioned directly above the CPU cooler so you have to take care to avoid getting the fan cable tangled in the CPU fan blades.
Rather expensive.
KitGuru says: A smart small form factor case that would be improved by increased space for better CPU coolers and more working room around the motherboard.