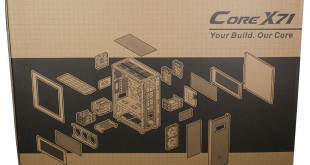 Thermaltake Core X71 is a full tower ATX case that stands 677mm tall. That's huge. The easiest way to get an idea about Core X71 is to imagine that Thermaltake has taken a tower case such as Core V51 or Suppressor F51 and then stood it on a pedestal. The result is an ATX case that can accommodate pretty much any cooling that you might imagine, although Thermaltake has played it safe by supplying two 140mm illuminated Riing fans at the front and a regular 140mm fan at the rear so you don't actually need to buy anything more than a CPU cooler.
Take a look at our video and photos and you will quickly realise that approach would be insane as this huge case is crying out for one or two radiators and a bunch of illuminated fans.
Specification:
Motherboard support: ATX, Micro-ATX, Mini-ITX.
Expansion slots: 8.
Included fans: 2x 140mm front intake Ring blue LED, 1x 140mm rear exhaust.
Fan mounts: 2x 200mm or 3x 120/140mm front, 2x 200mm or 3x 120/140mm front, roof, 1x 120/140mm rear, 2x 120/140mm floor, 3x 120 or 2x 140mm side.
120mm radiator mounts: 120mm/240mm/360mm/480mm front, 120mm/240mm/360mm roof, 120mm rear, 120mm floor, 120mm/240mm/360mm side.
140mm radiator mounts: 140mm/280mm/420mm front, 140mm/280mm roof, 140mm rear, 140mm floor, 140mm/280mm side.
5.25″ drive bays: 2
Internal drive bays: 5x 2.5"/3.5".
Dimensions: 677mm H x 511mm D x 250mm W.
There are a number of cases on the market that can accommodate a 360mm or 420mm radiator so X71 is only pushing the limits with its ability to house a 480mm radiator at the front, provided you first remove the Riing fans and one or both optical drive bays.
The design is fairly simple, however it does have some touches of sophistication in the drive bay department. You get a tower of three bays that can be relocated to the pedestal (or removed altogether) and two individual bays hanging on the rear of the motherboard tray. Added to that you can install 2.5-inch or 3.5-inch drives in the optical bay housings so there are a handful of options, but no matter how you look at X71 it isn't a server case that can house a dozen storage drives.
As you will see in our video you can install the power supply either in the floor of the main compartment or down in the pedestal. Installing cooling is a slightly more tricky decision. On the face of it you can install radiators, reservoirs and pumps galore but the details about mounting points make this more awkward than it first appears. You can certainly install an All In One such as the Thermaltake Water 3.0 Ultimate however that leaves you a lot of empty space inside the case.
Testing
To put this case through its cooling paces we will be using a test system consisting of an Intel Core i7-6700K, GTX 980 and an SSD. This system allows us to produce a substantial amount of heat and effectively test the Thermaltake Core X71's cooling capabilities.
For stress testing we use AIDA64 to create the maximum heat output to stress our CPU and GPU.
Test System:
Processor: 4.2GHz Intel Core i7-6700K
Motherboard: Gigabyte Z170XP-SLI
CPU cooler: Thermaltake Water 3.0 Ultimate
Memory: Corsair Vengeance LPX DDR4-3200MHz RAM
Graphics card: GTX 980 4GB
Power supply: Seasonic Platinum Fanless 520W
Storage drives: SanDisk Extreme SSD
OS: Windows 10 64-bit.
Cooling Performance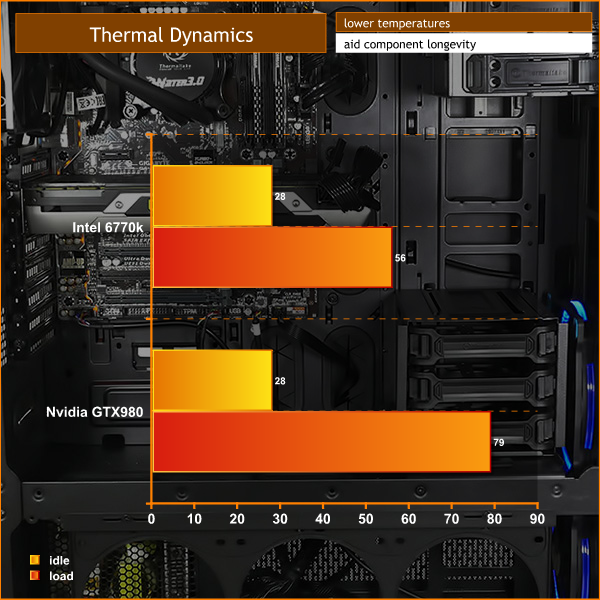 Our combination of Core i7 and GTX 980 behaved very well inside the Core X71 with temperature figures that were effectively identical to the Corsair Carbide 400Q. This is a big case that flows plenty of air and cooling simply isn't a problem.
Acoustics Performance
The size of Core X71 means it can flow plenty of air however the absence of sound deadening material means it isn't especially quiet. If you pack in a number of large, slow fans it will be reasonably quiet but if the fans turn at a faster pace the noise levels will rise.
Closing Thoughts
The Thermaltake Core X71 is huge. Indeed it is so tall that it may be not fit under your desk or table, and that could be a problem. On the other hand if you have a cunning plan to install loads of hardware that space could be a blessing. Certainly the 250mm width of the case makes cable management quite straightforward.
The main feature of the X71 is the pedestal which can accommodate your power supply and a radiator or number of cooling fans. That may appeal cosmetically but it doesn't mean you can do much more with your PC build that you can with a number of other cases such as Suppressor F51.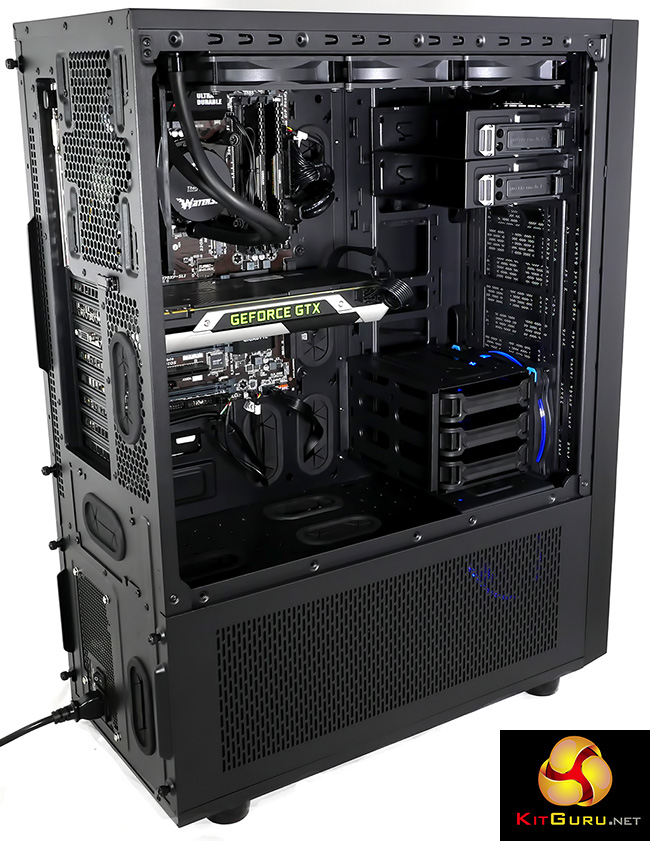 There is a massive amount of space inside Core X71 however that is only useful if you have a plan that will use the space. In terms of quality of construction the X71 is tolerably good but it doesn't have a massive amount to offer apart from those funky Riing fans and the ability to house two or three radiators.
Having said that, the price is so low that we imagine a number of modders will give X71 some close scrutiny as it could be the basis of something very interesting, provided you put in some work.
Discuss on our Facebook page, over HERE.
You can buy from SCAN for £119.90 inc vat HERE.
Pros:
Loads of space behind the motherboard tray.
Low price.
There is a good number of cable tie anchor points.
Two illuminated Riing fans.
Decent number of drive bays.
Two optical drive bays.
Accepts a CPU cooler up to 180mm tall.
Can take a graphics card 278mm long or 420mm without drive tower.
ATX EPS power cable extension included so you can install the power supply in the pedestal.
Cons:
Installing cooling hardware is tricky despite the huge size of the case.
The pedestal seems unnecessary for most PC builds.
The two 3.5-inch/2.5-inch bays use rudimentary mounts and clip into place.
No PWM fan hub.
KitGuru says: Core X71 is a big, tall case that is helped significantly by its low price.