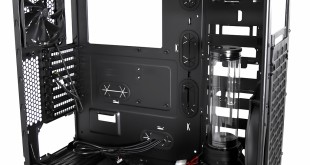 If imitation is the sincerest form of flattery then it is clear that Thermaltake thinks highly of the Fractal Design Define R5. The new Thermaltake Suppressor F51 doesn't so much pay a nod to the R5 as borrow all its best ideas, work on the weak areas and then add in a couple of new features.
Indeed the Thermaltake Suppressor F51 is delivered as a quiet case with loads of sound deadening but if you pull out various drive towers and open some vents you effectively end up with the Fractal Design Define S with the addition of air filtering. This is significant as we were impressed by the S but criticised the absence of air filtering in the roof of the case.
As you will see in the video the two side panels are lined with noise deadening material and the roof of the case is sealed. The front of the case has a novel double air filter design as well as a stealth door that covers the two 5.25-inch drive bays. Air can flow freely past the 200mm intake fan but makes no noise in the process. Those front filters combine with two filters in the floor of the case and a magnetic filter on the top of the F51, however this only plays a part if you remove the top panels in the case as part of the procedure for installing liquid cooling (or extra case fans).
Inside the case you can remove the two drive towers to open up a large amount of space and can also remove the two optical drive bays. There are mounts on the rear of the motherboard tray where you can hang two of the caddies from the drive towers. Alternatively, if you keep the 5.25-inch bays you can mount a single 3.5-inch drive or two 2.5-inch drives. There are many, many configurations available.
With the top or front (or the top AND front) of the case opened up you can install a radiator up to 420mm in length. This is likely to be in the roof of the case as you won't want to ditch that 200mm intake fan without good reason. If you go down this route you can mount a Water 3.0 Ultimate or Extreme system in the roof or a slimmer Water 3.0 Performer or Pro system at the front.
Experimenting with the Pacific RL240 custom loop kit demonstrates there is plenty of room to install the pump/reservoir and other hardware.
Specification:
Motherboard support: E-ATX, ATX, mATX, Mini-ITX.
Expansion slots: 8.
Included fans: 1x 200mm front intake, 1x 140mm rear exhaust.
Fan mounts: 2x 120/140mm front, 3x 120/140mm roof, 1x 120mm rear, 2x 120/140mm floor, 1x 120/140mm side.
120mm radiator mounts: 120mm/240mm/360mm front, 120mm/240mm/360mm roof, 120mm rear, 120mm/240mm floor.
140mm radiator mounts: 140mm/280mm/420mm front, 140mm/280mm/420mm roof.
5.25″ drive bays: Two
Internal drive bays: 6x 2.5"/3.5" plus mounts in 5.25-inch bays
Dimensions: 525mm H x 577mm D x 230mm W.
Building the system is fairly quick and easy as you have so much space to work with, although the cable management side of things isn't ideal. In particular we would have liked to see more cable tie points and the routing for SATA and power cables to the rear drive caddy positions leaves something to be desired.
There is so much space inside the F51 that you can install an E-ATX motherboard up to 12 inches x13 inches along with a 310mm graphics card with the hard drive tower in place or 480mm without the towers.
If you decide to stick with air cooling you can install a CPU cooler height up to 185mm.
There is 28mm clearance behind motherboard tray for cable management which is fairly generous but the fact that there are no windows means you can be relatively cavalier about cable management, without the need to be too obsessive about tidiness.
Performance Testing
To put this case through its cooling paces we will be using a test system consisting of an Intel Core i7-4770K, Radeon R9 270 and multiple storage drives. This system allows us to produce a substantial amount of heat and effectively test the Thermaltake Suppressor F51's cooling capabilities.
For stress testing we use a mixture of AIDA64 and FurMark to create the maximum heat output. AIDA64 allows us to stress our CPU and FurMark's 'GPU Burn-in' mode creates the maximum amount of load our GPU is ever likely to see.
Test System:
Processor: 3.9GHz Intel Core i7-4770K
Motherboard: ASRock Z97 Killer
CPU cooler: Thermaltake Water 3.0 Ultimate
Memory: Corsair Vengeance LP DDR3-1600MHz RAM
Graphics card: Sapphire Tri-X R9 290
Power supply: Seasonic Platinum Fanless 520W
Storage drives: SanDisk Extreme Pro SSD
OS: Windows 8.1 64-bit.
Cooling Performance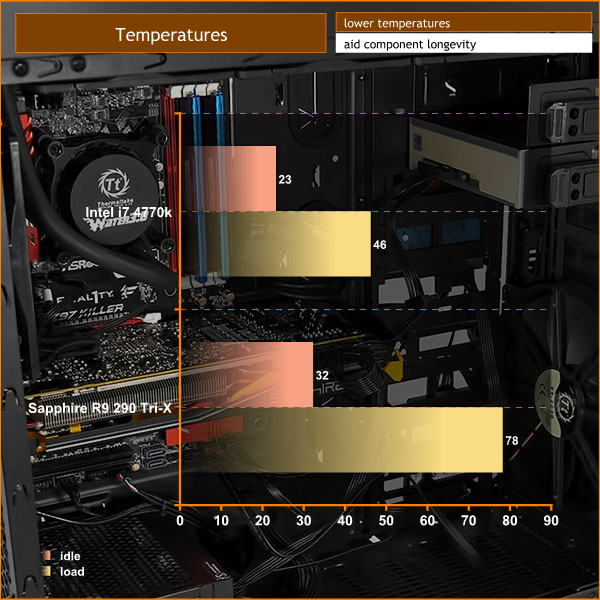 With the Water 3.0 Ultimate 360mm liquid cooler attached to our Core i7 there was never really much doubt the F51 would do a proper job when it came to cooling the hardware. Standing over the case there was quite a draught when the fan speed was increased to maximum (1,800rpm) but turn it down to 1,000rpm and the air flow was nothing more than a gentle breeze.
Acoustics Performance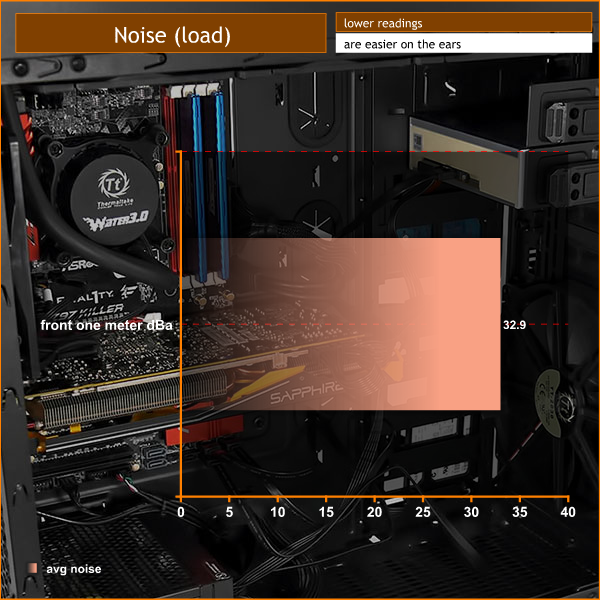 In stock form the F51 is effectively silent. Open the top vents and install a rorty set of fans and you will indeed hear some noise but that is pretty much a matter of choice. There is no need for this case to be noisy to deliver epic levels of cooling.
Closing Thoughts
Thank goodness Thermaltake developed the Define R5 and S and added proper air filtering. The Suppressor F51 is a case that is slightly more expensive than the Fractal Design models yet it delivers options that will appeal to the casual PC builder as well as the hardcore enthusiast.
Discuss on our Facebook page, over HERE.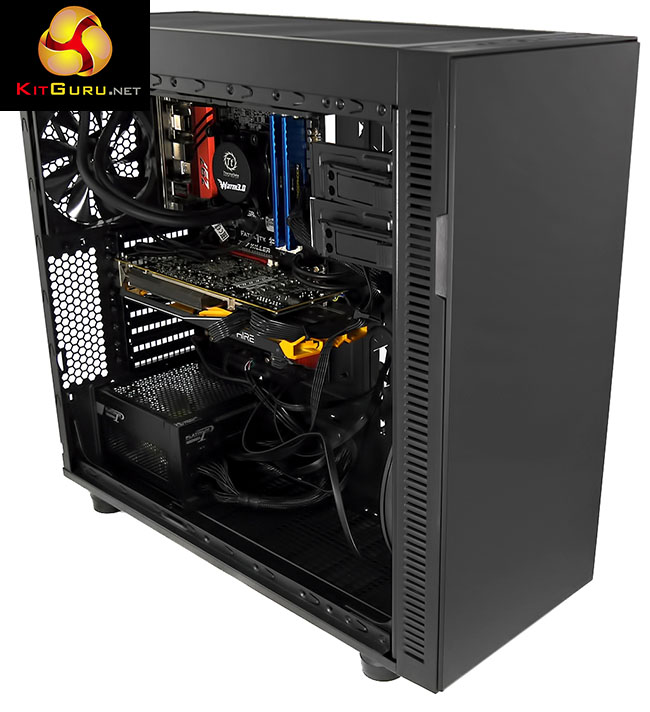 Pros:
Very quiet.
Ability to install 420mm radiator in the roof or front of the case.
World class air filtering at the front, top and bottom of the case.
200mm intake fan.
Options to remove drive towers and install drives on the back of the motherboard or in the optical drive bays.
Supports E-ATX form factor.
I/O panel is attached to the chassis so you can remove the front panel with ease.
Top panels can be removed to open ventilation.
Understated styling looks smart.
Black plastic finish conceals fingermarks.
Cons:
Build quality feels marginal. Some threads were stiff.
Cable management lacks tie down points.
Cable routing holes and grommets are slightly inadequate.
The power button in our sample tilted in an alarming fashion.
Routing cables to the rear drive bays was awkward.
The sliding power supply support was tricky to move to the correct position.
KitGuru says: The Thermaltake Suppressor F51 is a great case with only a few, minor niggling issues.